Eileen Stabenow Kraft left us to be with her God on the morning of November 15th at the age of 97 years and is now resting in peace with her husband of 77 years Melvin. She passed away in the comfort of her own home of 77 years in the presence of her son Roger with whom she had resided for the past 16 years and her faithful companion and best friend Ridgy, her loyal Rhodesian Ridgeback dog who never left her side.
Eileen was born to Arthur and Hulda Staats Stabenow on October 9, 1925 in Guadalupe County. Eileen was proud of her family, the Bush family, who landed on the Texas coast in 1845 near Indianola. They were stranded there because of the Mexican War. Waiting there many got cholera and her great, great, great grandparents died and were buried on the trail near Gonzales and Seguin so that others could have a better life.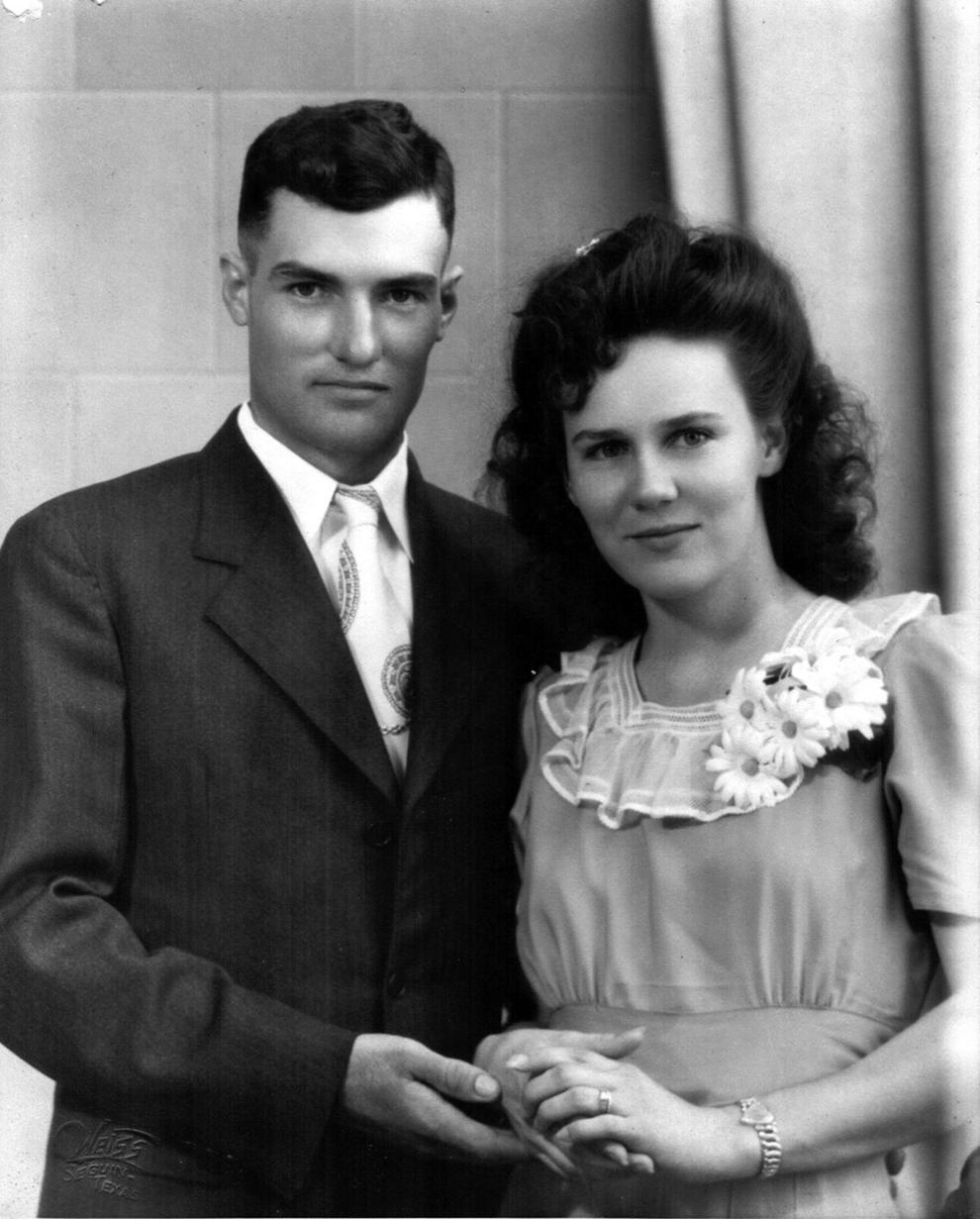 She was a member of St. John Lutheran Church in Marion where she was baptized and confirmed. She met her future husband Melvin at the dances at the old Eagles Hall in New Braunfels and they were married on June 9, 1945 and remained married nearly 74 years until Melvin's death. They bought a farm outside of new Braunfels on Hunter Road and she lived there 77 years until her death, the last 16 years with her son Roger.
Eileen was a kind and giving soul who loved to cook and do for others and along with her husband Melvin had many celebrations for family at their home. I remember the meals every Sunday which were meant to lure us back home for visits. Eileen and Melvin maintained a huge garden from which they provided food and vegetables for many friends, family and strangers. And She always had beautiful simple flowerbeds full of beautiful flowers. Of course she always had a big hand in Melvin's deer hunting habit and the continual making of sausage.
Eileen was always helping and lending a hand as she sewed clothes for her sons to wear and as Roger was organizing a Little League basketball program in his college years for young kids she sewed homemade uniforms for 10 teams. Eileen was always there to offer help, support, and encouragement no matter what the circumstances and she remained that way until the end. In addition to working on the farm and her household work Eileen held numerous jobs through the years. She worked at the old Faust Hotel as well as Herman's Pharmacy and the Comal Hosiery Mill. Eileen and Melvin also enjoyed going to auctions and collected many antiques and trinkets in general. Eileen also did much work on Genealogy with her cousin Vernon and donated much of her work to the local library and museum. She was a longtime member of St. Paul Lutheran Church in New Braunfels.
Eileen was preceded in death by her parents Arthur and Hulda Staats, Stabenow, her sister Lillian and her husband Elmer ,and her husband of nearly 74 years Melvin who passed away on May 10,2019. She is survived by her sons Bryan and wife Gloria, son Roger, and son Bruce and his wife Cheryl. Also surviving are six grandchildren and fourteen great grandchildren and sister in law Lorraine Kraft. Last but not least Eileen is survived by Ridgy, her faithful dog who never left her side. Ridgy misses her so much. Thanks goes out to grandson David who has done so much work at the homestead to help out and make it better as well as to Roger's friends headed up by Wendall and including Shawn, John, Joey for their work on the home and property. Also thanks go to Frances Blevins who cooked meals and offered support through the years. More thanks goes to Cheryl who was there helping in the care of Eileen at the end of her journey. And final thanks to Beau and Michelle Blevins for all of their help, kindness, and thoughtfulness provided through the years. Eileen was an angel here on earth and will be greatly missed by all of those who knew her.
Visitation will be Monday, November 21 from 5 to 7 pm at Zoeller Funeral Home and graveside services will be Tuesday November 22 at 11 am at Comal Cemetery. A reception will follow the service at St. Paul Lutheran Church in New Braunfels. Anyone wishing to make a donation please do so to the charity or church of your choice.
Goodbye Mom, we will miss you more than words can describe and you will be with us always.