Chris Nelligan-Davis navigated his pontoon boat around Lake Placid, admiring the water and waving at the other people he passed by on their boats.
While Nelligan-Davis enjoys being out on the water, it isn't just a hobby; it is his livelihood.
For almost three years, Nelligan-Davis operated Red Beard Boats, a captained boat cruise business. 
That could come to an end though as the Guadalupe-Blanco River Authority is set to drain their remaining four lakes — including three in Guadalupe County — starting Sept. 16.
"We're finally starting to take off. Word of mouth is getting around about us," Nelligan-Davis said. "A bunch of people are giving me good reviews. So, just as I'm starting to pick up, they're taking it all away from me now."
Earlier this month GBRA announced its plans to begin the drawdown to minimize the risks that come with its aging hydroelectric dam system.
With the recent announcement, many of the businesses surrounding the lakes — which include restaurants, boat storage facilities, bait shops, vacation rentals and recreational companies — are at a loss of what's going to happen next for them.
"I just got a dock built to be able to use it for the business. Now that they're going to drain it, I'm not going to be able to use it," Nelligan-Davis said. "They'll still be water in here. I'll probably have to pivot toward more kayaking and waterboard rentals."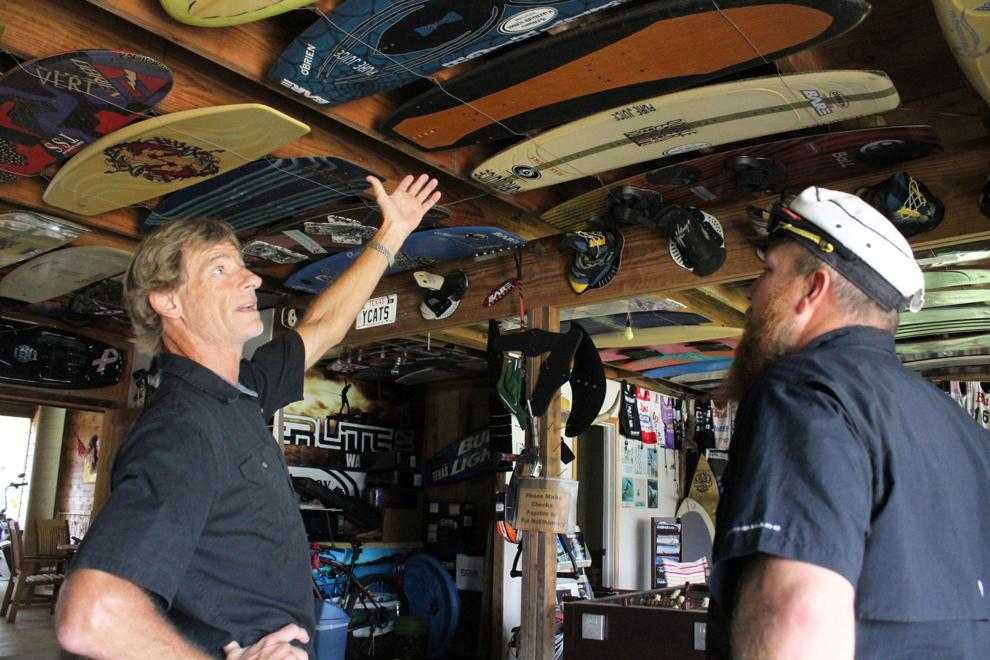 McElhinney Wakeboard School has operated for 28 years on Lake Placid. It is known as the "oldest wakeboard school in the world" that may soon no longer, owner Pat McElhinney said.
"I've got a lot of friends all over the world that have heard about this and have offered for me to be able to go ... and teach on their lakes," McElhinney said. "Some are in the state of Texas, and some aren't. But I won't be able to do it here anymore. There will be no more McElhinney Wakeboard School on Lake Placid."
McElhinney's dock building business could take a hit as well, he said.
"I built three docks this summer, so with no water, it's going to be hard. "I don't think I'll be able to build too many more docks," McElhinney said.
In Lake McQueeney, the board of directors for the 67-year-old Lake McQueeney Ski Bees group is working to figure out other options that will allow them to remain a group and get on the water next summer.
"As we go into this next summer, if there is water in the lake, we would continue to do the shows there at McQueeney," said Lacey Gosch, show director for the Lake McQueeney Ski Bees. "I think there are some discussions among the groups about whether or not we could create somewhat of a traveling show and work with some of the other private lakes in the area to keep the group together."
The group is trying to keep a positive outlook during the difficult times, Gosch said.
'We're hoping to provide our membership with some opportunities to ski next summer, even if it's not in our preferred location at the Lake Breeze Ski Lodge," she said. "We want to help the other (lake) organizations to really work towards a solution to try to bring our lakes back to the community."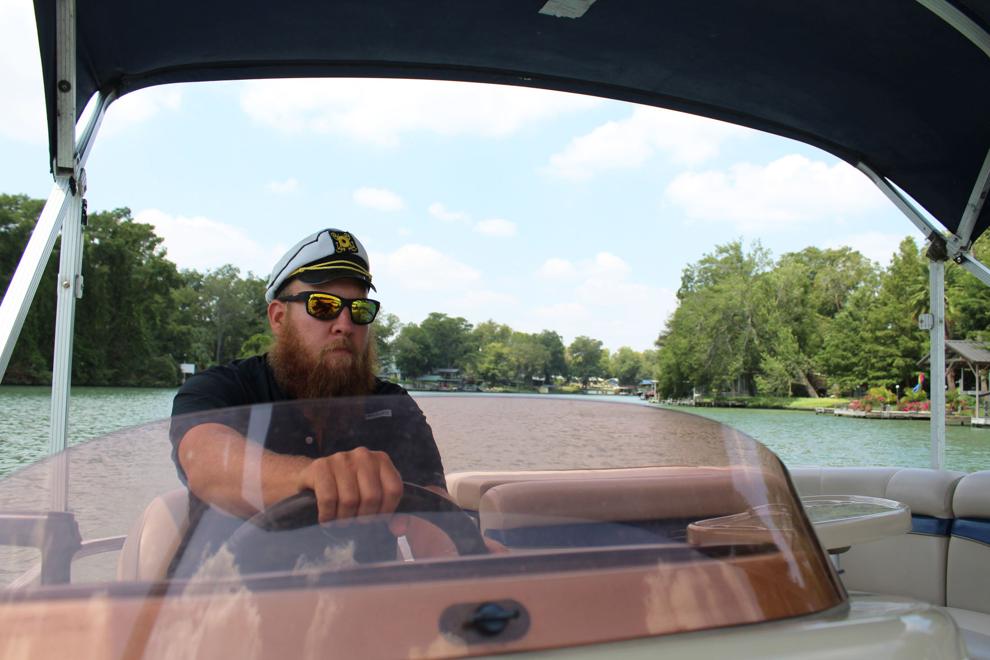 As for the Lake Breeze Ski Lodge, owner Kipp Mueller isn't too sure what will happen to the business.
"It's unknown exactly what it's going to do. We've been in business since 1940, my dad and grandmother opened it," Mueller said. "It's going to affect so many people around, and it hasn't even scratched the bottom."
Mueller added that the local lodge might have a skeleton crew by next summer.
Although the draining hasn't started yet and won't for another couple weeks, local destination spot, Son's Island is already seeing the effects of it. Over the weekend, its operators decided it would be best to finish out the season in September instead of in October like usual.
"We're relatively uncertain about the future. The way it's shaping up after kind of speaking to engineers it looks like our property at Son's Island is not going to be 100% closed," Best Texas Travel Operations Manager Harrison Wood said. "We're thinking of adding a pool or doing a splash pad, but nothing is as attractive as a lake with your own private dock and cabana on it."
Wood estimates that Son's Island brings in as many as 15,000 visitors per month. He said it is similar at Best Texas Travel's other Guadalupe County properties, Geronimo Creek Retreat and Son's Blue River Camp.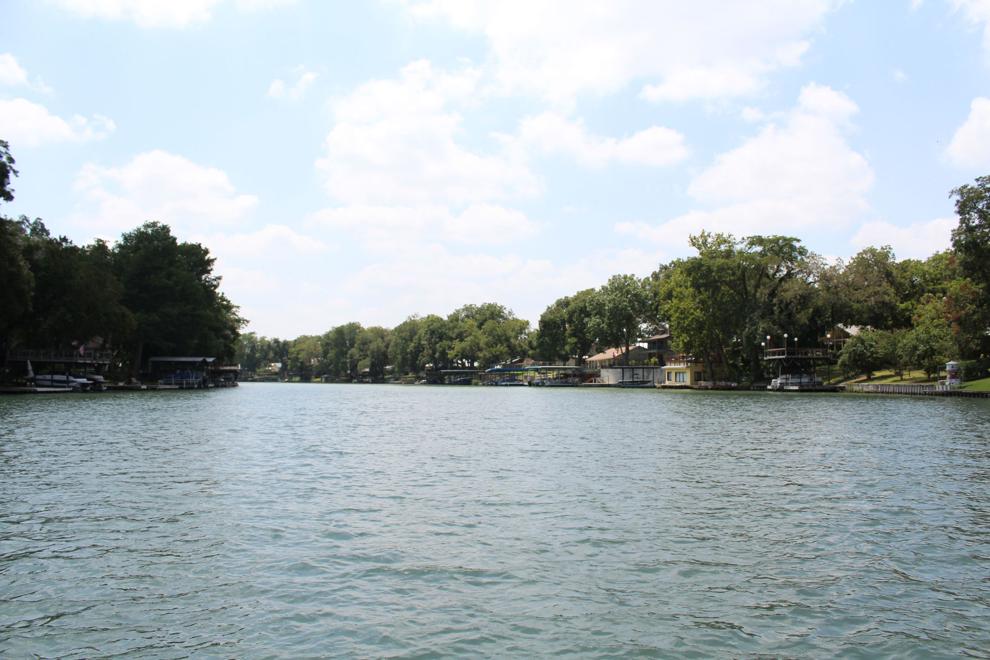 "A lot of the people that come into those other properties are coming for Son's Island, and they'll stay there over the day, and then they'll stay overnight at one of our other properties," Wood said. "If we don't have Son's Island we'll probably end up taking a hit at our other properties as well."
With GBRA's latest decision, Wood said it could be "devastating for the Seguin economy." Son's Island itself brings in more than a million dollars to the local economy each year, he said.
"Seguin has made great strides in the last eight to 10 years. They have made great strides to kind of moving away from being just an industrial hub," Wood said. "We really started to attract a whole different clientele and getting people excited about moving here and living on the lake."
Other area businesses also are seeing some effects from GBRA's decision, include local real estate agents and the waterfront properties they are trying to sell.
"Many homeowners will be unable to sell their home due to the loss of equity compared to their mortgage balance. They could be upside down," said Kelley Rose, Relator associate of Taylor Elliot Real Estate
Lately, the waterfront market has slowed in terms of offers, said Jordan Lippe Walker, broker associate for Keller Williams Lake McQueeney.
"There are buyers out there that were buyers prior to the Dunlap Dam failing, and they are in a holding pattern just waiting to see what happens," she said. "There are also buyers out there willing to take the risk but in return want a deal."
Both real estate agents said it's unknown how low the property values will go down.
Many of the properties could see adverse effects such as bulkheads collapsing; trees along the water dying; foundations shifting and septic issues, Rose said.
"The list goes on and on," she said. "The tranquil waterfront view will turn into the view of a swamp full of vegetation."