Finding something a passion when you are just a child can be a rare occurrence. When you find two things you are passionate about, well that is like winning a million-dollar lottery on a $1 ticket.
For local resident Kori Free, that is exactly what happened. She didn't win the lottery, but she did win something just as exciting. At the ripe old age of 7, she became interested in music, especially the guitar. She was also interested in helping animals. Her grandfather, Larry Waldrip, was a local veterinarian and her mother, Rita, worked as a vet technician. Little did she know the seeds were being planted for her future — a future that might lead in two very different directions.
As a child, she was always banging on pots and pans and playing her toy guitar. When her parents bought her a guitar, they purchased a good one. Because it was a high-quality guitar, it was easier to learn to play. This kept Free from getting frustrated and putting the instrument down. They signed her up for lessons and this is where she met guitar teacher Steven Vee. The more she played, the better she got, which made her want to play more. 
"I was very lucky, having Steven as my guitar teacher," she said. "He was very laid back and if I would have had someone that was really strict, I probably wouldn't have stuck with it. He always brought my mom in the room which made me feel more comfortable. After I learned the basics, we would end every lesson with a blues jam. I loved that and he was so positive and encouraging and that made a huge difference. He wasn't a stickler for doing everything perfect, I didn't hold the pick right and I hold my guitar wrong. I was so small when I started that I had to hold the guitar a certain way so I could play it and he was fine with all of that."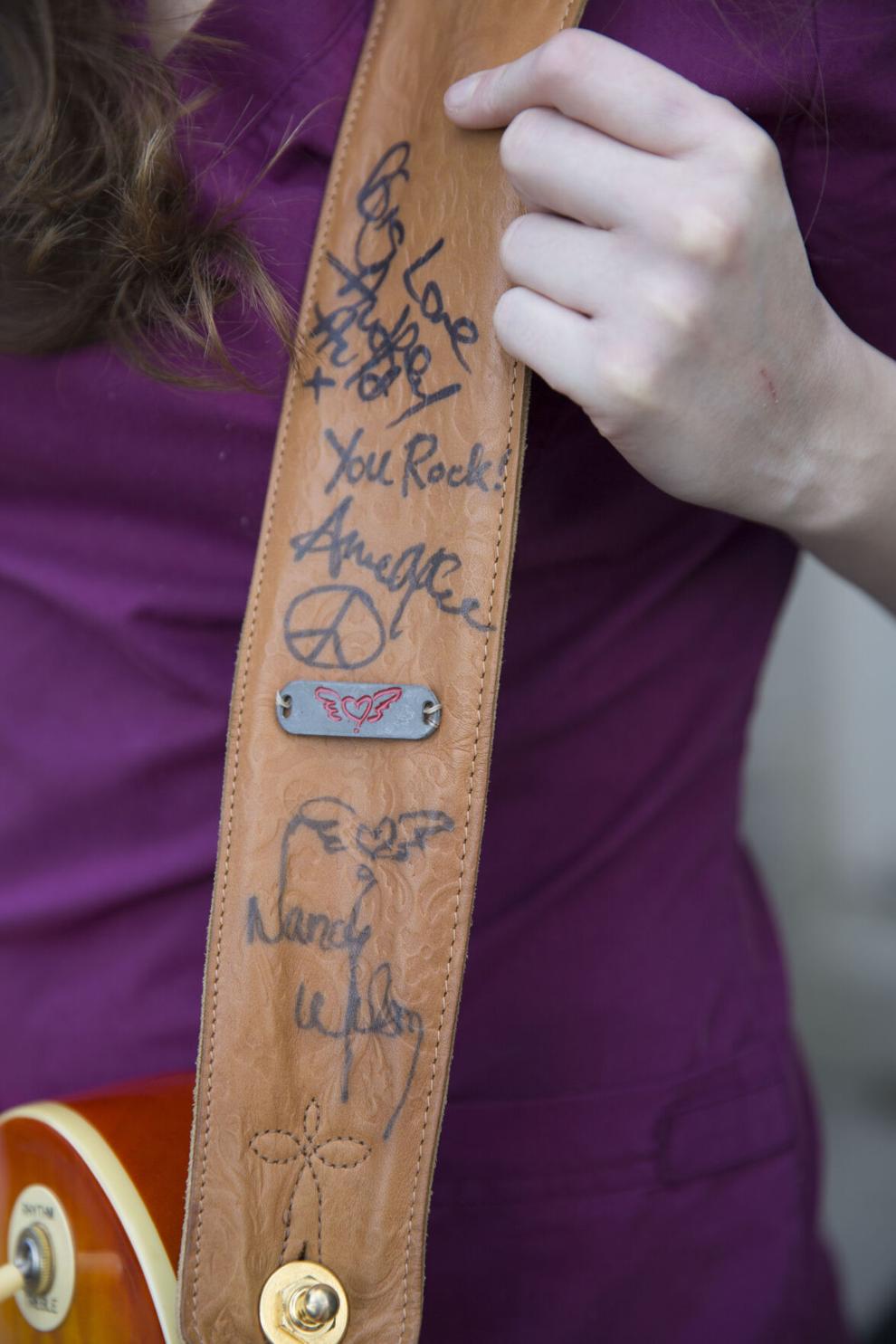 As she got better, she started noticing guitar players on TV, especially Nancy Wilson, one of the few female rock guitarists. 
"This is the story I tell the most," Free said. "It was when I saw the TV show Crossroads that had Wynonna Judd singing with Ann and Nancy Wilson of Heart. Nancy was playing guitar and it was one of the first times I saw a girl playing guitar. Then I saw another show with the band Heart playing, and Nancy was playing her blue Fender Telecaster. I thought it was such a cool guitar. Little did I know I'd get to play it someday."
It's funny how something as simple as a letter from a small girl can start a chain reaction of events that can change a person's life. 
"When I was 10, I wanted to write a letter to Nancy because I liked her music and thought she was cool," Free said. "My mom had contacted the Heart message board asking for an address to mail the letter to. Nancy saw the message and gave us her personal address. I sent the letter along with a photo of me and my guitar and all I asked for was a picture of her. I didn't really expect a reply but a few weeks later I got one in the mail. She wrote back and sent a signed photo and a CD. After that we joined her fan club, and we went to see them in concert. We were picked to attend a meet-and-greet, so I took my guitar to get it signed. 
"I remember that I planned on asking her a lot of questions but when I met her, I was so nervous I didn't say anything. She was so nice, she hugged me and said she liked my letter. She told me to never play my guitar if I was mad or frustrated. Set it down and come back to it later when you are in the mood. I continued writing her for several years after we met."
When Free was in middle school, she wrote Nancy another letter and complained about how her guitar was sounding. 
"In my letter I was joking about how dinky my guitar sounded and that I was frustrated with it," Free said. "When Nancy got the letter, she thought it was funny and she sent me one of her guitars. I came home from school one day and this giant box was waiting for me. My mom knew what it was because Nancy's manager had emailed her and said watch for a large box to arrive. My mom had a video camera to film me opening the box and she whispered to me, 'Don't cuss.' At this point I was confused but once I saw the return address, I knew it was a guitar. This was the coolest thing that had ever happened to me." 
As it turns out, it was one of two guitars custom made for Nancy. The enclosed letter informed Free they now had matching guitars and could be twins. She also assured her that this guitar would not sound dinky.
Over the years Free has had several memorable moments with Nancy. At one show they played her favorite song from their new album. At another, Nancy's guitar tech let Free play several of her guitars while he was tuning them before the show. Free also sent her copies of her original songs to critique, which she did, often suggesting a simple chord change that might sound better.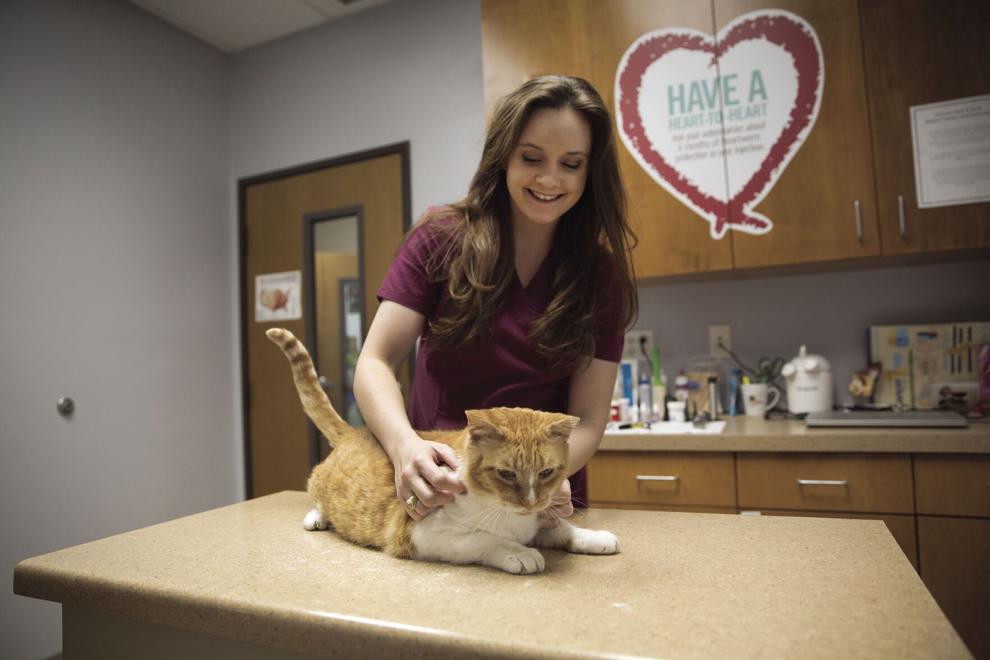 Free hasn't been in contact with her in a while due to her second career path: becoming a veterinarian. During her middle school years, the idea of becoming a vet started sounding good. 
"For some reason, I never thought of my music as a career," she said. "I'm not sure why, but I just didn't. I always planned on going to college and becoming a vet just made sense." 
A good education was something her parents always encouraged. Her father is Brent Free, a local attorney, and her sister, Kaitie, also an attorney, practices law at his office.
After graduating from New Braunfels High School in the top 5% of her class, she was accepted by Texas A&M. After discussing her options with several people on the same career path, she chose to major in biomedical science, which she admits was challenging. 
"In high school, things came fairly easy for me," Free said. "But college was tough, especially taking seven hard classes my first semester. I got the first zero score in my life because I missed a test that I couldn't make up. I learned my lesson and really got focused and organized."
She completed her college in three and a half years and then applied to the veterinarian program at A&M. She got a job at New Braunfels Veterinary Clinic in January 2020 to get some training before starting vet school. 
"I love working there," she said. "But it's hard when animals come in that have been hurt and you have to figure out what's wrong and see if you can help them. But it's usually rewarding, too, because most of the time you can help them, and they recover. It's also sad when an animal has to be put to sleep, that's really tough."
She wasn't accepted on her first application to vet school, so she decided to spend the year concentrating on her music and reapply later. Then COVID hit and everything changed. With a lot of time on her hands, she took a hard look at her first vet school application. 
"I now realize I didn't put enough effort into it," she said. "So when I worked on my second application, I knew it was important and I knew what I had to do. The first time I only applied at A&M and I wanted to give them another shot but I also applied at Texas Tech. I applied to 13 other vet schools out of state, too. 
"Last year I had planned to concentrate on my music. I had several musicians lined up and we were practicing. We even had some gigs booked but then COVID hit, and they were all canceled. Now, I think it was a blessing in disguise. If I would have been playing and rehearsing, I never could have spent that much time on the applications. I think things happen for a reason." 
Her second application to A&M was accepted and she starts orientation on Aug. 18.
"I hope someday something will happen with my music but it's not anything I'm going to force," she said. "Vet school is very important to me and when I have breaks, I'll come back here and play. If it's meant to be, it will happen. Until then, my dream is to finish vet school and come back to New Braunfels to practice. I can always play music even if it's a hobby. I like stability and if COVID taught us anything, making a living with music isn't always stable. The city is growing and there will always be a need for veterinarians." 
Luckily, she lives in a city that also values their musicians, so it will be the best of both worlds for this young guitar playing veterinarian. ↔