Flip on the television this summer, and there's a chance you might see a familiar face. Antonio Ruiz, who previously contributed recipes and columns to New Braunfels Monthly, is appearing in Hell's Kitchen Young Guns, a reality show hosted by Gordon Ramsay.
The world-famous chef, recognized for his fiery personality and high standards for food, brings chefs 23 and under from across the US to compete in a show of culinary action.
"Ramsay picked 18 of the top chefs in the country," Ruiz said. "He picked his top 18 under 25 coming from across the country."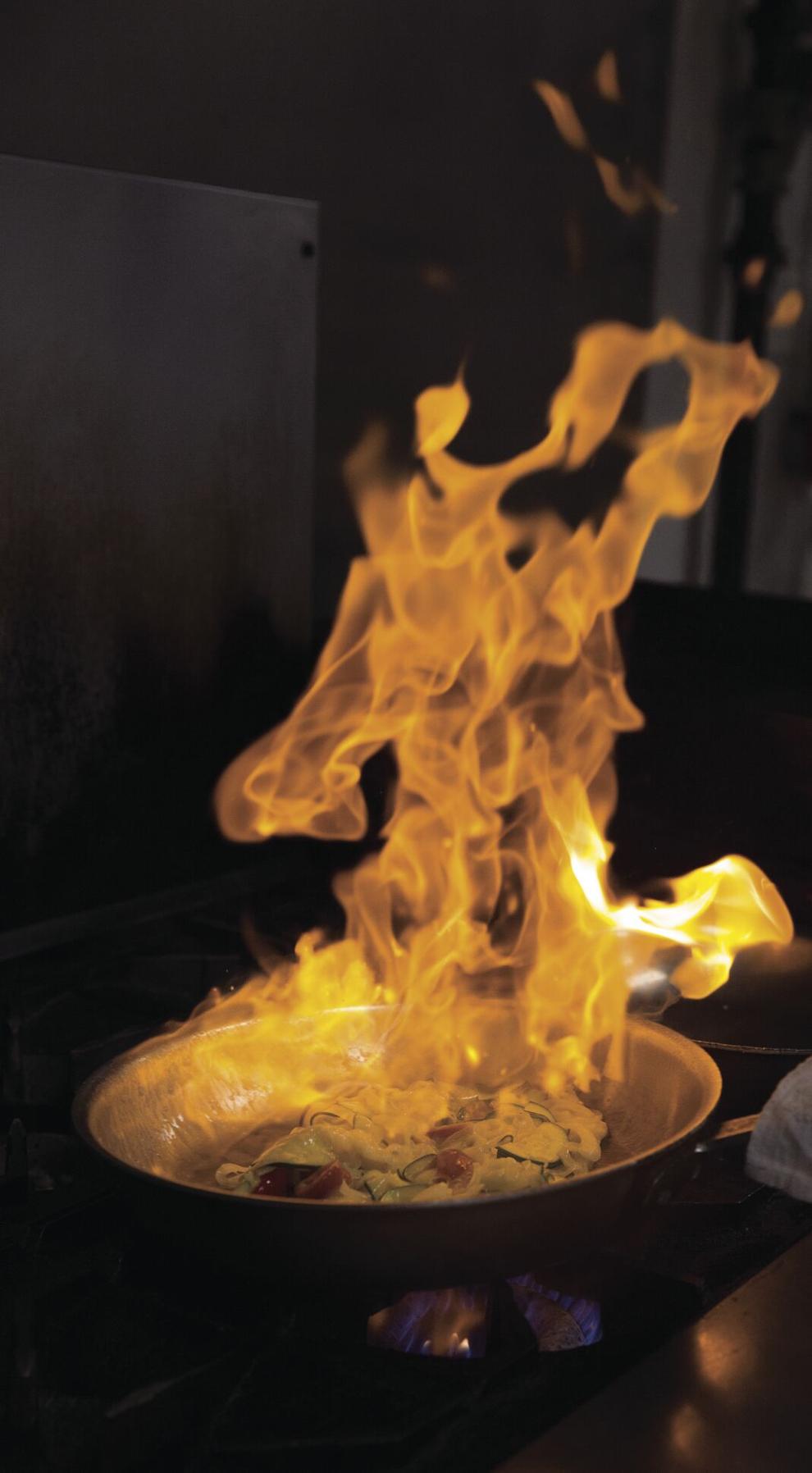 Ruiz, who is currently a chef at Texas Bistro at 1932 S. Seguin Ave. in New Braunfels, describes the experience as somewhat transformative, challenging him as a chef. But the way the entire process kicked off was less glamorous than a Willy Wonka golden ticket.
"So I actually just got a random message on Facebook from one of their assistants, and they sent it to me," Ruiz said. "I didn't believe it at first. I thought it was kind of outlandish.
"He was just like, 'Hey, I've seen a lot of things, I've seen — when I used to write for [New Braunfels Monthly] — I've seen your recipes in there. I've seen you in a couple of competitions. Would you be interested in trying out?'"
Ruiz said his response was a resounding yes.
"I signed up the next week, ended up going to LA and tried out for everything and two months later it's like hey, you are leaving next week, and I was on a plane in Vegas and I was there," Ruiz said. "It was all really quick. I think they sent me that message in February and I was gone by May. So it was a couple month span, but it went really quick." 
But unlike the quick and easy experience of being approached to be on the show, Ruiz said the entire experience was challenging. 
"It's nerve-wracking," he said. "I like talking to people, don't get me wrong. I work in the back for a reason, as opposed to being out here (in the dining area). I'm good in my element, but I feel that's anybody, where if you take them out of their element it's a little different. And then there's that whole aspect of having cameras everywhere and being mic'd up. It's a live set and … having Ramsay there and his intensity, just his persona, it's a whole other experience."
But despite that, Ruiz said it was good for him.
"It definitely makes you better," he said. "Being around (Ramsay) is different from anybody I've been around — in a sense of with him it's not about being good or good enough, it's about being perfect and if it's not perfect, you feel the wrath."
Ruiz said that high standard the world-famous chef is known for is part of what made the entire experience unforgettable. 
"That's why it's so intense," he said. "There's lots of things that went up that were good, but they weren't perfect. When it's not perfect, that's when you see him start throwing things and the real Ramsay comes out."
Unlike at a regular restaurant — despite their sometimes long and grueling hours surrounded by heat and an endless stream of orders — Ruiz said his experience participating in the show resulted in long days that even challenged him as a chef.
"You are waking up at 5 a.m. every day and going to bed at like midnight," he said. "They want to push you to the breaking point and see what happens and see if you can still maintain that level of cooking skill."
And that can be a challenge, he said. Because while it's a show for entertainment, there is a battle between competing personalities as 18 chefs narrow down to smaller teams as the 20th season of the show goes on.
"Everyone there thinks they are going to win, so they show how big and bad they are, so not everyone is necessarily working as a team," Ruiz said. "You have that on one end of things, and then on the other you have Ramsay over here, and then on top of that you are trying to compete. It's a managing experience like no other."
Ruiz wasn't able to disclose how long he would appear on the show.
According to Ruiz, the show is structured so each day there is a challenge, then a reward or punishment  phase and then a dinner service session.
"At dinner service, the losing team has to pick one person to leave," Ruiz said.
While Ruiz has lived around the US, including Montana and Central Texas, he said the locations and backgrounds of other contestants varied.
"On this one, there's three people from Texas. Myself and Emily, she's a girl from San Antonio. … And then another one from Denton. There's people from Arkansas, Alaska, California and a couple people from Baltimore," he said.
That made for some interesting dynamics between personalities and experience, Ruiz said.
"There's two people on the show who had never even been outside their city. And so then you have people like Emily and this girl from Alaska, and they are influencers so they've been all across the US and had all these experiences."
Hell's Kitchen: Young Guns airs at 8/7 p.m. central on Mondays on Fox. Ruiz and fans gather at Texas Bistro to watch new episodes as they air.