Music is such an important part of our city. It's one of the things that sets New Braunfels apart from other cities in Texas. 
When you attend a concert at any one of the many venues in town, do you ever notice all the equipment onstage? Sure, you see the bands' instruments, but there's more to see. 
The sound system is also onstage, with speakers either stacked to the side or hung by cables above the stage. There is usually a small mixing board located on the side of the stage. This is where the monitor engineer works. It's his job to be sure the band members can hear themselves while performing. 
Have you ever noticed the lead singer wearing small plastic devices in their ears? These are call in-ear monitors which help the singer hear the band. Without the help of stage monitors, the musicians would hear all the instruments at once, which can be confusing. The monitor engineer controls all of this from his side-stage spot. 
Out in front of the stage, located near the back of the venue, is another mixing board known as Front Of House, or FOH. The FOH engineer controls what you, the audience hears. It's their job to make sure you hear everyone onstage.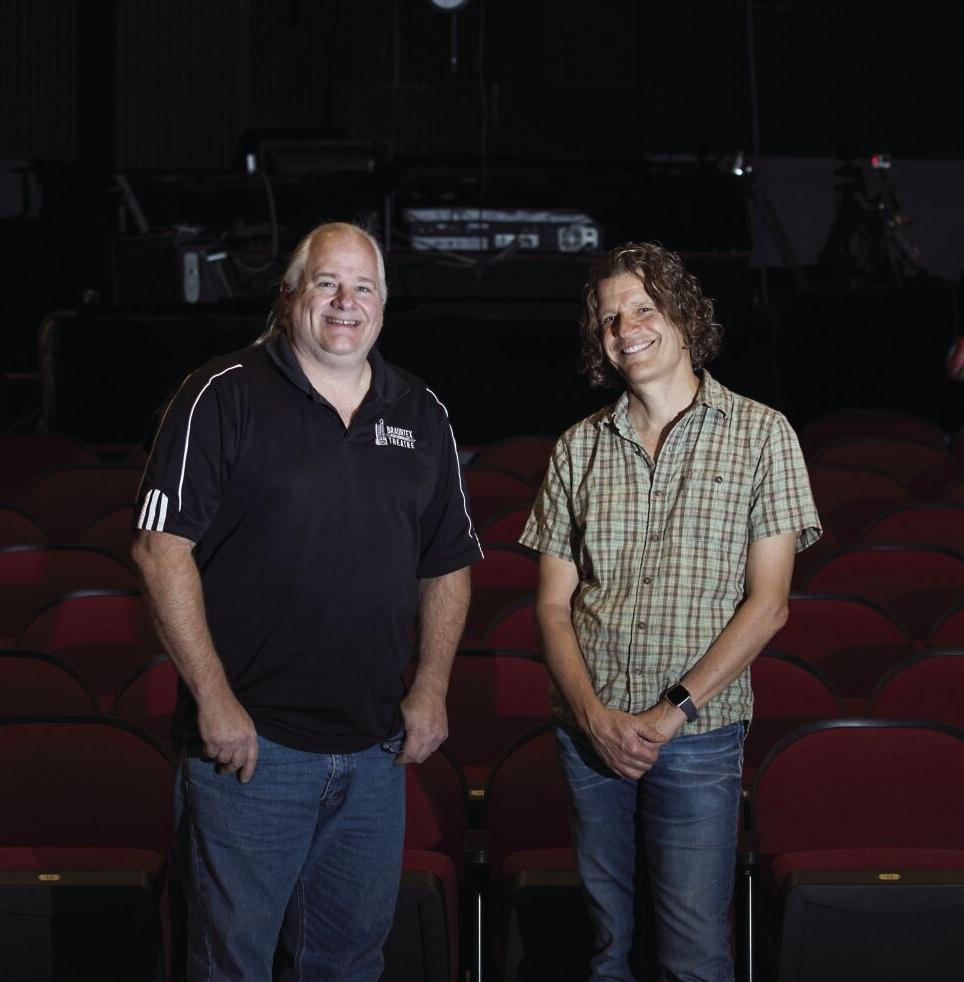 We are lucky to have two of the best sound engineers in the business in our city. Carl Nowotny and Dennis Peek own and operate a premier sound company called 2 Rivers Technical Services.
They were both born and raised here but didn't officially meet until 1988. Dennis was in a popular rock band called Innerview and they were playing a private event at Moyer Champagne, a local company that made champagne. 
"When we walked in," recalls Dennis, "we noticed that the PA system wasn't that big. There was a guy running sound and once we started playing, it sounded great. After the show I introduced myself and that's when I met Carl. 
"I made a mental note that he was a good sound guy and got his phone number. When we played a New Year's Eve show later that year at Knots Landing, we hired Carl to run sound." 
Soon, Carl was traveling around Texas running sound for the band. They both had day jobs as well, Carl at a local music store and Dennis at USAA in San Antonio. 
When store owner Paul McLaughlin decided to sell the music store, Carl convinced Dennis to form a partnership and buy the store.
The original store was in the shopping center on Landa Street where Das Rec now stands, but they eventually moved to a bigger location on I-35 Business near Adobe Café. 
---
Going Gruene
In 1994, before they moved to the large store, they got a call from the folks at Gruene Hall. Dennis remembers the conversation. 
"They needed someone to run sound and asked if we could do it. Without giving it a second thought, I said 'Yes, we can,'" Dennis said. "I called Carl and told him, 'We're doing this.' So, just like that, we were in the sound business." 
Carl realized the challenges of the task.
"I knew we didn't have enough gear, but we made the best of it." 
Luckily, in those days, most of the acts were Texas bands like Clay Blaker, Marcia Ball and Gary P. Nunn. They didn't require a huge PA system but as Gruene Hall grew, so did 2 Rivers.
When I asked them to name the first act that made them realize they were playing in the big leagues, they both had different answers. 
For Carl, it was working with Little Feat, because of their incredible musicianship. For Dennis, it was Jerry Lee Lewis. They had to rent a baby grand piano for him and just seeing a living legend perform was a big deal. Though they kept their two businesses separate, the buying power of the music store was an asset to the sound company. Their first major purchase was a large Peavey PA system so they could handle the bigger acts Gruene Hall was booking. 
During this time, they expanded their business and started providing sound for Wurstfest and Wein & Saengerfest. As their business grew, they, closed the music store and concentrated solely on the sound company.
---
Stage production
It was late 1997 when Carl was approached by some local businessmen who needed his advice. They met in a room above Henne Hardware and discussed the possibility of buying the Brauntex Theatre. They needed Carl's expertise to supply a PA system for the building. The purchase was finalized in 1999 and 2 Rivers installed the first sound system in the theatre. 
In 2005 they were able to do a minor upgrade to the system, but it was still way below industry standards. 
Like all venues, the COVID-19 pandemic forced the Brauntex to close for a year. The Brauntex Board of Directors decided to use the downtime to install a brand-new PA system.
"With today's technology, the new systems produce an amazing sound, but you have to pay for it," Carl explained. "It's not cheap. Touring bands want the best system possible." 
Dennis agreed.
"With the new system we are installing, you can meet practically every band's technical needs" Dennis said.
---
Going big
After 27 years in the business, they have worked with some of the biggest acts in America. The list includes ZZ Top, Melissa Etheridge, Pat Benatar, Greg Allman, BB King, Buddy Guy, George Thorogood, LeAnn Rimes, Miranda Lambert, Little Richard, Bo Diddley, Charlie Pride, Mel Tillis, Merle Haggard, Charlie Daniels, Willie Nelson, Garth Brooks, Clint Black and George Strait. 
They have many fun stories about these artists. For instance, Garth's show took over 50 hours of pre-planning, Buddy Guy used a 100-foot guitar cable so he could walk into the crowd and ZZ Top kept sneaking to the restaurant next door to drink margaritas.
They have also made good business connections as well. For example, at the Garth Brooks show in 2019, they met his main sound guy, Dan Heins. When Garth is off the road, Dan works for the biggest sound company in America, Clair Global. 
Their friendship with Dan allowed them to buy a D&B sound system for the Brauntex Theatre. D&B is the best PA system around and is built in Germany, which makes it a perfect fit for a city steeped in German history.
---
No normal
Sound guys work long hours, weekends and holidays. You can never take a normal vacation since weekends are your busiest days. It takes a strong person to hold down the fort at home while you work those crazy hours. 
Carl is married to Robin, and Dennis is married to Keena and they are both supportive of their spouse's career choice. 
This job is not for the faint of heart. 
"When something goes wrong during a concert," explained Carl, "seconds seem like eternity. Everyone is looking at you to fix it. You must identify the problem and fix it in just a few minutes. When everyone turns around and stares at you, that's when you feel the pressure."
Dennis recalls one bad night running monitors for John Hiatt. 
"We were having feedback issues on-stage and we were trying everything we could to fix it," he said. "It was dark and I couldn't see that the EQ button on the mixing board wasn't engaged. Once I pressed it down, the problem was corrected. Unfortunately, it was at the end of his show, so he had a bad night and I felt terrible."
The next time you attend a live concert, take note of all the equipment you see on stage.
Remember that the sound guys have been there all-day getting things just right so that you can have the best possible experience. They will be there long after you have gone home, taking everything down and loading it in trucks and trailers so the band can travel to the next city. 
Take a minute to thank them for their hard work. They have had a tough year and can use your support and appreciation.