Despite continued economic growth across the state, a projection of hotter than average temperatures and drought conditions persisting this summer, officials with New Braunfels Utilities say the state's electric grid operator anticipates sufficient generating capacity to serve peak power demands from June through September.
The Electric Reliability Council of Texas, also known as ERCOT, according to its Seasonal Assessment of Resource Adequacy report for summer 2022, expects peak demand to hit 77,317 megawatts, which would be a new system-wide record.
The current peak demand record is 74,820 megawatts, set on Aug. 19, 2019.
One megawatt of electricity can power about 200 homes during periods of peak demand.
In addition, ERCOT forecasts the summer capacity planning reserve margin at 22.8% or about 14,075 megawatts under normal conditions.
More than 91,000 megawatts of resource capacity are expected to be available during summer peak hours, adding 4,530 megawatts of resource capacity from 2021 to 2022, said Rebekah Crouch, NBU's power supply manager, during a recent summer preparedness meeting for media and key account holders.
"The increased resource capacity varies by type with 48% generated from solar energy, 33% from private networks, and the remaining generation made up of wind and miscellaneous generation," Crouch said. "We have seen an increase in resources in the ERCOT market."
The ERCOT summer assessment also analyzes seven risk scenarios, including two situations where capacity reserves could be depleted by higher peak loads, unexpected generator outages and low output from renewable resources.
Crouch described those two scenarios as extreme situations with a low probability of occurring but resulting in a high impact on the grid.
"We have the largest reserve margin that we've seen in several years," she said. "We're above the target reserve margin (of 13.75%), but even that being said, there are extreme situations where we could go into rotating outages."
Andrew Cummings, NBU's conservation and customer solutions manager, said La Niña conditions persist in the tropical Pacific for the third consecutive summer, which means hot and dry conditions for Texas.
"Right now, the National Weather Service is predicting a 58% chance of La Niña extending through the summer into October and a 61% chance of creeping into our winter again," Cummings said.
That also means a more active hurricane season in the Atlantic.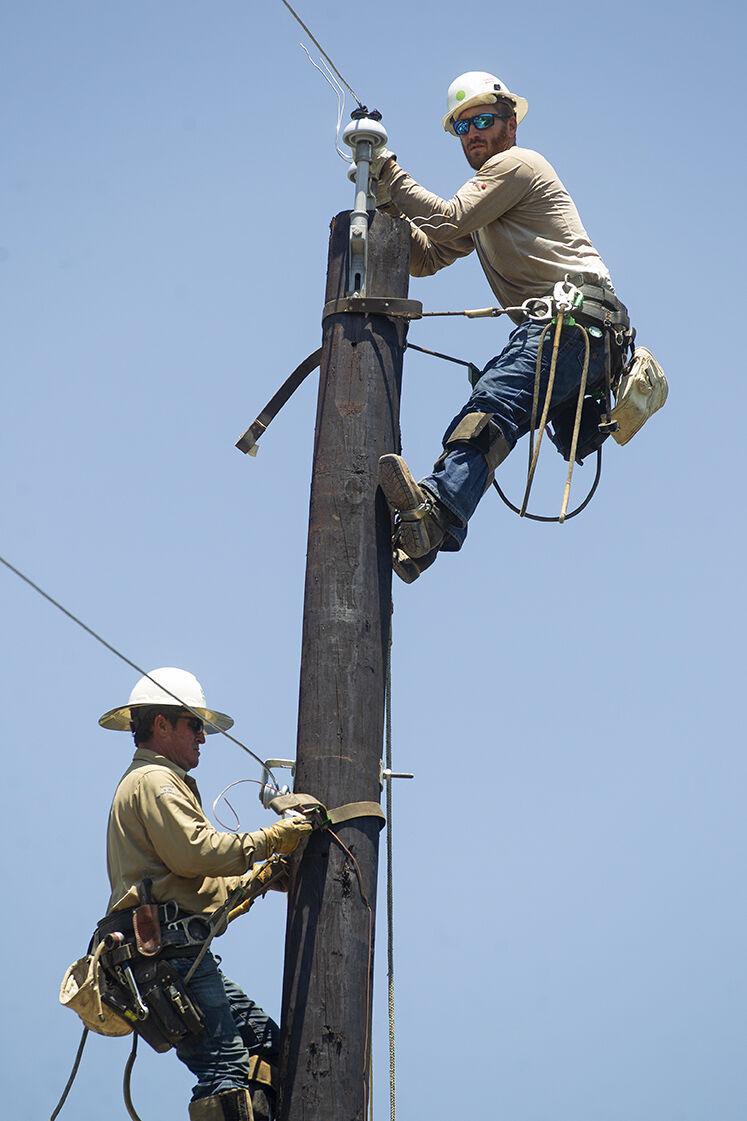 "While we haven't been hit head-on with a hurricane since 2010 or 2011 — Harvey clipped us but didn't hit us head-on — this is another thing to keep in mind," he said.
For the 2022 hurricane season, which started June 1, the National Oceanic and Atmospheric Administration's Climate Prediction Center is forecasting a likely range of 14 to 21 named storms (winds of 39 mph or higher), of which six to 10 could become hurricanes (winds of 74 mph or higher), including three to six major hurricanes (category 3, 4 or 5; with winds of 111 mph or higher).
Cummings added that forecasters anticipate that drought conditions in south-central Texas will persist through the summer.
"We're hoping that we get a little bit of rain or maybe a random tropical storm — we don't necessarily need a hurricane — it's not necessarily the rain that we're worried about, it's the wind that comes with these tropical waves," he said. "If we can get some tropical moisture to come in, (the forecast) might be up in the air."
The U.S. Drought Monitor map, produced through a partnership between the National Drought Mitigation Center at the University of Nebraska-Lincoln, the United States Department of Agriculture and NOAA, shows most of Comal and Guadalupe counties under severe drought conditions, with some parts of northern Comal County under extreme drought conditions.
New Braunfels National Airport has received 5.57 inches of precipitation so far this year, nearly nine inches below normal.
A lack of rain would also affect the level of the Edwards Aquifer, which provides water to parts of Comal and Guadalupe counties. NBU water customers are under Stage 2 drought conditions.
Electric costs rising
David Hubbard, NBU's chief administrative officer, said the cost of many items is rising and energy is no different.
"Now more than ever, our world is much more connected," Hubbard said. "Everything that is going on across the nation and across the world is having an impact on the cost of energy. The war in Ukraine has caused a major spike in natural gas prices across the world. People might wonder why natural gas plays such a critical role in the cost of energy — the cost of energy is made up of a very basic equation. It's basically what is the cost of natural gas and how efficiently can a power plant convert natural gas into energy."
Hubbard said natural gas produces 40% of America's and 44% of ERCOT's electricity. Natural gas prices have surged as U.S. producers have sent more fuel to Europe to reduce the reliance on Russian gas.
Natural gas is selling for about two to three times as much as it did two or three years ago when a glut sent prices tumbling.
Additionally, Hubbard said the price of coal, which accounts for about 20% of the nation's and 12% of ERCOT's electricity, has also gone up and supply chain chaos has made routine grid maintenance and upgrades more expensive.
Other drivers of increased energy costs, according to Hubbard, include increased volatility due to regulatory changes resulting from the February 2021 winter story, ERCOT managing the electric market more conservatively than in past years to ensure larger reserve margins and rising demand because of climate change.
Editor's note: This story have been updated with additional information from New Braunfels Utilities.