Tons of shoppers are expected to take advantage of the tax-free shopping holiday, with many taking to local businesses to search for the best deals for back to school.
Downtown businesses in New Braunfels such as The Local are gearing up for the big weekend.
"We have a little bit of overlap in our city during this time because we do have the locals who are prepping and getting ready to go back to school, but we also still have the overlap of tourism that's still happening," said Kathryn Balmos, the store's owner. "We've got a little bit of both and our biggest (challenge) is how we merchandise for both."
The lifestyle store that specializes in clothing items and accessories is offering a few school supplies such as planners and journals.
"That's something we're really paying attention to, is more of like the school supply kind of situation where we might have a unique piece, you know, rather than just your standard (memo) pad," Balmos said.
The Dancing Pony Boutique is another retailer prepping for tax-free weekend.
The woman-centric boutique offers apparel, footwear, accessories and candles, and is helping out families struggling to outfit their kids by holding giveaways.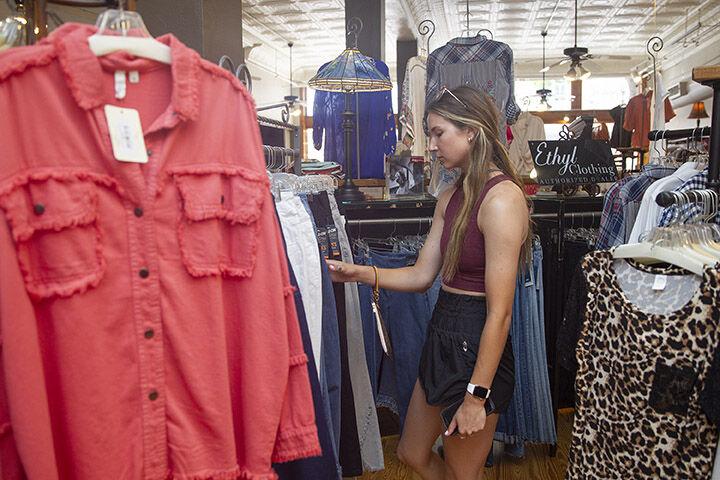 During the weekend, the store will be giving away a handbag and a $100 gift card to Arlan's Market to assist with buying school supplies.
In addition to saving by making tax-free purchases, the Dancing Pony Boutique will be holding a 25% off sale on shoes, apparel and bags.
"We always have a good turnout … we have our staff ready (and) everybody's ready to work," said Regina Daggett, one of the owners of the Dancing Pony Boutique. "We're hoping for the best but we don't know what's to come because with everything going on (with inflation)."
With inflation, some shoppers will turn to community-driven thrift stores — like Hope Hospice Thrift Shop — to outfit their children for the school year.
One of the biggest draws for the shop, which sells clothing and shoes, furniture, toys and other gently-used donated items, are the low prices, and all sales go directly back into the community.
"All of our donations come from the community, and because they have given us so much, we are able to provide that back to the community that needs help, and needs to buy affordable clothing and shoes to dress their children," said Janice Phillips, the assistant manager of Hope Hospice Thrift Shop.
The thrift shop is preparing for the large influx of customers by putting out new inventory to suit the needs of their customers and will most likely be having a half-price sale on clothing items Friday through Saturday.
The state comptroller's office estimates that shoppers who participate in tax-free weekend by purchasing qualified items, such as clothing, shoes and school supplies, will save about $8 for every $100 spent.
"With inflation driving prices higher on just about everything, this sales tax holiday provides Texas families some small relief managing the costs associated with kids heading back to the classroom," Texas Comptroller Glenn Hegar said.
Tax-free weekend will run from Friday, Aug. 5 until Sunday, Aug. 7 at midnight. For a full list of tax exempt items visit https://bit.ly/3zVqg6O .