The life of a lineman isn't a dangerous one, but a hazardous one, according to NBU journeyman Michael Hardick.
Due to this, the process of becoming a journeyman is full of safeguards and learning.
The first step in the journey is becoming a groundsman — a position that one tests out of after a certain amount of time.
Then, one can become a part of the apprenticeship program; within the apprenticeship, there are four different apprenticeship levels.
Each apprenticeship level has its own limitations for what type of work can be done. For example, apprentices cannot touch primary wires until year three, and a journeyman must accompany them on the bucket to ensure their safety.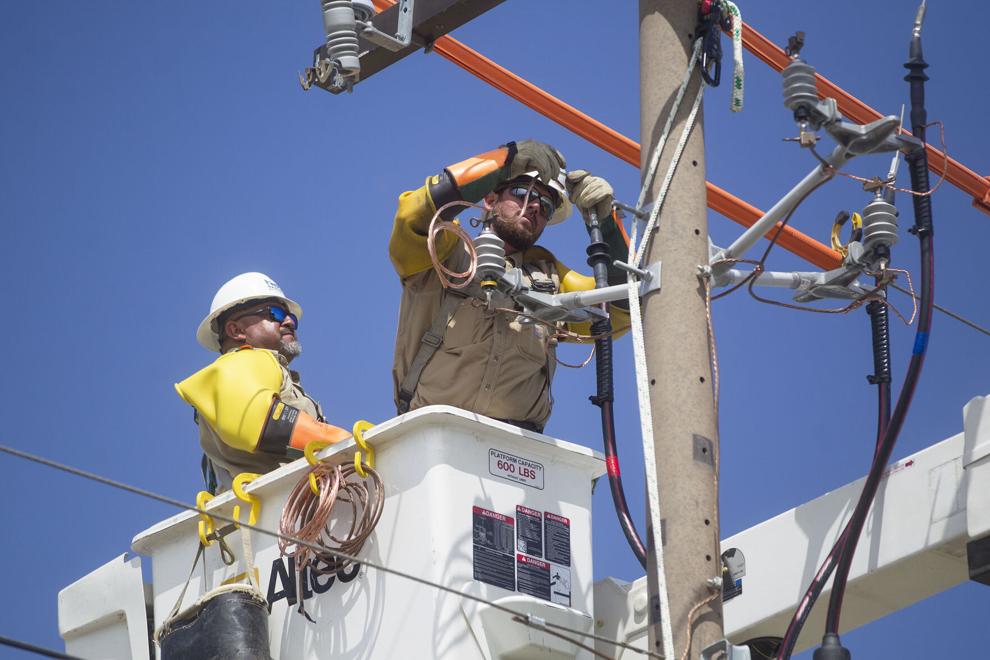 After around five years, one can be considered a journeyman. If they become certified under the Texas Department of Labor, they can work anywhere in Texas and be seen as a journeyman.
If one is not DOL certified, then moving on to another company with little experience after an apprenticeship may mean they aren't considered a journeyman in the new company's eyes and may be moved back to apprentice level three or four.
The main difference between a journeyman's and an apprentice's experience is responsibility and wisdom.
"We make all the decisions," Hardick said. "I can't just call my supervisor or my lead and say, 'Hey, what do I have to do here?' and it's three o'clock in the morning. If I did that, then there'd be no point in me being in the field. So a lot of that falls back on us."
Having the proper experience and knowledge is even more critical when considering that a journeyman's day can change at the drop of a hat.
A journeyman could show up to work and plan to change a pole in a residential area later in the week. The transformer on the pole may affect the power of all the neighbors on the street, so now they must be notified.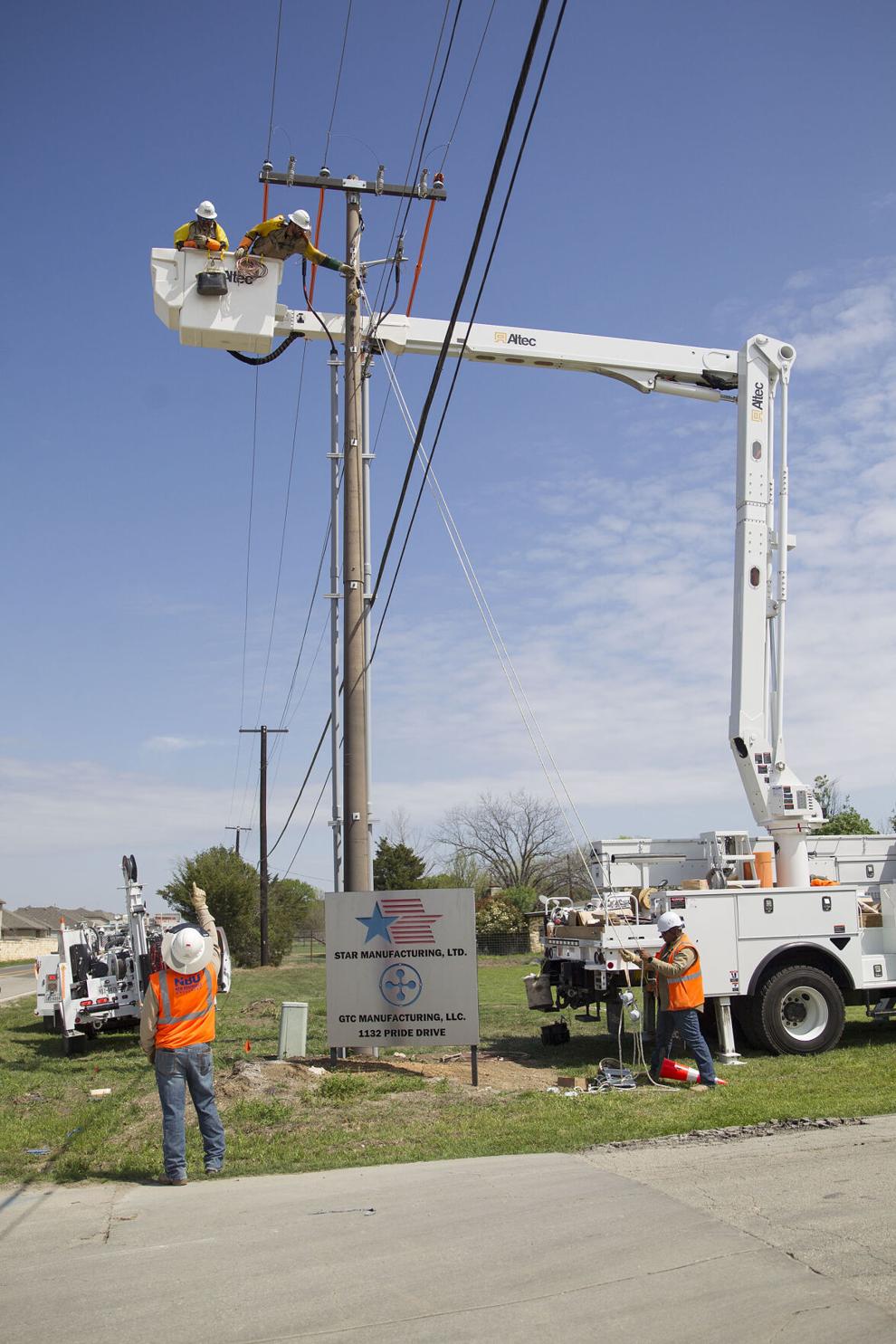 After notifying everyone about a scheduled outage and getting the proper materials to do the job, someone may crash their car into another pole in town — and that pole has to be fixed immediately.
However, on a day that goes to plan, Hardick said he'll show up to work in the morning and get his jobs. Then he'll talk to his fellow journeymen or his apprentices to plan the day.
Next, he and his coworkers will go to the job site and do the tailboard. The tailboard is essentially a meeting between workers that goes over the job they are about to do and the potential risks they might face.
Additionally, a designated employee is in charge of relaying the tailboard discussion to those who enter the job site.
After the discussion, everyone will go off to do their tasks; Hardick may go into the bucket to get up to the power lines.
For protection, Hardick will be handed cover-ups — plastic and rubber materials that are put onto the lines, such as rubber guts.
"They're just a rubber tube," Hardick said. "I like to call them noodles — nobody likes noodles, but that's why I say it because nobody likes it — we slide them on the wire and we have blankets … so if you ever drive by and we're working up in the air, [and] there's a bunch of orange stuff up there, that's because everything up there is energized and it's being covered up."
Along with using items like rubber guts, or noodles, that are used on the wires, Hardick and other workers will wear personal protective equipment.
This equipment includes hard hats, flame-resistant clothing, rubber gloves and rubber sleeves. The rubber gloves can withstand nearly 20,000 volts.
Additionally, the truck Hardick works with is insulated to protect him further in case he accidentally touches two points simultaneously that could potentially harm him.
Another safety precaution is having someone with a lineman while they work. Journeyman or not, it's essential to have someone on the ground if a worker is up in the bucket in order to view possible dangers from another angle.
Although linemen spend around five years learning how to do their job safely, there are some precautions residents should take to stay safe as well.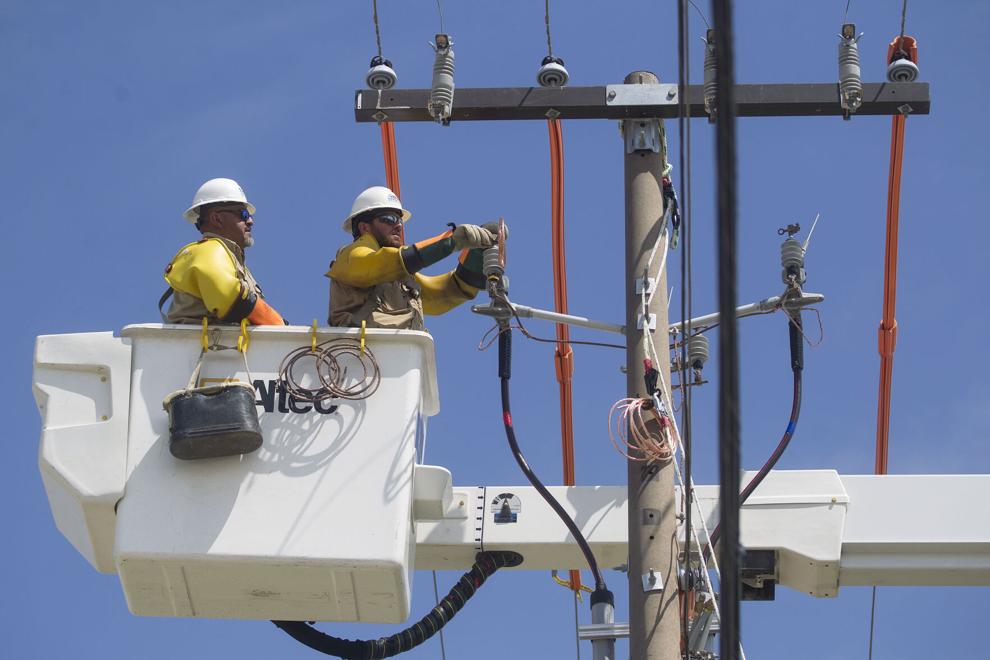 For example, residents should stay clear of sitting on ground-mounted transformers in their yard; a primary line could have unplugged underneath the case and leaned against the side, causing it to be energized.
Additionally, it's crucial to stay clear of cables that have come loose and are lying on the road; the line could be energized and put someone in harm's way.
"That's why people think it's dangerous because everything we work on is energized, but it's just about knowing, 'Hey, I can touch this right here, but I can't touch that at the same time,'" Hardick said. "If I can do everything right, then no problem."