People from all walks of life gathered together to celebrate the life and legacy of Martin Luther King Jr., who preached tolerance and equality during a time of great oppression, with Monday's annual MLK march.
Hosted by the New Braunfels MLK Association, the march held on Martin Luther King Jr. Day aimed to continue to spread the message and remember the contributions of one of the most influential civil rights leaders in history.
"Having the march is to recognize Dr. King's legacy, and what he was about, and there's so many people that these days really don't know what his legacy was or what he was about," said Gloria Ford, the association's co-founder. "We want to continue to have it (because) we don't want his legacy to die out — because of him we have voting rights."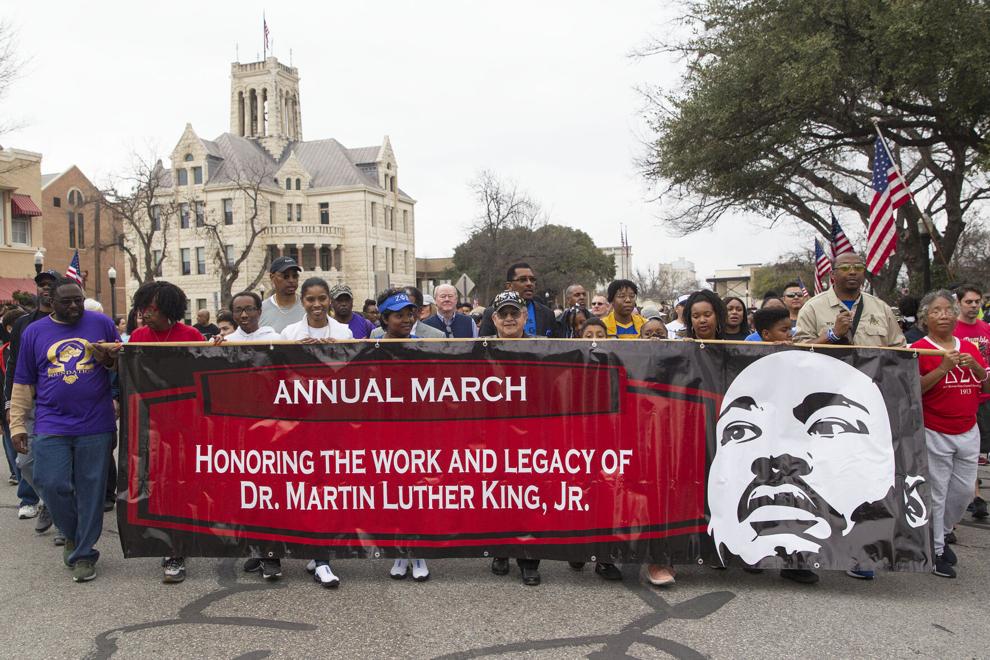 For its eighth year, marchers carrying signs with quotes from the civil rights advocate were led through downtown New Braunfels from Prince Solms Park by some of the hymns sung during the civil rights movement, including the National Black Anthem, "Lift Every Voice and Sing."
After following the route down the San Antonio Street bridge, marchers stopped at the Plaza for a prayer and commemoration of the man being celebrated before reaching their final destination at the New Braunfels Civic/Convention Center.
At the convention center marchers were treated to a short ceremony, which included music and speeches along with giving out the Henry Ford Achievement award and the association's annual scholarship.
This year the New Braunfels MLK Association partnered with Food 4 Kids, an organization working to provide children in the area with food on the weekends.
Prior to the march, the organization began collecting non-perishable food items with donation locations set up throughout the march route.
"Being able to participate and partner with an organization that is promoting peace, understanding and acceptance, you know, this is what we need in our schools, and this is what these children who are needing assistance (need to experience)," said Bethany Benson with Food 4 Kids.
Carrying on the theme of unity and equality, the League of Women Voters of Comal Area were out educating people about their right to vote and reminding them to cast their votes in the upcoming May elections.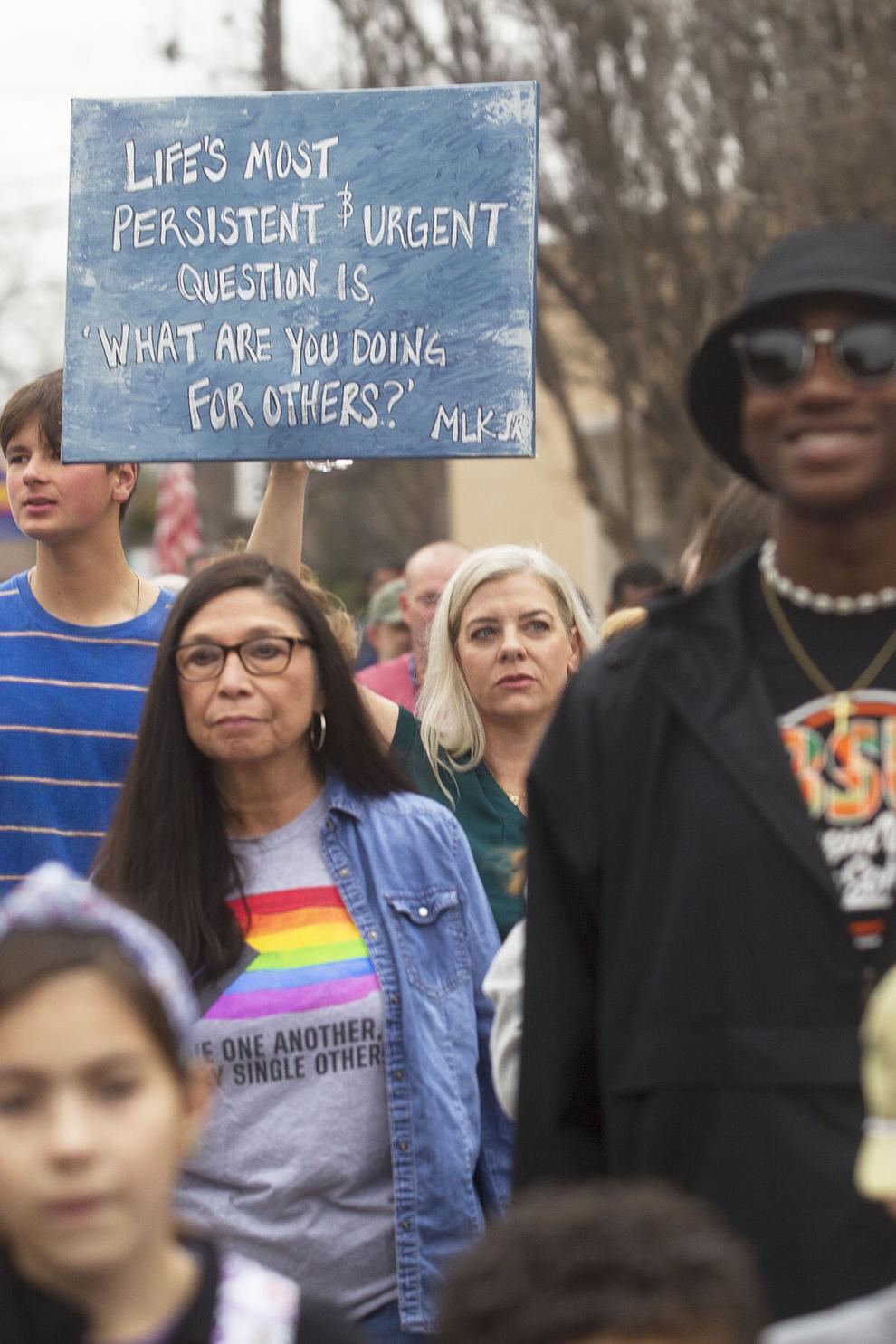 As a key part of the civil rights movement in the 1960s, King's work helped secure equal rights for every gender and race, and ensured their voices would be heard through voting — a right the league wants everyone to exercise.
"Martin Luther King Jr. dovetails into our conscience," said Sheila Pattison, director of youth empowerment for the league. "With him, your vote was your voice — for people that was their voice in democracy. I think it's important, especially for New Braunfels, his idea of everybody working together in being one and working toward one goal — for a unified country."
Ultimately community unity and working toward a common goal is what the march is all about, New Braunfels MLK Association President Bishop Michael Franklin said.
"If we want to paint a bright future that has hope, that has joy and that has peace for our young people, then it's imperative that we have learned principles that will aid us and unify ourselves as a community so that we can work together," Franklin said. "Diversity is our strength, it is not a weakness."
One of the ways the association bridges the gap of division is to honor King's teachings built around equality and unity through education.
For Kimberly Auler, there's a lot to learn from the late civil rights movement leader in the quest for making the world a better place.
"(King) just teaches kindness — kindness to all no matter what, there's no need for violence," Auler said. "Everything can be solved if we all show each other a little bit of kindness."
While Iran Mathieu believes King's initial vision of equality has been realized, he also thinks more can be done, and the only way to accomplish it is by doing it together.
"There's more to his legacy that we can add to the legacy," Mathieu said. "He had a dream and a dream could be whatever we make it — to make our world better and make our city better."