Growing up many dream of becoming a firefighter, an astronaut, or even a doctor — sometimes those future career goals don't always pan out.
Local artist Nell Anderson wanted to be a veterinarian — until she realized how long it would take.
Anderson eventually found a way to incorporate her love of animals into works of art by firing the silhouettes of the creatures into wood.
Recently the Canyon Lake High School art teacher's unique perspective was recognized by the New Braunfels Art League when she was named its Artist of the Year.
"It not only validates (me, as an artist), but it's also for my students," Anderson said. "Even when you graduate high school you can still be successful with your art. It doesn't have to be your main career because (I'm an artist, but I'm also) a teacher, a mom and I have a homestead."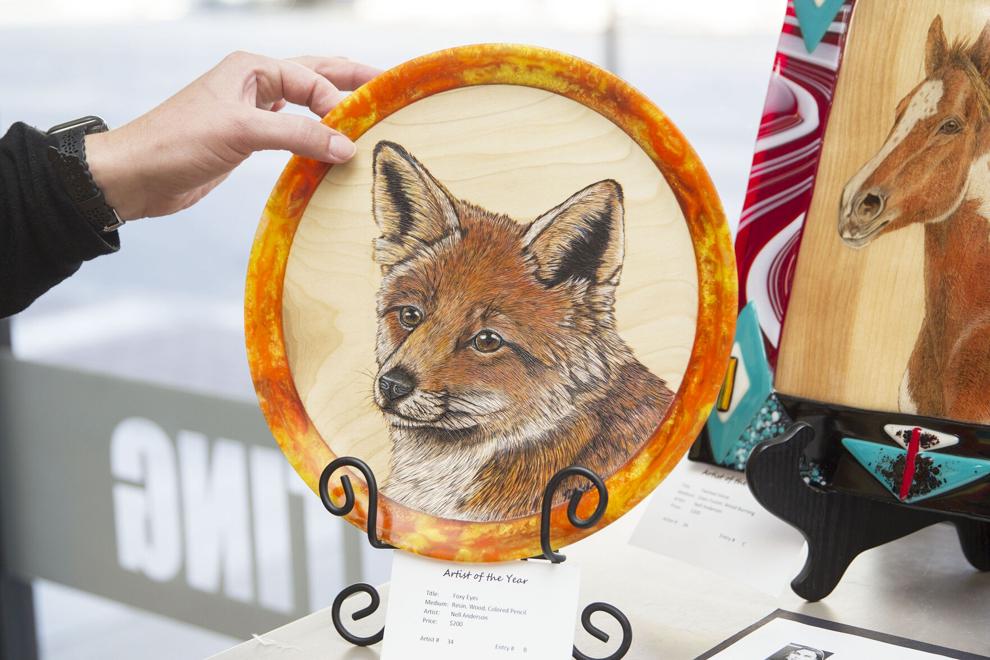 Anderson was introduced to art by her grandfather, who would set the budding artist up with an easel next to his when she'd come to visit.
The artist realized her potential in high school when her high school art teacher helped nurture her talent by purchasing art books and canvases.
When Anderson reached college she invested her time in taking a variety of art classes, falling in love with everything from art theory, and clay and drawing.
While her love for art never diminished, there was one thing missing — a paycheck.
"You can't really make a living being an artist unless you're really, really good at something," Anderson said.
That's when Anderson decided to pursue art education to help encourage and empower students to express themselves through art and develop their skills while continuing art on the side.
In 2019 Anderson joined the Art League, and she submitted her work with pastels and colored pencils into themed art shows.
"You got to make art around this theme, so it really pushed me out of my boundaries and comfort zone," Anderson said. "The gallery really helped me grow as an artist."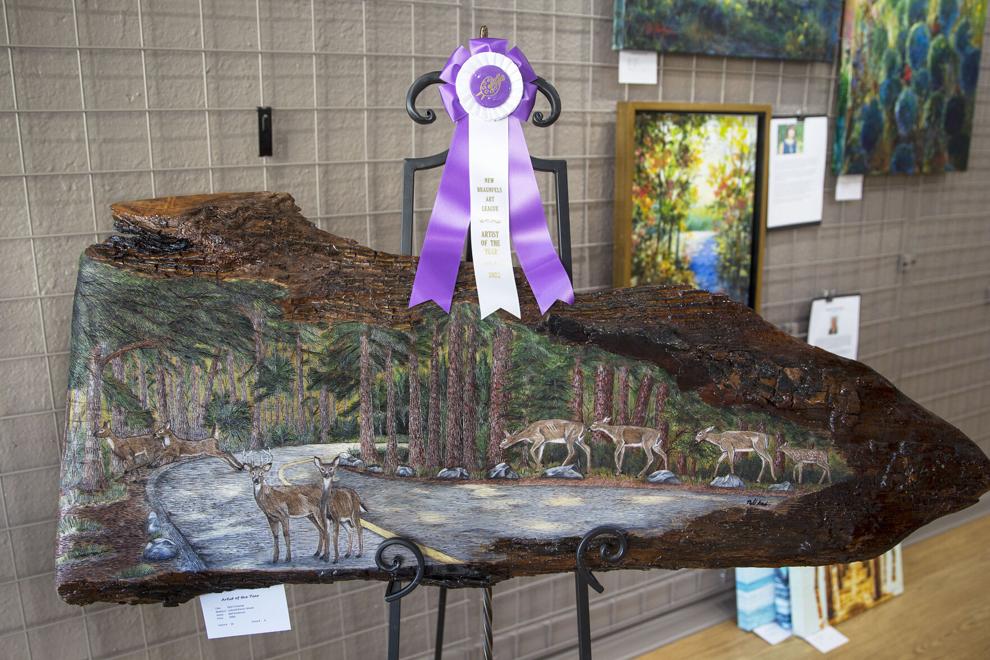 Before the pandemic Anderson's husband encouraged her to branch out from her usual medium by trying out wood burning — a technique used to burn an image into the wood.
"You can see that the wood burning tool is actually gouging into the woods, and it burns the shadows, and then I use the color pencils and I just color on top," Anderson said. "Basically it's drawing with fire."
For her first foray into wood burning she made an owl, which she entered into an art show and won first place.
"It came out way better than I expected, and it was fun because when you wood burn you can adjust the temperature," Anderson said. "It's either really, really light where it's barely even scorching the wood or you could burn it up to where … it burns deep, fast and dark."
Last year she entered her work into the Artist of the Year competition, including a wood burning piece into her collection of pastels and colored pencils, but didn't take home the top prize.
The judge later said to focus on wood burning. Anderson heeded the advice and worked to transform more pieces of wood into works of art depicting animals and all their intricate details.
The artist went on to create various wood burning pieces, including her 2022 Artist of the Year entries — despite almost missing the deadline.
"I booked it down (to the gallery)," Anderson said. "As I walked in those doors … I was almost in tears."
Arriving in the nick of time, Anderson placed three showpieces for judging — never expecting to win.
Anderson submitted "Foxy Eyes" — a fall-inspired fox carved into wood, furnished with an orange-red border — "Painted Horse," which wrapped the wooden centerpiece in a Aztec-like glass frame, and a large scenescape depicting deer prancing across the wooden roadway.
The judge awarded her top prize, praising Anderson's use of mixed media while taking a strong liking to the work featuring brightly colored frames attached to the wood.
Anderson was bestowed with the title in front of family and friends during a ceremony last Friday night — an event where she believed she was being given an honorable mention.
"They don't say the name (just vaguely describe the art) — they build the suspense," Anderson said. "When the lady read the judge's comments about 'Foxy Eyes' I started crying and my son was hugging my leg … It was such a great honor and to have my support group there was really good."
With Artist of the Year under her belt, Anderson hopes to keep elevating herself by finding new ways to use the medium.