Why did the rooster attend the rodeo?
To capture the top prize in the annual San Antonio Stock Show and Rodeo Western Art Contest, of course.
Canyon Lake High School senior Baten Evans took home first place in the 3D-other medium category along with a $10,000 scholarship for his craftsmanship of a "Rodeo Metal Rooster."
It's the first time a contestant from Canyon Lake High School has won the top prize.
"I was very shocked," Evans said. "I wasn't surprised, but was surprised at the same time … I felt very accomplished by winning the award."
Evans took an interest in art starting in middle school beginning with graphite charcoal, working his way up to drawing and eventually 3D pieces as he advanced to AP art classes in high school.
To construct his submission, the budding artist took a lot of inspiration from welding, which he works in as a summer job.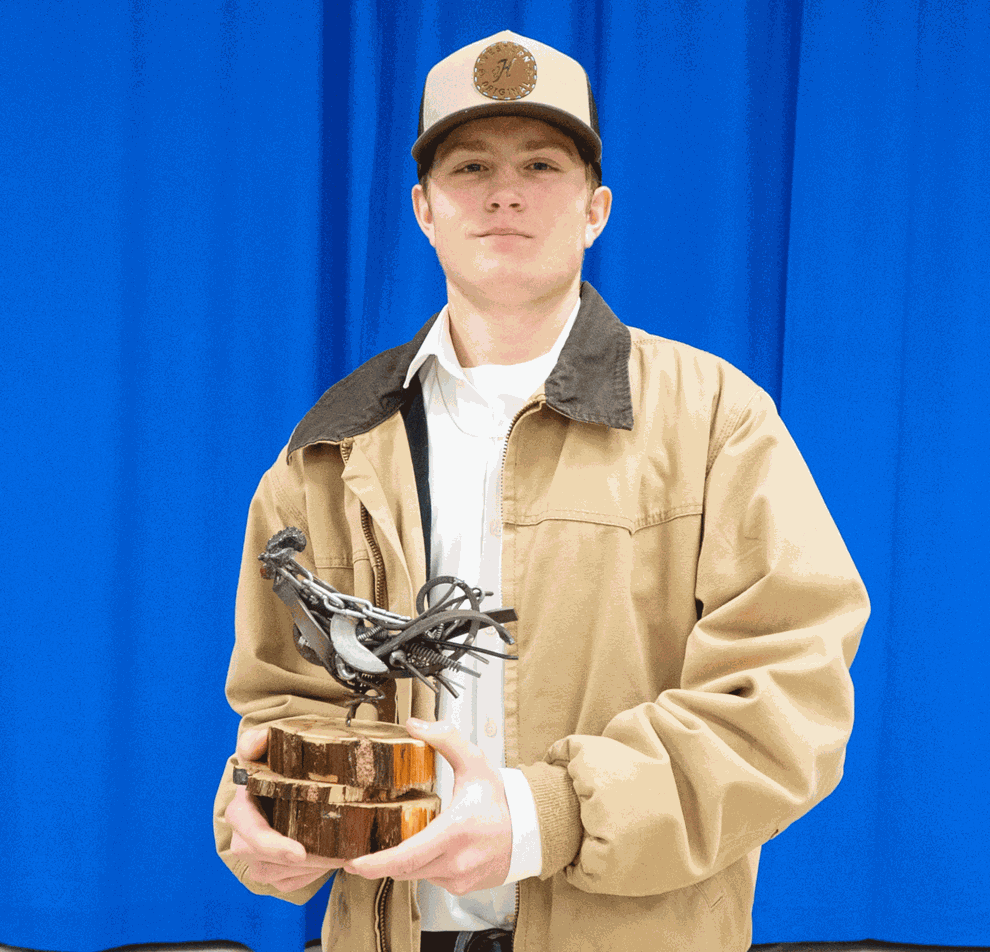 Using his skills, Evans shaped and twisted metal taken from project scraps to create the sculpture, which he placed on a cedar wood base.
"I combined those elements to fit the theme of that competition," Evans said. "Just the wood and the metal coming together kind of gave it more of a western kind of approach."
This year the competition, which is open to high school students between the ages of 14 and 18 from 183 eligible school districts, received over 430 entries spanning 12 art categories — the rooster made quite the impression on judges.
Art teacher Nell Anderson, who recently won New Braunfels Art League's Artist of the Year award, has been with him every step of the way.
"She's been a big part of everything — she's been amazing," Evans said. "She's helped me throughout these years and applied a lot of experience and her own knowledge towards my ideas and thought processes, which has really helped."
Anderson has taken a vested interest in her student's success by encouraging them to stretch their artistic abilities and take part in art competitions.
The seventh time was the charm for Anderson's students.
"(When) you enter into shows, it's almost like a blind date — you don't know what your plan is going to be like, what the outcome is — it could be disastrous or it could be great," Anderson said.
The artist and educator has been instructing Evans since his freshman year, even encouraging him to go for AP art classes.
Anderson is extremely proud of one of her most promising student's accomplishment, and is excited for Evans' next piece, which he's already started working on.
"He's extremely hard-working," Anderson said. "Once he's got his teeth in it, he doesn't want to stop until it's done."
To follow up with the award-winning rooster, Evans is working on a bucking bull using the same medium and plans to enter it in the art competition at the Austin Rodeo.
Evans hopes to one day go into orthodontics while pursuing art on the side.
"I look forward to using it with (art), and hopefully that tedious and kind of these different techniques I'm using kind of help my experiences through these next (few years)," Evans said.