Texas Land Commissioner George P. Bush, on the campaign trail in New Braunfels on Monday as a Republican candidate for attorney general, says he wants to serve as an advocate for first responders if elected to the post.
Bush was in the city for a roundtable discussion with local first responders and elected officials at Cooper's Old Time Pit Bar-B-Que, where the topics ranged from unfunded mandates to recruiting and retention of firefighters and police officers.
"As a candidate for attorney general, I think it's important to reach out to all first responders throughout the state of Texas, and it starts in one of the fastest-growing counties there is, whether that's Hays or Comal or in New Braunfels itself," Bush said. "I want to hear from first responders who risk themselves. With the 'defund the police' movement and the porous border situation, these issues are top of mind, not only for Republicans but for Democrats."
Bush was first elected land commissioner in 2014 and won a second term four years later.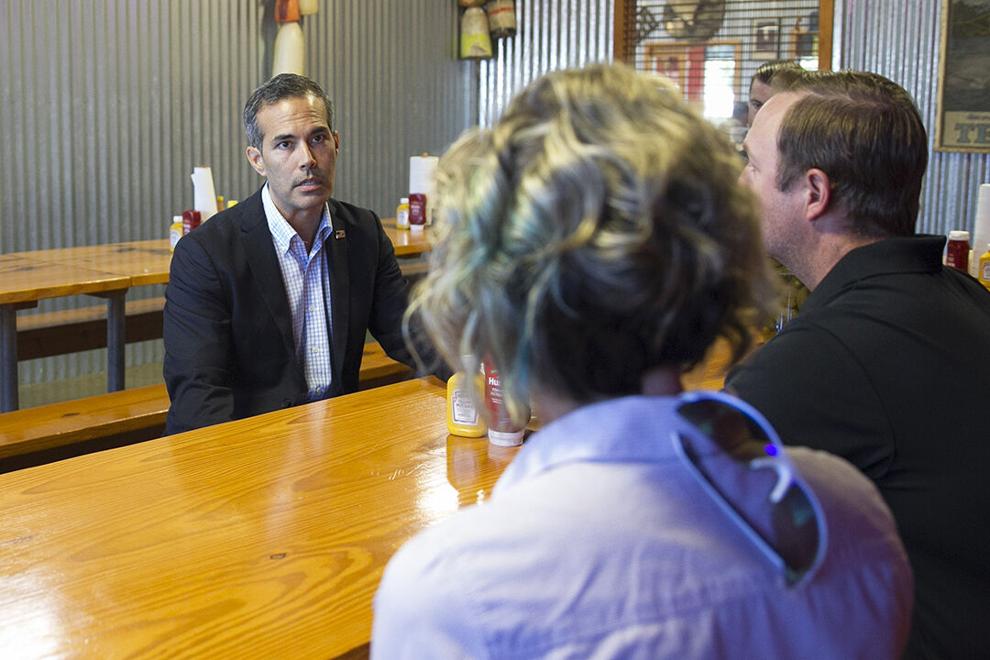 He announced his candidacy for attorney general in early June.
Bush said the state is placing so many constraints and restrictions on first responders that "it's making their job tougher, precisely at a time when morale and recruiting are at an all-time low."
He said he would go to the Capitol to argue on behalf of first responders.
"I think that the role of an attorney general is to be an advocate for them because I'm not aware of a firefighter in the state legislature, a body of 181, and I believe there's only one former law enforcement official right now," he said. "In the halls of power, their voice isn't heard. We've given raises to teachers in Texas two sessions ago. We gave raises to judges this past session, but where are the first responders? Among the other concerns, though, a lot of them present to me is that it's really tough recruiting the next generation of Texans."
Bush said that if elected as the state's top law enforcement official, he would "devote the next four years to being their advocate in the Capitol, reexamining their benefits, the resources, the transferability of their benefits from one jurisdiction to the next."
"That's what I would do differently, is to be their lobbyist, their voice because they don't have that right now, and a lot of them have a target on their backs," he said. "What I hear from law enforcement for first response is that they don't have the resources to recruit, and to get better, it requires more resources and more training. The law enforcement organizations that I talk to throughout the state...they are all for the idea of reforms such as body cameras and additional training. The more you invest, the more you professionalize the force, and when you do that, they get the sense that their job is further supported in Texas."
Bush said law enforcement personnel are open to discussion about reform, but "right now, we have to push back against this whole 'defund (the police)' movement."
Incumbent Ken Paxton is seeking reelection for a third term as attorney general. Eva Guzman, a former Texas Supreme Court justice and Matt Krause, a state representative from Fort Worth, are also challenging Paxton in the Republican primary. 
Joe Jaworski, a former mayor of Galveston and a trial attorney, and Lee Merritt, a civil rights attorney, are running in the Democratic primary.
Primary election day is March 1, 2022.