After more than 9,000 miles of traveling and biking across the U.S., Jeff Salter returned to central Texas after helping senior citizens along the way.
On Friday, the Caring Senior Service founder and CEO tearfully accepted an $18,000 check from Central Texas Advocates for Seniors for his campaign, "Close the Gap," to install grab bars in seniors' homes to prevent dangerous and sometimes deadly falls. 
This amount allows the opportunity for 72 people to have grab bars installed in their homes.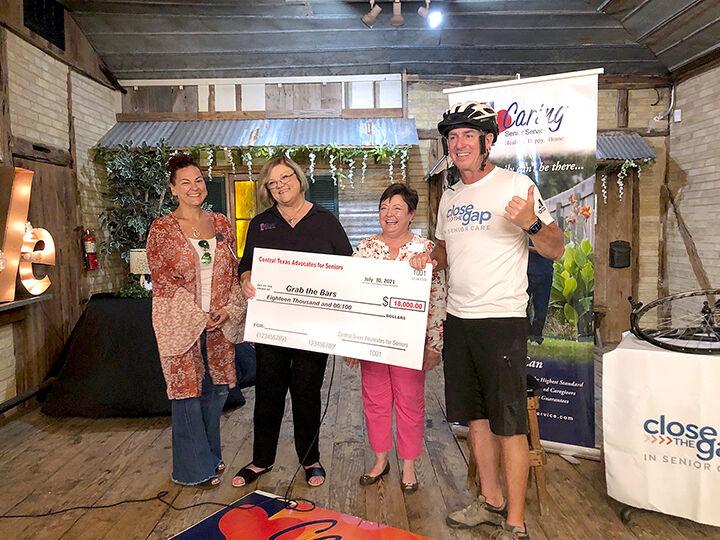 Caring Senior Services is a network of private-duty home care franchises, which provides affordable, non-medical services such as transportation, exercise regimens, meal preparation, light housekeeping and even just companionship.
"We always wanted to figure out a way to celebrate 30 years and also to understand what the next 30 years was going to look like," Salter said. "It's just been a fantastic journey."
According to a February Caring Senior Services survey, out of 800 respondents 90% said they were "very worried" or "somewhat worried" that an older loved one living alone may fall and hurt themselves.
About 68% said they felt installing grab bars in the bathroom or rails throughout the house would be the most effective measures to prevent falls.
Salter traveled from his home in San Antonio along with two coworkers and biked on their e-bikes over rolling hills in the Carolinas and up to Washington, D.C. to raise money. 
They stopped along every Caring Senior Service office and spoke with employees, city leaders, caregivers and locals about how to improve senior citizens' lives and protect them.
Before the donation, $36,202 had been raised for "Grab the Bars." 
As of last week, they had 20 bars on hand at headquarters, BML public relations account coordinator Melanie Moore said. The Dallas location also received 50 donated grab bars. 
"However, we are waiting for Jeff to get back before we pivot into purchasing/distributing grab bars," Moore said. "We will continue to raise funds through the end of the year — which means we will hopefully​ be installing grab bars while still fundraising for a few months."
Central Texas Advocates for Seniors is a volunteer-based organization of businesses, other organizations and individuals providing goods and services to senior citizens in Comal, Guadalupe, Hays and Caldwell counties. 
Cathy Trlica, Caring Senior Service of New Braunfels owner and CTAS board member, said she and similar organizations want the best for the area's vulnerable population.
"Our desire to keep people safe is critical," Trlica said. "And so you are contributing to 'Grab the Bars' and we are going to put new grab bars in as many homes as possible with the success of this program," Trlica said. "This bike ride is another example of how he's supported seniors today."
Ben Cornu, Caring Senior Service headquarters director of special projects, said he enjoyed biking around Nashville and meeting people of different backgrounds.
"It was my first opportunity to travel like that," Cornu said. "It's kind of at a slow pace but you get to tell your story to lots of people. It's a good way to keep telling our story and about what we do."
Eric Carter, Caring Senior Service director of support services, said the idea to do a bike journey to celebrate Salter's anniversary with the company seemed far-fetched but they wanted to try.
"I think it was a little bit of a crazy idea but once we got things rolling and Jeff did a lot of training," Carter laughed. "The people were great, a lot of people who once found out what we were doing wanted to donate to the cause."
Catriona Salter and their two sons met up with Jeff along different points including in Denver.
"I'm so proud of him and what he's accomplished," Catriona said. "He's done 94,000 miles in four months and I'm glad he's close to home now."
After his stop in New Braunfels, he was on the last leg of the journey with about 150 miles left going to Kerrville and finally San Antonio. 
Salter said it took a community to raise the funds and ensure senior citizens could live safely and give their loved ones peace of mind.
"Most people had an experience with family members or loved ones who had issues with falls that really resonated across the spectrum of people that we talked to," Salter said. "This is a lot of work from a lot of people through the community."