Last Thursday, Comal County Commissioners got an earful from Canyon Lake-area residents upset about the county's proposed changes for county-operated boat ramps.
On Wednesday, many of the same residents packed courthouse chambers again, but this time to offer solutions that were warmly received by commissioners during a two-hour workshop.
"This was an opportunity for public input," County Judge Sherman Krause said after the session, which starkly contrasted the wave of criticism during last week's public hearing.
Speakers accused the county of overstepping its bounds in trying to limit pedestrian and vehicle access at the ramps and adjacent property owned by the U.S. Army Corps of Engineers. 
Krause said changes to the original rules — adopted when the county was much smaller back in 1994 — were designed to align with Guadalupe-Blanco River Authority lake safety rules, control overcrowding and diffuse rowdy behavior at the nine ramps operated by the county.
Many sought to form a citizen commission to hash out differences, which Krause said wasn't possible before the July 4 holiday. Instead, commissioners tabled a vote until June 24 until they could hear more from citizens.
Canyon Lake food chain 
The GBRA owns the water rights to Canyon Lake. The U.S. Army Corps of Engineers (USACE) manages Canyon Reservoir's flood control pool and oversees the lake's administrative operations. 
Aside from ramps owned or leased privately, USACE leases boat ramps to Comal County and the Water Oriented Recreational District of Comal County (WORD), an independent taxing authority that also leases Canyon Park and Comal Parks from the USACE. 
"We have to coordinate with the Corps and GBRA before anything can be adopted," Krause said, being noncommittal on exactly when that might happen. "The intent was to get it done before the holiday. It might be on the (June 24 agenda) — it might (be tabled) or it might fail, there's no telling at this point."
County's updated boat ramp rules will be enforced by the Comal County Sheriff's Office, county Constables offices, Texas Parks and Wildlife Department and the Texas Department of Public Safety. 
Krause opened the workshop by explaining the intent behind the changes, which addressed commercial notices, signage and advertising, solicitations, loitering, swimming and fishing in boat ramp areas, vehicles parked in designated trailer parking areas and those not in the act of launching and retrieving watercraft. Penalties include vehicles being towed at owner expense and Class C misdemeanor citations.
Workshop agenda
Krause outlined five changes to the previous proposals, each clarifying intent of their purposes.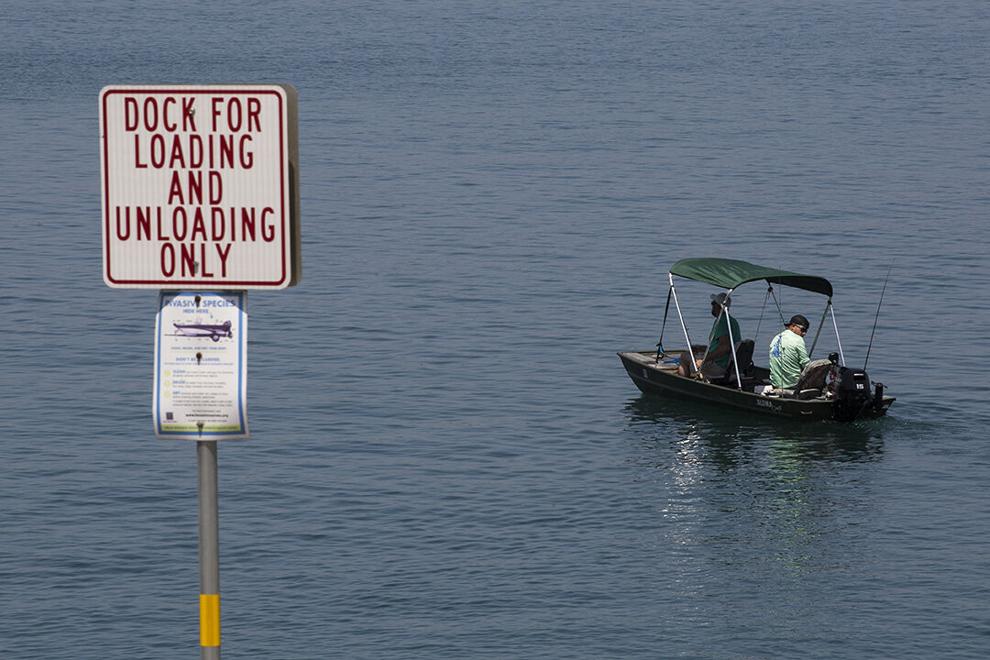 In Section 3, general rules, vessels and vehicles with painted signs would be exempt from soliciting sales or advertising, but all vehicles would be limited to launching and retrieving watercraft and prohibited from parking in designated parking spaces meant for trailers towing boats. Exceptions would be made for kayaks and other craft transported by cars and trucks with enforcement at the discretion of law enforcement.
Signage would outline boundaries of prohibited swim areas 200 feet to each side of ramp center stripes, but there wasn't an answer to outlining parking areas at ramps without asphalt surfaces. Vehicles and pedestrians crossing boat ramp areas to access USACE property are still prohibited, and only one motor vehicle used to launch and retrieve watercraft in those areas.
Most of the 20 residents who spoke generally agreed with the revisions and proposed other short-term and long-term remedies. Nearly all wondered why the USACE or GBRA did not send representatives to the meeting; calls to USACE General Manager Javier Perez-Ortiz were not returned on Wednesday.
Krause said the meeting erased misconceptions that the county can overrule both agencies USACE when it comes to making and enforcing rules, when it's actually the other way around. 
"We've been in discussions with the Corps on these and other things, some we can do now and others down the road," Krause said. "We absolutely plan on speaking with them down the line.
"But we got some very good input today — it was much more of a discussion than what we've had before and the intent of these workshops, to get that input. We're all on the same page — even if we don't agree with what's on the page, we're all working toward the same thing."