Locals and travelers from near and far danced, laughed and carried around foamy pitchers of golden beer once again.
Polka music echoed across the gleaming beer hall adorned with coats of arms as black, red and gold spiral decorations twirled above, forming a German flag all across the new structure.
Men in Lederhosen carried around open cardboard boxes of cold sausages to grab for the big opening ceremony — almost two years in the making after a fire and the pandemic devastated the city's biggest attraction.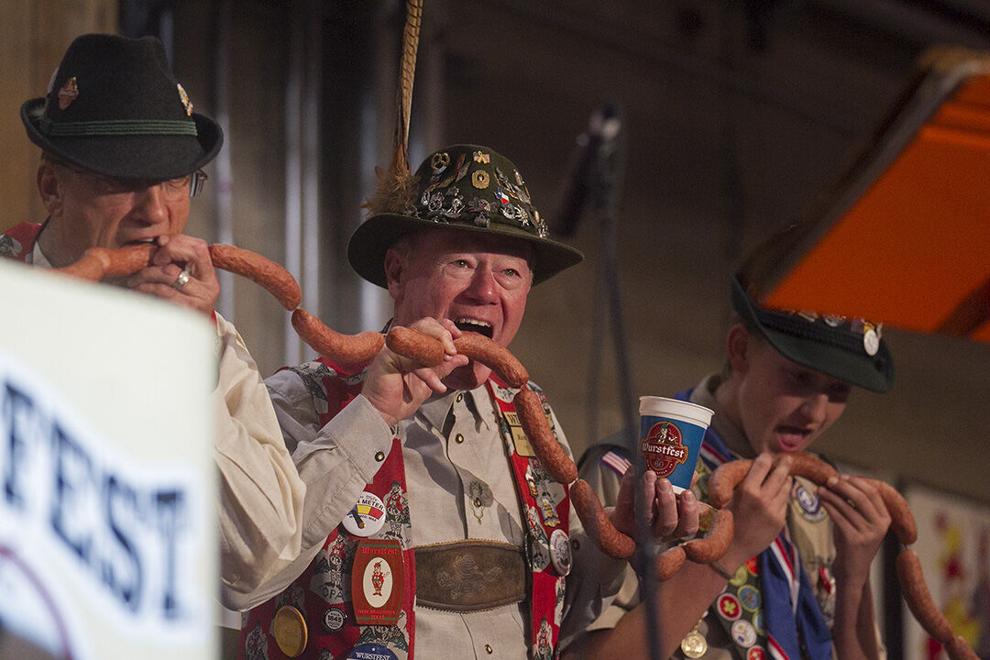 New Braunfels polka star Alex Meixner kicked off the evening filled with enthusiastic hollers and jaunty polka. Wurstfest is not Wurstfest without the brats, beer and nonprofit booths bringing everyone together.
For many, it felt like coming home.
"It's been too long since we've all been here!" Meixner said during the ceremony. "But doesn't that make us appreciate it that much more?"
This year's Wurstfest marks a return to normalcy after a fire burned down the Marktplatz, which contained vendor booths, and scorched the main hall in 2019. Then, the pandemic hit last year.
The Wurstfest Association, along with its "Opas," Meixner, New Braunfels Mayor Rusty Brockman, Comal County Judge Sherman Krause and others stood onstage before an energetic crowd.
District 5 Council Member Jason Hurta, the event's MC, introduced this year and 2022's Wurstfest Association leaders.
Hurta said Wurstfest's humble beginnings began when a group of business leaders decided to honor the many local sausage makers. It was only a day, and over time it evolved into the biggest event various generations of New Braunfelsers come back to every year.
"We've had floods, we've had unseasonably cold weather, we had a fire and a pandemic," Hurta said. "But you know what? Wurstfest endures. It endures, namely because we have strong leadership from our past presidents and our current president."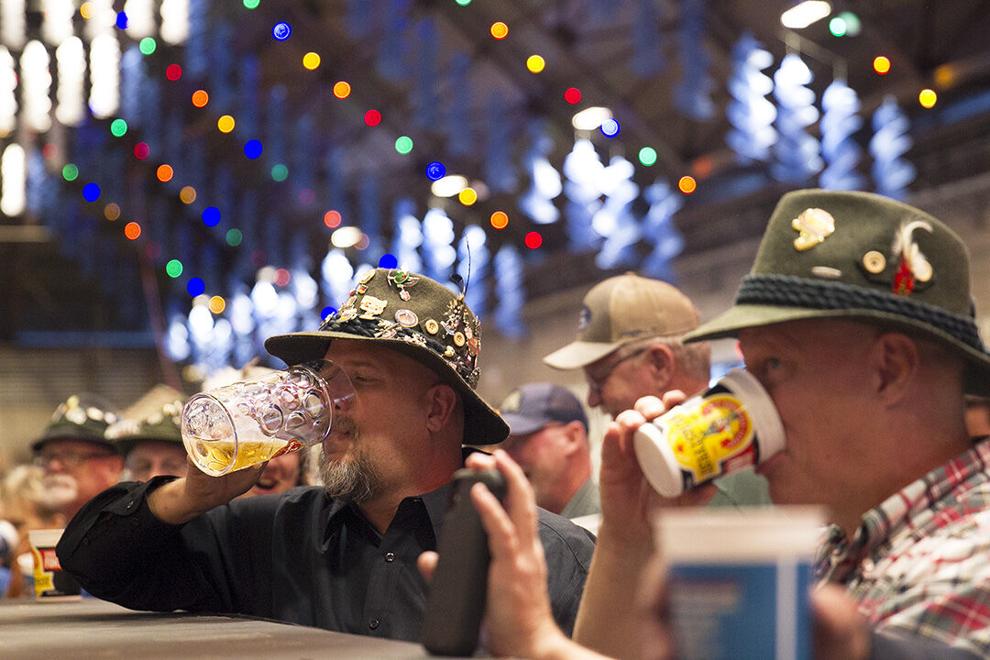 Hurta asked past presidents to raise their hats and hands for recognition, followed by a thunderous applause.
Wurstfest Association's Festival Chair Miles Granzin, President Randy Rust and Grosse Opa Wayne Classen pumped up the crowd, reminiscing about the past and looking toward the festival's future. 
"723 days ago our Marketplatz burned down," Rust said. "And now here we are with a brand new beautiful building outside and thousands and thousands of more patrons that have come back and we really appreciate it."
In front of the stage sat a wooden cask of Shiner Oktoberfest beer. Spoetzl Brewery of Shiner beer brewmaster Jimmy Mauric did the honors of tapping open that cask with a wooden mallet.
Beer flowed out and he filled up cups and passed them around the crowd. Meixner tossed around his hair while playing his accordion to the traditional German drinking song, "Ein Prosit, ein Prosit."
Finally, everyone on stage in a row took a link in a chain of sausages for the long-held tradition, the "biting of the sausage."  
Many were head to toe in lederhosen and dirndls and Alpine hats with feathers and white stockings. 
Walking past the booths, the savory smell of potato cakes and sausages wafted around.
Wurstfest attendees Barbara Gomez and Fred Gomez, a Wurstfest Association member, wore their German-traditional clothing and sipped beer. 
The Gomez's have attended Wurstfest for more than 40 years, and Barbara said she was happy to be back.
"Couldn't have asked for better weather this weekend," Fred Gomez said. "You can see all the friends that you haven't seen since last Wurstfest."
Chris Sitton has attended Wurstfest for several years.
"This is the happiest place on earth," Sitton laughed.
Barbara Gomez said besides all the eating, drinking and dancing, it is mainly about raising money for the nonprofits and organizations selling sausages to drinks at their booths. 
Many had to rebuild from scratch after their booths burned down in the fire.
"One of the reasons for Wurstfest is so all the local nonprofits can raise money for their organizations," Barabara Gomez said. "That's kind of how it was founded, for nonprofits to raise money." 
Organizations such as the Jaycees, the New Braunfels Downtown Association, Rotary Club, Lions Club and many others sold savory snacks and chatted with locals.
Fred Gomez said after a tumultuous time, it was good to see people smiling again at the cherished Wurstfest grounds.
"So many people in the community are here, and everybody's happy," Fred Gomez said. "There's not one unhappy person."