When US Army Veteran Cecilia "Cece" Guerrero was 11 years old, something magical happened during Christmas. Something she had only seen on TV.
"I can't tell you how I felt waking up and seeing real, wrapped-up presents in front of our tiny tree in the living room," Cece said. "One box was almost as tall as me. Inside those boxes were a tetherball set, a badminton/volleyball set with a net, and a bunch of games like Monopoly. My little brothers received an electric car track set."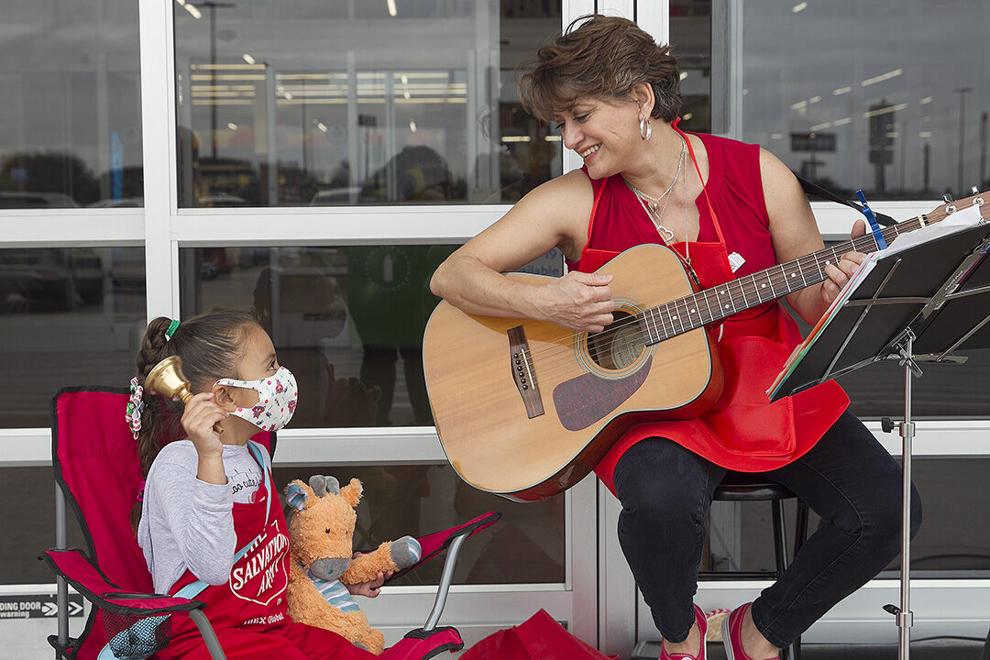 Cece and her five siblings were also gifted pajamas.
"I never forgot that feeling," she said.
Cece would go on to face many challenges in her childhood, including being placed with her sister in the foster care system. But she never forgot that one special Christmas in her life.
It is why she continues to ring the Salvation Army bell each year. She has been doing it for more than 17 years. "I was able to enjoy those precious gifts that were made possible by donations given to the Salvation Army Red Kettle Campaign," Cece said.
The mission of the Salvation Army is to meet human need, whenever and however it can. The Christian ministry helps meet basic needs by providing shelter for those facing homelessness; food for families; and financial assistance for those struggling to make rent or other payments.
Donations to the Salvation Army help those who are facing possible eviction due to the effects of the pandemic. Salvation Army programs also provide emergency disaster relief and provide seasonal assistance programs such as school supply and coat drives.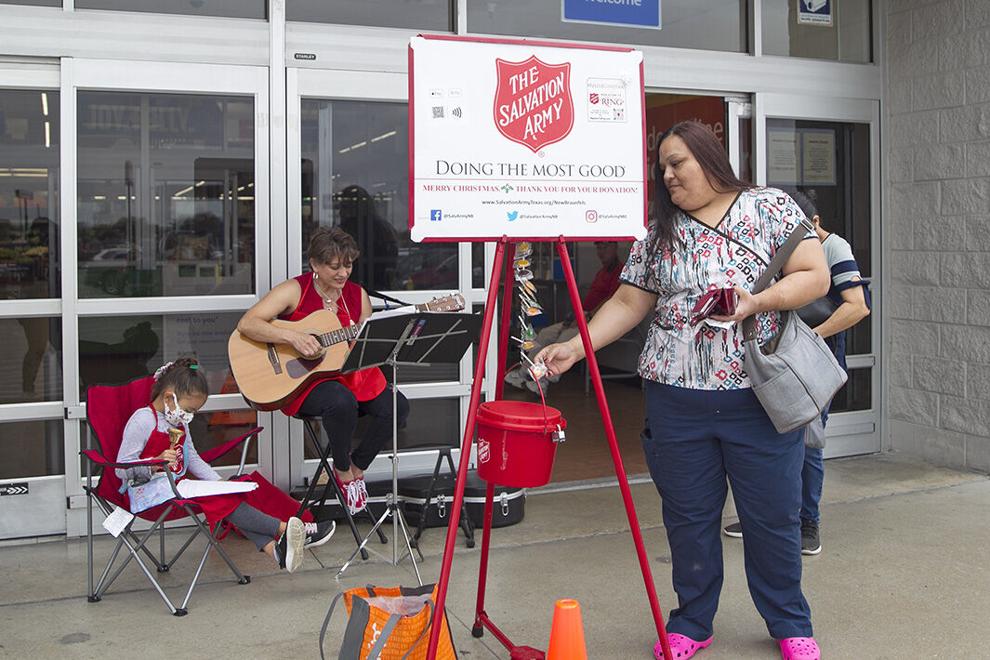 This year's New Braunfels Red Kettle Challenge is to raise $149,000 in donations for the New Braunfels Post, but donations and bell ringers are still desperately needed.
How much can bell ringing help?
"Ringing the bell for one hour can provide food for 13 to 20 families," said Capt. Ramon Leal, Salvation Army New Braunfels Outpost. "Two hours of bell ringing can provide one night of shelter for a family of five."
The Red Kettle Campaign continues through Dec. 24, and kettles are located at 25 businesses in the New Braunfels area, Canyon Lake, Spring Branch, Cibolo, Schertz and Spring Branch.
Bell ringing shifts, on average, are two hours, but some volunteers sign up for more than one shift. Cece has signed up for several shifts with her family members, and does much more than just ring the bell.
"I wondered if anyone had ever played an instrument while manning the kettle," she said.
She got permission, and has been bringing her guitar with her ever since to her bell ringer shifts. And she is making it a family tradition, making sure that being a Salvation Army bell ringer is being passed down from one generation to the next.
Cece first became involved with the Salvation Army when she and her daughter signed up for sewing lessons offered by the New Braunfels Outpost. Since that time, Cece has engaged her sister and niece in singing Christmas carols while bell ringing, as well as her daughter and son-in-law.
"This year was very special because my 6-year-old daughter Elizabeth "Ellie" (Guerrero) wanted to join me," Cece explained. "She sang with such joy in her heart. She offered kids lollipops and thanked every single person that gave money to the kettle."
Cece and Ellie also have found that singing can quickly become a community event, and that the Salvation Army's "Doing the Most Good Together" slogan is much more than just words.
"People love to sing and dance along to certain upbeat songs like "Rockin' Around the Christmas Tree," Cece said. "They also stop and listen to Ellie when she is singing her solo parts of certain songs."
Ellie enjoys singing "Silent Night" while serving as a bell ringer.
"I love helping people," said the first-grader.
Cece said the best part about being a bell ringer was knowing that the donations would be going toward something good.
As any volunteer knows, she also is receiving something back from her time as a bell ringer.
"This is the first time that my granddaughter has joined me singing and ringing the bell. I hope that I am helping to build a legacy of love and charity in her and all the other family members who have joined me through the years," Cece said. "She knows why I do this every year. I believe she is learning what it is to feel God."
It is not too late to start a tradition and sign up as a bell ringer. Go to registertoring.com.
Make online donations to the Digital Kettle at salvationarmynbtx.org.