"We will rebuild."
That's what 2019 Wurstfest President Jim Hill said after a fire burned down Marktplatz and damaged the Wursthalle building on the festival's grounds.
Now, nearly two years on, that tragedy, along with 2020's pandemic forced cancellation, became a triumph on Tuesday evening, as a contingent of Wurstfest Opas and Omas cut the ribbon on the $12 million renovation project that will greet German food hungry and beer imbibing visitors for decades to come.
Since its founding in 1961, the event has served as the biggest fundraiser of the year for local nonprofit organizations.
"Germans have a love of community, service to others and togetherness," Opa Nathan Manlove said, addressing the assembled visitors before the ribbon-cutting ceremony. "The nonprofits and things they benefit from are another piece of our culture in New Braunfels that I just love. Last year was hard on nonprofits, and so the benefits that Wurstfest provides to the nonprofits so they can do the good work is huge here."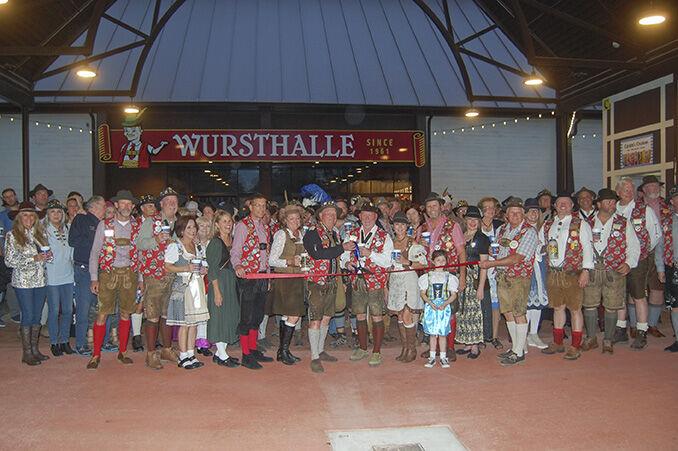 Randy Rust, this year's Wurstfest president, said with the new construction, the grounds are a much different place than when the 2019 Salute to Sausage was held.
"We are very proud of our accomplishments as a Wurstfest Association," Rust said. "The organization works hard to raise money to help put a beautiful building like this together so our nonprofits can come here and make their budgets. We did a lot of work."
Byrne Construction Services led the design-build renovation, assisted by MarmonMok Architecture.
After the ribbon-cutting ceremony, Wayne Classen, this year's Grosse Opa, led the assembled crowd in the proper German toast.
Wurstfest continues through Sunday at the Wurstfest Grounds in Landa Park in New Braunfels. 
On Thursday, the gates open at 5 p.m., and entertainment ends at 10 p.m. On Friday, the gates open at 5 p.m., and entertainment ends at 11 p.m. 
On Saturday, the gates open at 11 a.m. and entertainment ends at midnight, and on Sunday, the gates open at 11:00 a.m., and entertainment ends at 10 p.m.