Beth Bowers, 15, is the first female Eagle Scout in New Braunfels, and in achieving that she focused her creativity and time on supporting other women. 
For her Eagle Scout project, Bowers made and donated more than 200 heart-shaped pillows with cooling gel pads to ease breast cancer warriors' pain during treatment. 
She donated them to the Pink Warrior Advocates and The Mudge Family Foundation, started by local survivor Marsha Mudge who has created a supportive community of fellow survivors.
Bowers said the project was near and dear to her heart, especially since her aunt is a survivor, who was diagnosed in her late twenties. 
"I was doing research and found that one in eight women are diagnosed with breast cancer and I wanted to do something to give back to the community," Bowers said.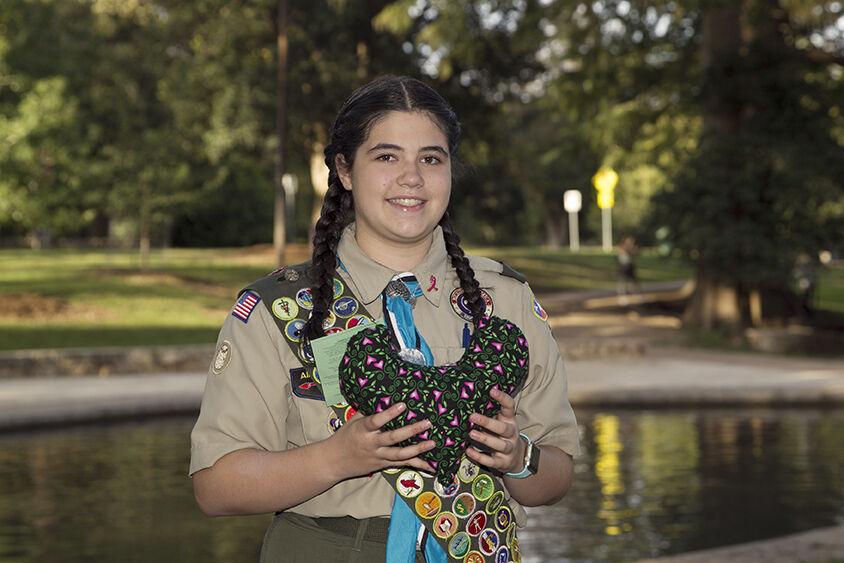 Her brother, also an Eagle Scout, did a similar project focusing on cancer and so she wanted to follow in his footsteps while paving her own path to the rank. 
"I feel proud to be one of the first ones to get it and that's a huge accomplishment," Bowers said.
Being an Eagle Scout runs in the family, and so her brother cheered her on through the big project to badge accomplishments.
"He was encouraging me throughout the whole process, he was there every step of the way," Beth said.
No longer a boy's club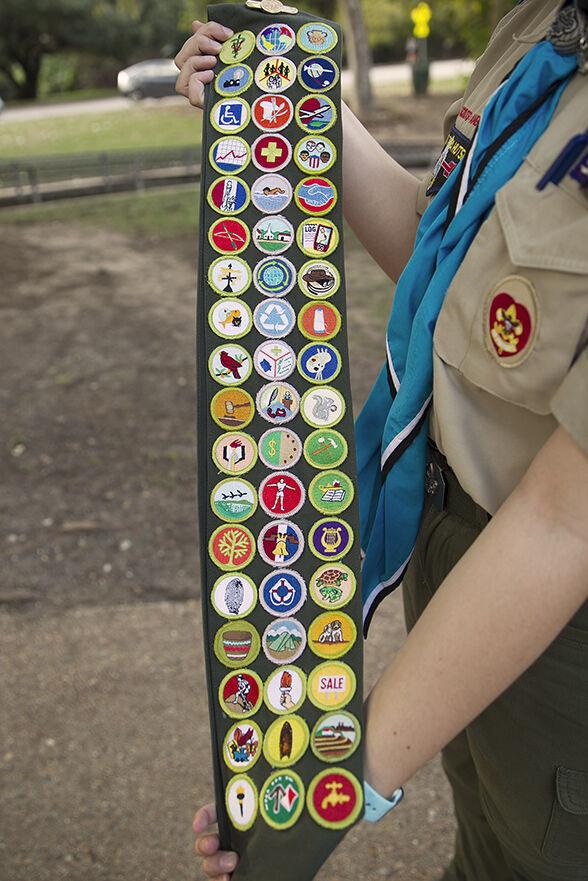 This year was the first time ever girls could be eligible to become Eagle Scouts.
Bowers is the second female Eagle Scout in her troop and joined thousands of young girls who broke into the boy's club — which she said offered more fulfilling experiences than Girl Scouts.
"Scouting was an opportunity mainly because my family has tons of Eagles and I wanted to be one of them," Bowers said. "I learned new skills I wouldn't have learned like camping, hiking and a whole bunch of other outdoor skills like knot tying."
Eagle Scouts must earn 21 merit badges, rewarded for learning various skills from pitching a tent to photography, to reach the rank. 
Out of those, 11 badges are required while the other learned skills are up to the scout. 
Bowers exceeded that requirement with 56 badges through merit badge university camp. She also juggled swimming, choir and school, starting her homework right away before bouncing between practices and scout meetings.
Besides the standard outdoor skills, Bowers picked up photography and learned from a veterinarian about how to treat animals, which she sees a passion in.
"I want to go to A&M hopefully and go into vet medicine and be a vet when I grow up," Bowers said. "I just love spending time with animals and everything."
Empowering Women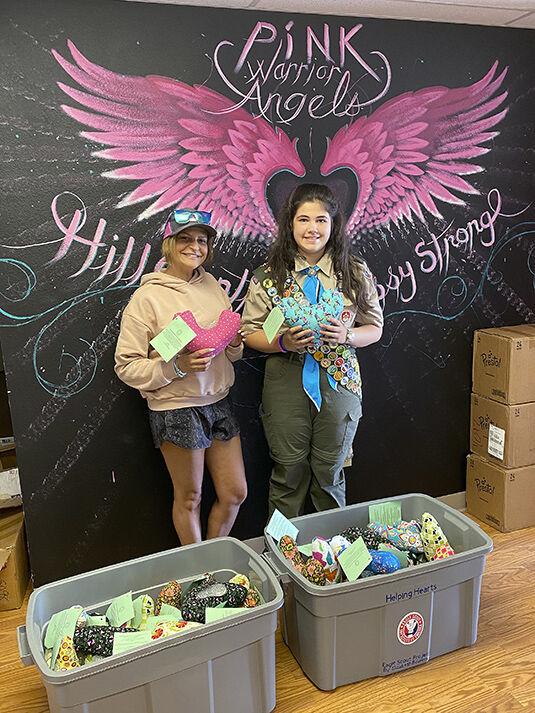 When she was not earning badges, she was stitching together hundreds of plush heart pillows for her project.
Pink Warrior Advocates is a local nonprofit emotionally and financially supporting women with breast cancer through grants and group support sessions.
This month is Breast Cancer Awareness Month, and PWA president Jen Reynolds said the donation meant a lot to survivors like her.
"Cancer had touched her family and she really found a project on something that has run in her family for years," Reynolds said. "It was so touching just meeting her, she's such a sweetheart and knowing that she chose us as one of her organizations, it really meant the world to us."
Reynolds said the pillows ease women's pain after double mastectomy surgery with the gel pads that can be heated up or cooled down. 
"The pillow itself goes in between the seat belt and chest and they can rest their arms on it," Reynolds said. "It's super helpful, it's really life-changing for these women who undergo double mastectomy. Hearing her story and hearing her journey too and helping women by paying it forward to them, it kind of came full circle."
Marsha Mudge through Facebook and fundraising events has used her voice in the community to advocate and empower survivors like herself. She raises money to help survivors pay for steep medical bills.
Mudge took to Facebook when Bowers donated the pillows, enthusiastically posting "We need more Beth's in this world bc this girl is something special!!!" 
"I bawled crying," Mudge said. "Just these days, I don't know if the younger generation understands community service and helping another person. It's amazing she has the maturity and willpower and heart to give back to somebody."
Mudge worked with Beth's mom, Katherine, who knew Mudge's story and the foundation's mission.
"It's so beautiful to see someone, a younger kiddo, care about old people like me going through all of this stuff," Mudge said. "It gives you hope, a reason to fight. That one act of kindness helps with so many emotional and mental things people go through when they fight cancer."
Katherine Bowers said she is proud of her daughter for learning leadership, critical thinking and lifelong skills that will help her throughout life.
"It was a great accomplishment for her," Katherine Bowers said. "I saw her grow a lot, not only learning how to do scouting stuff but maturity-wise it's always been a big part in our families."