Comal ISD parents received an e-mail Tuesday night in which school board president David Drastata explained that teachers and parents of students would have the choice on whether they wear a face mask starting Wednesday when Texas Governor Greg Abbott's statewide mandate officially ends. 
"We know that our success can be directly attributed to our health and safety protocols: daily health screening, social distancing, good hygiene practices, and face coverings," Drastata wrote. "That said, we are also about giving parents choice. To that end, the Board of Trustees has amended our health and safety guidelines to allow parent and teacher choice with regards to face coverings effective March 10.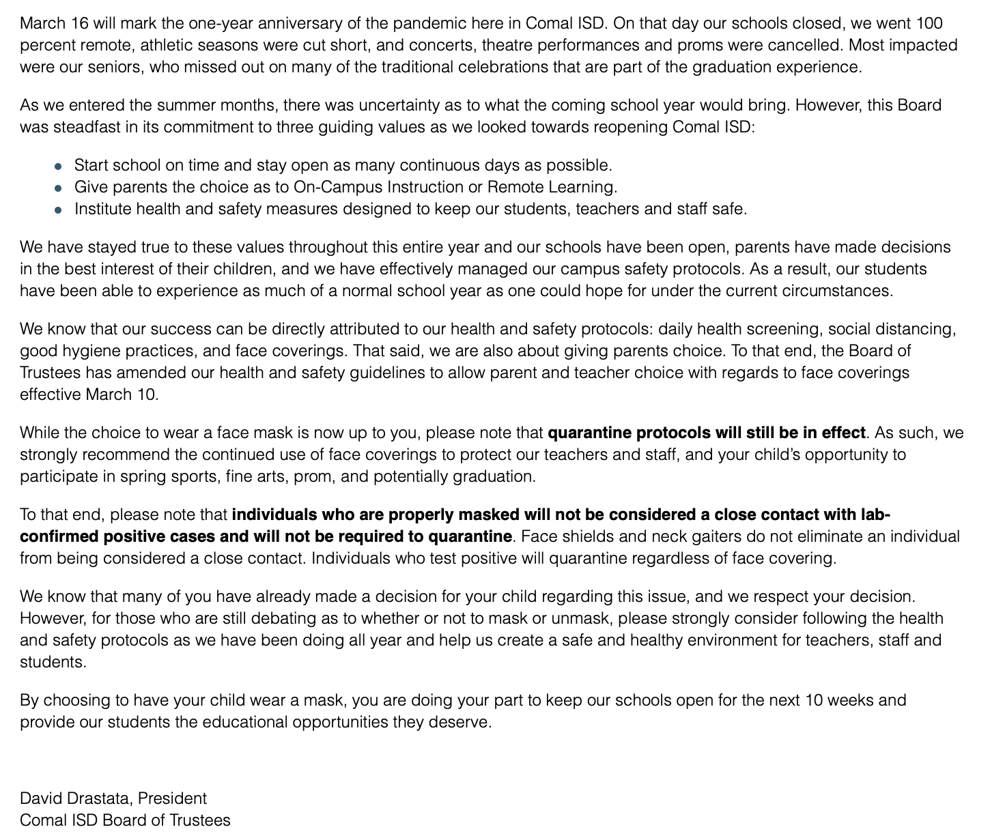 While the choice to wear a face mask is now up to you, please note that quarantine protocols will still be in effect. As such, we strongly recommend the continued use of face coverings to protect our teachers and staff, and your child's opportunity to participate in spring sports, fine arts, prom, and potentially graduation."
The district's move runs counter to steps others have taken as the COVID-19 pandemic reaches its one year mark locally, including neighboring New Braunfels ISD, which opted to keep the mask policy in place for the rest of the school year, and the city of New Braunfels, which is keeping it in place for city facilities.
Comal ISD, it appears, is hoping persuasion will do the same job as the previous rules.
"We know that many of you have already made a decision for your child regarding this issue, and we respect your decision," Drastata wrote. "However, for those who are still debating as to whether or not to mask or unmask, please strongly consider following the health and safety protocols as we have been doing all year and help us create a safe and healthy environment for teachers, staff and students."