When Megan Smith found her kindred spirits in New Braunfels, the group of ladies might have not been exactly what she expected, or maybe so.
The 30-something found her home with a supper club, whose members are primarily in their 70s and 80s. The age gap was a nonissue for Smith.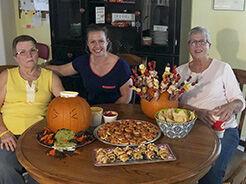 "I gravitate toward people who are willing to share their wisdom and have kind hearts," Smith said.
It all began one day in December of 2017 when Smith, who works as sales manager for Feller Roofing, went to Sonja Masteller's house for a roof inspection.
The two had coffee together, and very quickly became friends.
"She is one of the most down-to-earth, pleasant people I have ever met, especially of the younger generation," Sonja said when describing Smith.
Sonja invited Smith to join her supper club, whose members were meeting that same day for dinner.
Smith accepted the invitation and brought rolls.
"It was all I could bring on such short notice," she explained.
Smith joined the supper club, and since then, the Louisiana native has cooked gumbo, crawfish fettucine and boudin for the group. She, in turn, has enjoyed Greek cuisine, Mexican dishes, and all-out dessert nights during the club gatherings.
The group also includes Mary Mueller, Suzanne Posey and Mellisa Kubecka Masteller (Sonja's daughter-in-law), as well as come-and-go visitors to the club.
"We live vicariously through each other," Smith explained. "They are all retired and have grown children. I travel, so I usually talk with them about my siblings and their kids and about my trips to the Grand Canyon and other places. We share with each other what we've been doing and gossip for three hours. We have a lot of fun."
Sonja said she started the supper club as a way to reconnect with family.
"I was not getting to see my daughter-in-law a lot. She has four boys. We decided to meet once a month for dinner — no husbands, no children — so we could catch up with each other," Sonja explained.
They invited friends and neighbors to their supper club.
"It's a lot of fun, and we just talk about whatever," Sonja said.
Members take turns hosting the supper at their homes, and each dinner has a theme.
"The host will cook the main dish, and everyone brings sides. But Sonja always makes a dessert," Smith said.
Everyone brought teacups when the group met for an English tea-themed event.
"I learned how to make scones for that one," Sonja said.
One of her favorites, however, was when she learned how to make beef bourguignon for the club's French-themed dinner.
In 2020, with the pandemic, the group was not able to meet as often, although they did get together a few times in outdoor settings. Now, they are hoping to meet on a more regular basis.
The original supper clubs were often a formal event at a restaurant that included a full evening of wining and dining, usually beginning with cocktails and hors d'oeuvres. The relish tray was often a supper club staple.
The first supper club in the United States was established in Beverly Hills, Calif., by Wisconsin native Lawrence Frank according to the Wisconsin Historical Society (wisconsinhistory.org). 
Others argue that the clubs actually originated in New York City speakeasies during the Prohibition Era. 
Supper was offered as a cover-up for serving illegal alcohol (wisconsinsupperclubs.com).
Supper clubs were popular, even during times of rationing, according to the historical society.
Fast food is blamed in part for contributing to the demise of many of the original supper clubs. 
The home version of these dinners, however, is alive and well, presented in various versions, sometimes as a Friendsgiving, sometimes as small-group church ministries, and sometimes, as extended family gatherings.
Providing nourishment for the body, mind and soul, they provide a seat at the table for those seeking a kinship with others.
Smith's advice for those wishing to start a supper club would be to stay open-minded to whom they invite.
"You can learn something from everyone," Smith said. "The best advice I've gotten from them is to not work so much that it puts your family second, and to take time for yourself."
The club was a necessity for Sonja.
"I was so busy working for a number of years that I almost lost my family," Sonja said. "I put my work first. Doing this supper club was a great way to get connected. It is about community and being more than just me, myself and I."
The supper club allowed her to reconnect with family, get to know her neighbors and make new friends.
For Smith, whose relatives still live in Louisiana, her supper club friends are her home away from home.
"I know they are the first people I can call if I need anything," she said.