Residents can now experience Christmas light displays in New Braunfels from a different viewpoint.
Texas Aviation Academy is offering a "Christmas Discovery Flight" that takes passengers over the downtown New Braunfels and Santa's Ranch light displays. 
The ride is $75 per person — with a minimum of two passengers and a maximum of three — for a 45-minute scenic flight that includes milk, cookies, hot chocolate and eggnog.
Passengers can also meet Tigercat, the academy's official napper and bird and mouse chaser, who keeps the airplanes safe at night. 
Devyn Reiley, who co-owns the academy along with her husband, Hunter, said the flight affords passengers the chance to see holiday displays as they have not seen them before.
"The line of cars to get into Santa's Ranch is usually miles long and it takes a long time to get in," Devyn Reiley said. "It's a really unique opportunity for somebody who has never experienced a flight before, and you get to experience the Christmas lights from a different perspective. It's really beautiful. You get to see a lot more than if you were driving in a car."
Four-seat Cessna aircraft are used for the flights, which are flown by experienced pilots and flight instructors.
"The Cessna has a higher wing, so it gives you a great view of the ground," Devyn Reiley said. "A lot of people tell us they're afraid of heights. It's almost like looking outside a car window. You're seeing it above the ground instead of on the ground."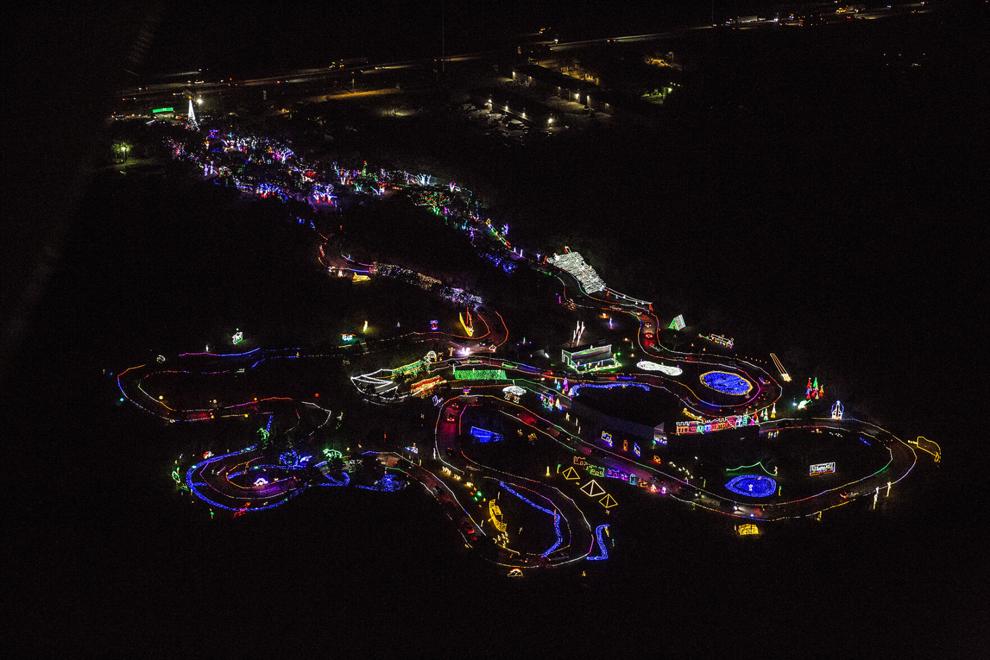 Hunter Reiley said this is the third year the company has offered the flights.
"It's open to the public — anybody interested in being able to see Christmas lights from the skies," Hunter Reiley said. "We'll take anybody — from families to couples, people who are interested in flying and people who are just interested in seeing Christmas lights."
The company afforded an opportunity for a Herald-Zeitung reporter and photographer to take a flight over New Braunfels on what was a cool, crystal clear evening.
"The weather is perfect tonight," Hunter Reiley said. "Visibility is unlimited, so it's a perfect night."
Passengers receive a short safety briefing prior to the flight. Flight instructor Brett Davies served as the pilot for this trip.
"It was little bumpy all day," Davies said as the aircraft made its way from New Braunfels Regional Airport to the Main Plaza. "But when the sun goes down, it stops heating the earth's surface and the air becomes very calm."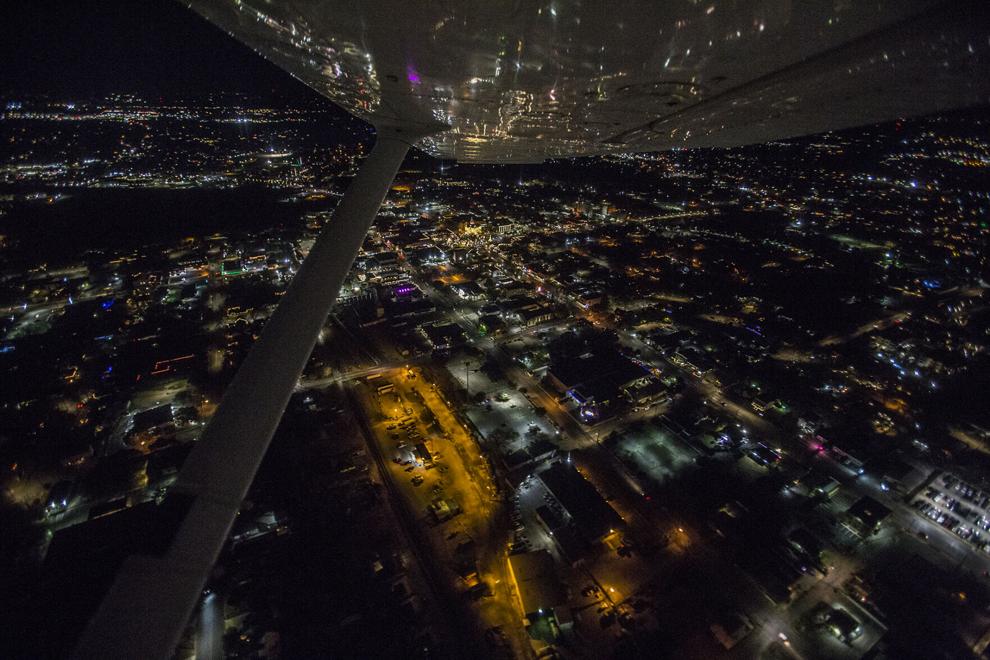 Davies gave a play-by-play of sorts as the aircraft made its way to the different sight. It was a smooth flight on this evening.
The flight takes passengers over the Main Plaza first with a view from around 800 to 1,000 feet altitude, then makes its way north to Santa's Ranch and into San Marcos before returning to the airport.
Luis Villarreal and his family from Schertz were next to take a flight.
"We were just going to take the girls, but I'm going, too," he said.
Passengers can schedule a flight by emailing scheduling @texasaviationacademy.com or by calling 830-629-2110. Information about the academy is available at www.texasaviationacademy.com/
The hangar is located at 1642 Entrance Dr. in New Braunfels.
Flights are available evenings through Dec. 23, with the exception of Sunday.