Even the most hardened law officers can't help but smile this time of year, when they take a brief hiatus from catching bad guys to help spread the joy of the holiday season for deserving kids.
That was the scene Thursday afternoon and evening in the new Comal County Jail foyer and parking lot, where the good guys brought out cherished gifts to dozens of families and hundreds of children.
The event is usually held at CCSO's Fellers Law Enforcement Center, now in the middle of a $11 million renovation that is merging old county lockup into a state-of-the art facility on San Antonio Street. For three hours, deputies, corrections officers and support staffers enjoyed the rare opportunity of welcoming smiling and happy customers through the jail's front door instead of those who don't often embrace entry through the back.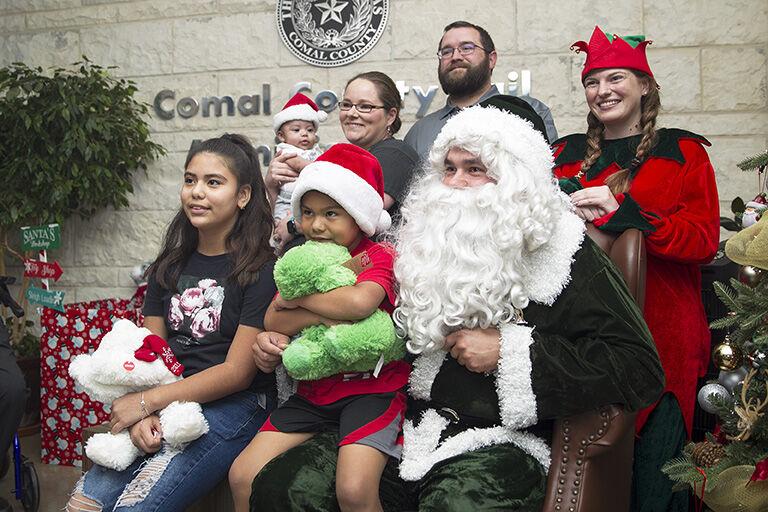 The winners were the kids, whose faces were the brightest as they sorted through the bounty offered this year, which again exceeded its goal of providing more than 1,000 holiday gifts.
"It was a really, really great event," Teresa Hendon, executive assistant to Chief Deputy Jimmy Jones and program coordinator, said of the 152 kids and 42 families benefiting rom the 32nd annual program. Gifts were purchased and wrapped by CCSO employees and Comal County Citizens Sheriff's Alumni Association members.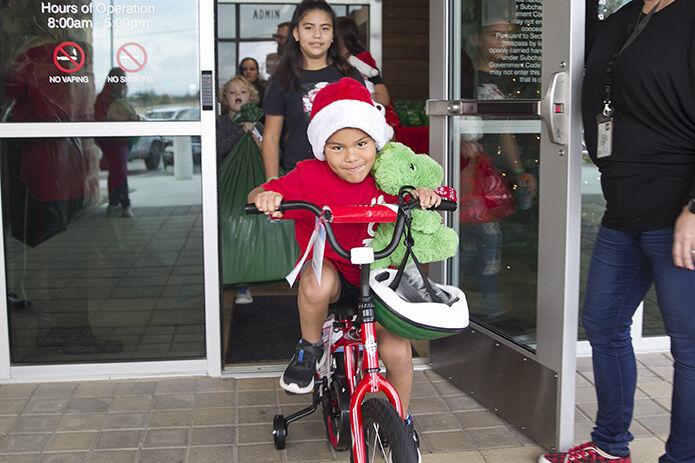 "Some of them gave (our) money back and absorbed (the cost) themselves in the kindness of giving," Hendon said. We were able to expand our budget and buy more gifts because of that."
As custom, the area around the jail was filled with green and red bags with gifts and goodies — with toys, clothes and other things tailored to each child from each family. They were warmly greeted by Sheriff Mark Reynolds, command staffers, law officers and employees who helped them load their cars and trucks.
"We had one family who had to go back and get (a second) truck – that's how many toys there were," she said.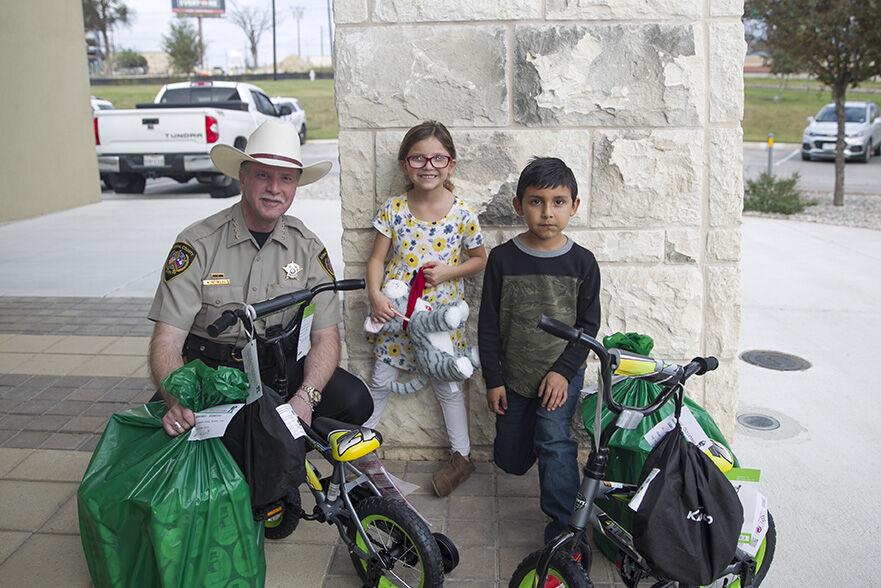 Hendon said 36 elves helped shop for the gifts, with 76 volunteering to help wrap them and perform other duties — even deliver to families unable to make the event.
"They decorated the main entrance and there's a Christmas tree, and as usual this was arranged and organized beautifully," Reynolds said. "Seeing the reaction of the kids there, their expressions on their faces, seeing a big green bag with their name on it or a bicycle coming out — it was just something else. They rode them out of the office with big smiles."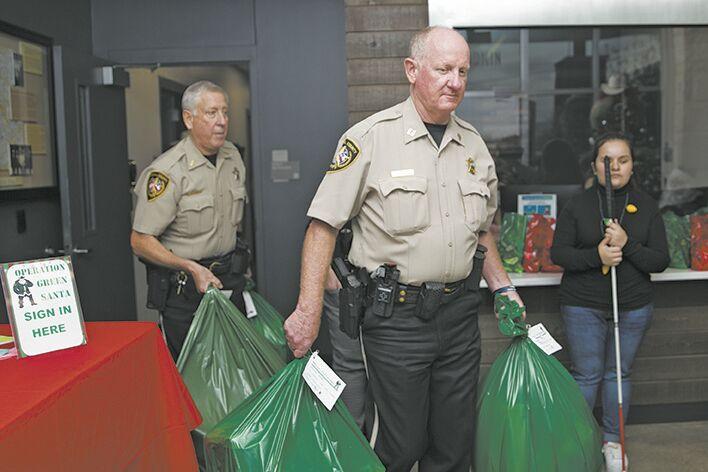 Event stalwart Richard Hendricks was there — he and late wife Dorothy were among the biggest Green Santa program donors — and the crowds included family friends, visitors from other city and county offices and, in his fourth appearance of the holiday season as Green Santa, Deputy Billy Bliss.
New Braunfels police on Saturday will engage in their annually cherished holiday event — Operation Blue Santa. Staffed by New Braunfels Police Department officers and New Braunfels Citizens Police Academy Alumni Association members, units will roll out with gift cards and small goodie and clothes bags tomorrow morning, said Michael Garcia, NBCPAAA co-chair, of
the event in its 26th year of delivering Christmas – hopefully this year to more 300 children and 100 families.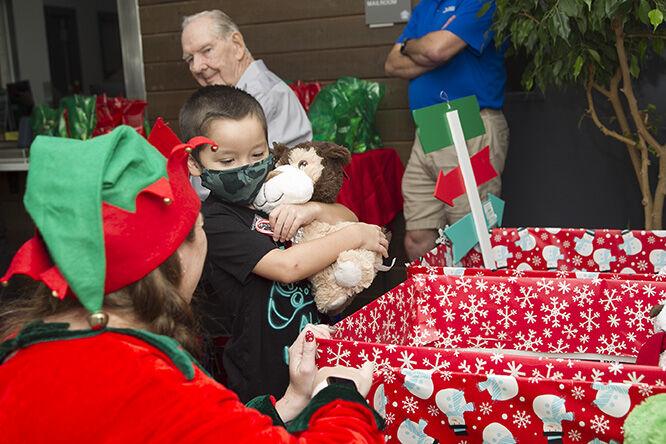 The Kiwanis Club of New Braunfels' 10th annual Blue Santa/Green Santa Softball Benefit last month raised thousands – including two notable donations by the Thin Blue Line Motorcycle Club – all benefiting Green Santa and Blue Santa programs.
"We can't thank everyone enough for the community support," Hendon said. "Mr. Hendricks was there and he's there every year. If not for them, we would not be able to be a successful. We have such big-hearted people in the community."
Other local support comes from Comal Cops for Kids' annual Turkey Trot 5K and generous donations by other clubs and non profits. Annually the Family Life Center screens applications and forwards gift requests, clothing and shoe sizes from recipient families.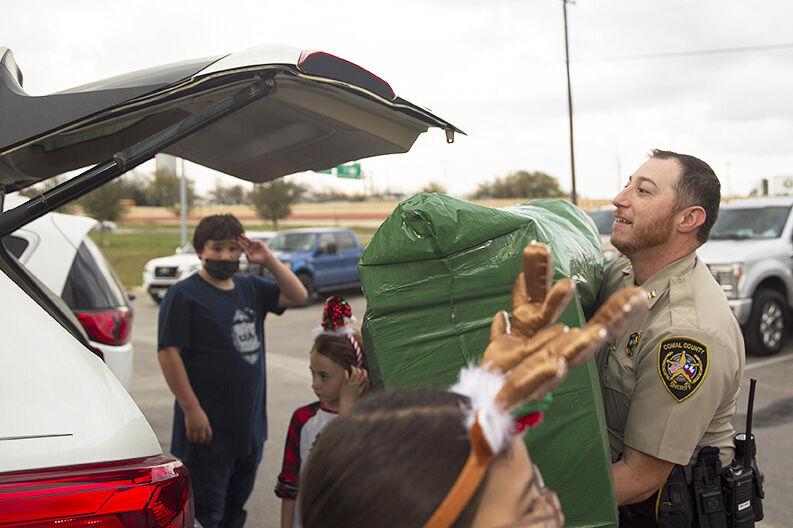 "We are thankful for a program such as this that provides some type of gifts (for the holiday)," Reynolds said. "We see it every day and on social media — Jesus is the reason for the holiday and that his birth should not be about gifts but about giving back. That's what moved everyone last night."