Mychal Judge was a Franciscan friar and Catholic priest serving as the chaplain for the Fire Department of the City of New York on Sept. 11, 2001. He became the first certified fatality of the terrorist attacks at the World Trade Center's twin towers on that day.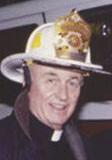 The attacks on New York City, Washington D.C., and Shanksville, Pennsylvania, killed 2,977 people, including 343 firefighters and 60 police officers.
Twenty years later, Judge, also known as "the saint of 9/11," along with his fellow first responders, is remembered and commemorated in a new composition entitled "Stations of Mychal," a 14-part song cycle composed by Kevin Salfen, with libretto by Rick Davis, meant to mirror the 14 Stations of the Cross, a Franciscan devotion surrounding the last day of Jesus Christ on Earth leading up to the crucifixion.
Ranging from Irish tunes to flowing lyrical numbers, the composition will be performed by tenor Rick Novak, a New Braunfels resident and Texas State University faculty member, violist Ames Asbell and pianist Joey Martin this weekend at the Church of St. Francis of Assisi in New York, as well as a performance on Oct. 2 at 7 p.m. at the Diane Bennack Concert Hall on the University of the Incarnate Word campus, 4301 Broadway, in San Antonio.
A performance in San Marcos is expected to be announced at a later date.
Novak said the process to create "Stations of Mychal" began to take shape in his mind about five years ago as a way to bring Judge's life — and the lessons it offers about the power of love, hope, faith, tolerance, courage, and joy — to the world in the form of a song cycle.
Funding for the composition was made possible by a Research Enhancement Program grant from Texas State University, which allows faculty members to conduct further research in their discipline.
"About five years ago, I was introduced to the story of Mychal Judge," Novak said. "It was a pretty amazing story, and I thought it would make a very compelling music work. I had worked on it for a couple of years and done some research, and had my team together before we got the grant. It was the grant that catapulted us from having a bunch of ideas into making it come to fruition."
The son of Irish immigrants, Judge grew up in Brooklyn and decided while still in his teens to join the Franciscan religious order. 
He was ordained as a priest in 1961, battled alcoholism with the help of Alcoholics Anonymous and developed a passion for ministering to marginalized communities.
After serving in localities across the Northeast, Judge became a pastor at St. Francis of Assisi Church in New York City in 1986.
Judge was one of the first Catholic priests to minister to people dying from AIDS. He also gave tirelessly to support families of injured firefighters and police officers, worked to broker a peace in Northern Ireland and walked in solidarity in both the St. Patrick's Day Parade and New York City Pride March.
In 1992 he became a chaplain with the city's fire department, a post he held until his death.
According to Novak, the composition was created with assistance from some of Judge's friends and valuable insight and support came from FDNY Chaplain Father Christopher Keenan, Judge's successor in the post.
"(Keenan) was in touch with our team and we had Zoom meetings with about 20 people that knew Mychal Judge," Novak said. "It was a really neat thing and here we are with it finished and we've been invited to come to New York and perform it for the 20th anniversary."
Salfen, a member of the music faculty at the University of the Incarnate Word, said he gained musical inspiration for the composition after hearing a previous performance of the trio of Novak, Asbell and Martin.
"They performed a piece by Ralph Vaughn Williams, a British composer, for voice, viola and piano, and it was so beautiful and so lyrical," Salfen said. "And I thought, 'there is a really easy way to write something that is beautiful for these three performers together.' And then I thought, 'if that's the baseline, where can we go from there? How can we turn the viola into a character who is going to do things across the course of the cycle? How can we make the viola in one movement an antagonist and in another a duet partner, like a dance partner?'"
Salfen said he set up the composition that "across the course of the cycle, have the viola be as much a character and as much a part of the drama as the vocalist."
Novak said the music blends popular and classical styles, narrative immediacy and spiritual depth, resulting in a powerful emotional experience.
"Without emotion, there is no work," he said. "The entire cycle doesn't dwell on his final moments. It runs the spectrum of his childhood and through different stages of his life where he was ministering to the poor and to AIDS victims and to firefighter who was badly burned and died 40 days after his injuries and going to Northern Ireland with a cop who was shot and became a paraplegic and helped broker a peace deal. 9/11 comes at the very end of the cycle."
Performances are free and open to the public with general admission seating. Donations will be collected for Mychal Judge Charities.
For more information, visit www.stationsofmychal.com.
The Associated Press contributed to this story