"I need to call my mom."
That is the first thought that popped into Felicia Cardenas' head after her fiancé Ryan Stockton popped the question at Wurstfest on Nov. 7 in a most unique way.
"We had been dating for about two and half years, and well, a girl begins to wonder," Cardenas said.
Still, she did not expect to see her name, and certainly not the question following it, engraved on a brick paver at Wurstfest.
"Felicia Cardenas, Will you marry me? Ryan K. Stockton"
Stockton saw the Wurstfest brick paver fundraiser on Facebook.
He knew he wanted to pop the question, and thought to himself, "This could be the best proposal ever."
"By the grace of God, I saw the form for the bricks, and I filled it out," he said.
When the big day came, he wasn't so much nervous about asking for Cardenas' hand in marriage as he was anxious about finding the brick.
"The Wurstfest office gave me the location," he said.
So on Sunday, Nov. 7, shortly after 6 p.m., Stockton, with the help of his friends and family, spotted the paver.
He pointed out the brick to Cardenas, and then got down on one knee.
"I was hoping when this day came, I wouldn't be such a mess," Cardenas said, explaining she was overcome with emotion. "I blacked out. I knew he was romantic, but didn't think it would be something like this."
She does remember how cute he looked during the proposal, and that there was applause and whoops and hollers from Wurstfest onlookers.
"For about 15 minutes, I was still in shock," she said. "And then I thought, I need to call my mom."
But Stockton took care of that as well, talking to Cardenas' parents the day before the proposal and discussing the Big Plan.
"They were so excited," Stockton said.
Cardenas said she did not suspect anything, but did find it odd that Stockton did not share his food with her on that day, as he had always done in the past. It seems he was preoccupied with finding that brick.
The two met in Seguin where Cardenas works as a hair stylist at Texas Hair Stop.
"She has been cutting my hair for the past 10 years," Stockton said.
For now, the two plan to enjoy the holidays before setting a wedding date.
"I am super excited that he chose me and our life together. I can't wait to start the next chapter of our lives," Cardenas said.
Masonry marks moment, forms family foundation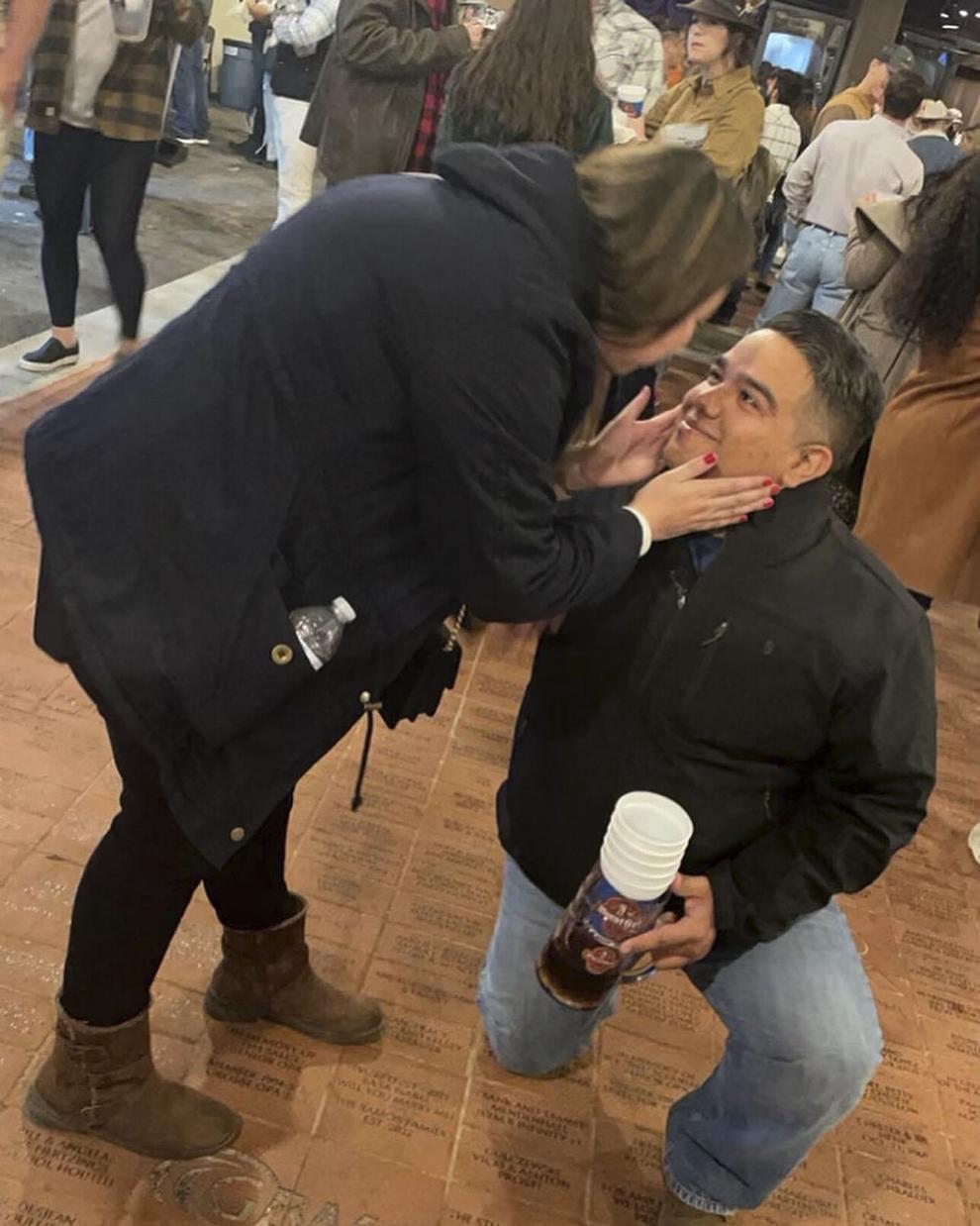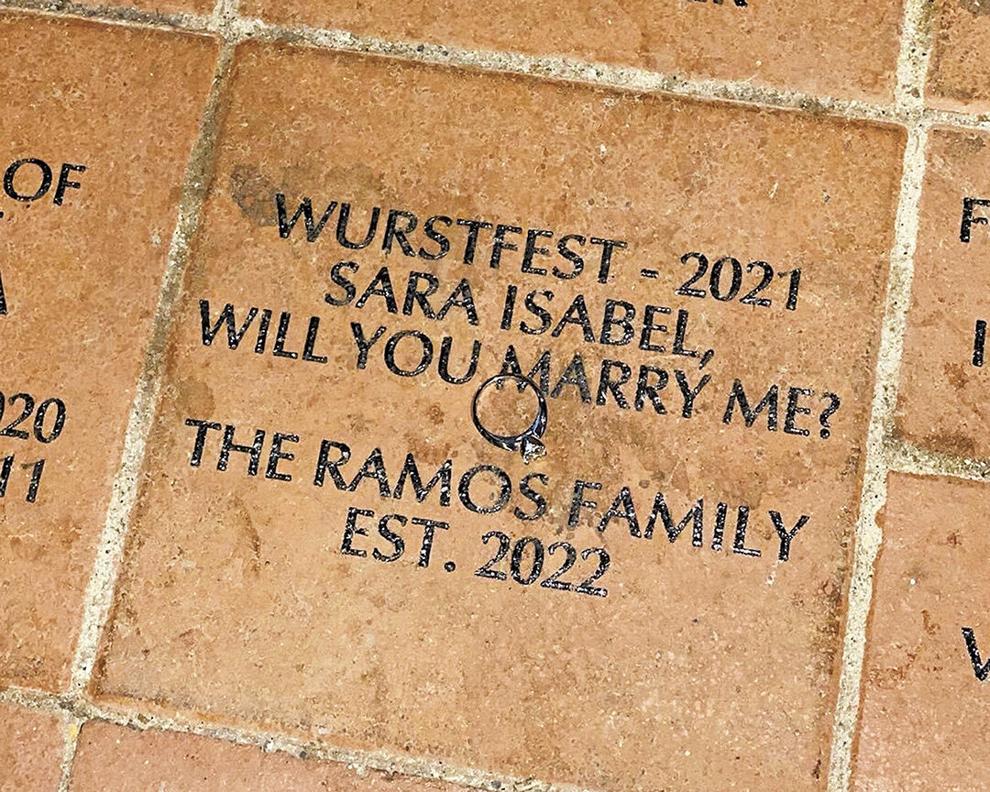 Sara Dotson and her fiancé David Ramos, both of San Antonio, attended two surprise wedding proposals during Wurstfest and both times, they were the celebrated couple.
Ramos said he learned about the Wurstfest brick paver fundraiser, and thought an engraved brick proposal might provide a way for his dad to still be part of his special day.
"I lost my dad a year ago," he explained. "He was a Marine, had been in Germany, and loved the culture."
For Ramos, proposing to his girlfriend in this way at a festival that his dad would have enjoyed, made it feel like his dad could be a part of it all.
The only problem was that Ramos wasn't sure how Dotson would feel about a crowd setting for the big day.
So he told her they were having a couples photo session with a photographer at San Fernando Cathedral. It was there, on Nov. 6, that he asked her to be his wife.
Dotson, not knowing what was about to happen, was a little sad at first that her son was not going to be at the photo session.
Then, Ramos proposed to her in front of the cathedral.
"I was speechless," Dotson said about the special moment.
But that was just the half of it.
Later that day, the couple attended Wurstfest with family and friends. Everyone, except for Dotson, knew they were looking for a very special brick.
It was Dotson's sister-in-law who spotted the inscription first:
"Sara Isabel – Will you marry me?"
For a second time, Ramos got down on one knee and popped the question. And for the second time, Dotson received a surprise proposal.
"It was so fun, very memorable and very sweet," Dotson said.
The two already have a wedding date — Nov. 12, 2022, hence the second part of the brick inscription:
"The Ramos Family Est. 2022"
Brick Paver Fundraiser
For 2021, Wurstfest took orders for 3,000 bricks to lay in the breezeway of the newly rebuilt Marktplatz building, which was destroyed by a fire in 2019.
"We will do that many bricks, plus some, for 2022," said Suzanne Herbelin, Wurstfest executive director. "The fundraiser will help us retire the debt of the Marktplatz rebuild." 
Brick options start at $100 for a 4- by 8-inch brick at www.wurstfest.com.