A new downtown project is facing pushback from residents worried about old buildings that would have to be removed.
The proposal drew concerned citizens to the Historic Landmark Commission Tuesday morning where the commission discussed an application to demolish buildings at 173, 189 and 207 East San Antonio Street in the Downtown Historic District.
These properties would be repurposed for retail, said property owner Eli Woolsey, owner of Woolsey Design Build, at the beginning of the discussion. 
"One of the main things we wanted to clarify is that the proposed concept and plan for the project are shops on the plaza," Woolsey said. 
There will be surplus parking built behind the stores, Woolsey explained.
The project is designed to have two levels of parking with about 30 parking spaces each.
"So I just wanted to clarify so there's no confusion about there being some standalone parking structure there, because that's not the concept plan, that's not our intent," Woolsey said.
Woolsey told commission chair Carola Davis that because the development would be proposed as a new structure, they'd have to do a second floor level of parking.
"It would be in the back, and we'd use the bottom level — the existing level as parking, but to comply with parking needs we'd have to build a second deck and that's going to have some surplus parking we believe the community is going to be able to use which we feel is a big win-win for downtown, considering all of the activity and businesses that currently do not have adequate parking," Woolsey said.
After an hour and a half discussing the properties with citizens, the developers and the HLC members, the HLC approved recommending partial demolition — allowing for the demolition of the property at 207 E. San Antonio St., but only for additional structures added onto the properties at 173 and 189.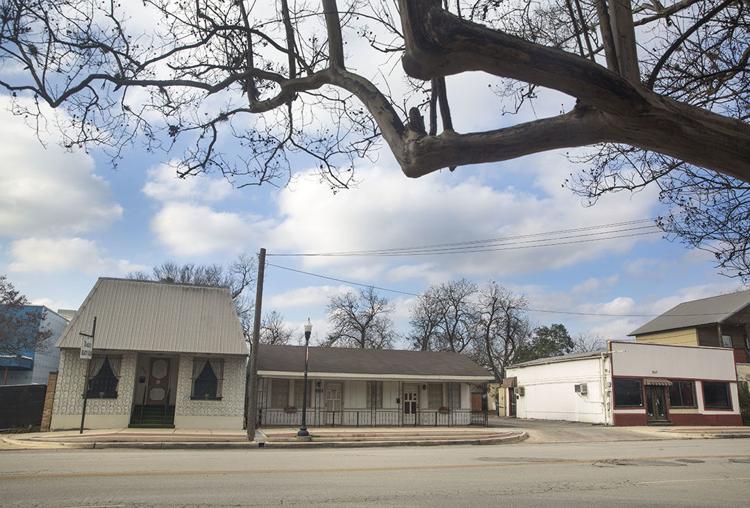 Amy McWhorter, historic preservation officer, touched on the historical significance of each building. 
"This is the building at 173 E. San Antonio, originally constructed by Harry Landa as part of Landa Industries," McWhorter said. "It has a circa 1945 addition and was restructured in the rear, and it also has some remnants of — you can see the fenestration pattern that was there, but these windows are boarded over."
The site first showed up on maps in 1930, and was near the Landa Mansion and Landa Warehouse, McWhorter said. McWhorter said the structure is shown as the New Braunfels Public Library building.
"Newspaper articles show that there was a group that was trying to found the New Braunfels Library and there's articles that reference Landa Industries allowing them to use some shelves in their office downtown as a temporary library location," McWhorter said.
Prior to that, the site had some corn elevators on it and before that was vacant. 
The front has been reconfigured, and much of the original structure has been altered, McWhorter said. Today, the structure has a sign in front reading "Modern Beauty Salon," which it became in the 1960s. 
The 189 E. San Antonio St. building is circa 1850, and is a fachwerk dwelling that belonged to Otto Lindner, an early settler in New Braunfels who never lived in the property. In his will in the 1860s, Lindner left it to his friend Adolph Zinram.
"He mentions it's his house where Adolph is residing," McWhorter said. "After that, Zinram left it to his heirs, who sold it in 1922. In 1947 it was bought by its most recent owner, the Mezza family."
The structure has an intact basement, although the roofline has been altered to a low pitch, rather than a fachwerk's renowned high pitch. 
"The basement is the portion of the structure that has the most integrity, if you will," McWhorter said. "It does have some structural issues."
Much of the exterior has also been altered on this structure, McWhorter said.
The 207 E. San Antonio St. property is a late 19th century commercial building that has lost much of its historic integrity, making it difficult to determine the date of construction. 
"This is a circa 1880s commercial building, and it's also been pretty heavily altered from its historic appearance," McWhorter said. "As you can see, the windows have been replaced and there is evidence of another entry here, which has been taken out and replaced with a fixed window."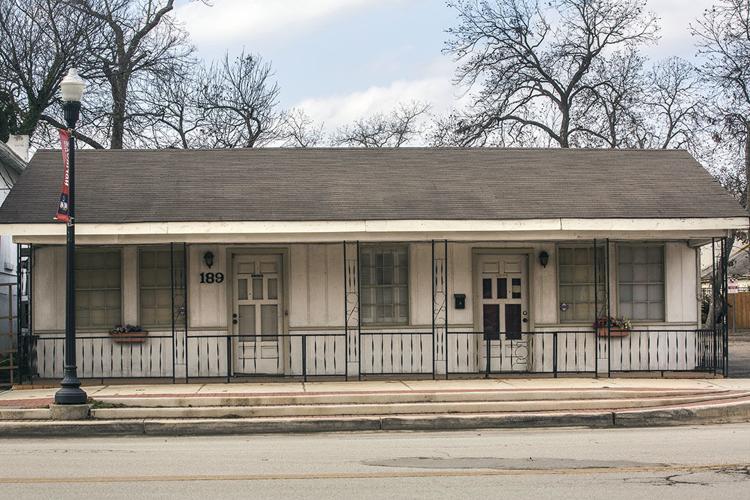 The buildings would not be demolished outright, but would be deconstructed, with salvageable parts being saved for reuse in the new development, Woolsey said.
"Looking at what Texas Main Street's vision is, it's very comprehensive and that's one reason we're seeking their feedback," Woolsey said. "We've had discussion internally about the names. One of the things that would be relevant and respectful would be to call it Landa Shops on the Plaza."
Melinda Poss, HLC member, asked Woolsey to elaborate on the demolition tactics. 
"We're talking about deconstruction, reclaiming and preserving any material that's salvageable. For instance there's pine flooring in there, a lot of the timber — cypress, that's something that I feel like our team brings a lot of experience with," Woolsey said.
When asked why they wouldn't want to move the structures, Woolsey explained they had consulted with contractors and companies and architects, and it appeared moving the structures would not be feasible. 
"We met with Mr. Dodson of Dodson Moving Companies, looked at those different projects — the main one we were looking at was the fachwerk house — and trying to establish if we could move that house," said Matt Schumann, of Woolsey Design Build. "After looking at it, walking in it, walking in the basement … to do so would be a significant amount of money."
Dodson gave an estimate of $130,000 Woolsey said. 
"By that nature I think deconstructing we could take care of the materials better than trying to lift it up in its state," Schumann said.
About 10 citizens took to the microphone during the public feedback portion of the agenda item to say they are in favor of maintaining the 189 E. San Antonio property.
"Few early buildings remain from (the pioneer) period, and nearly none that are in the heart of the city," said Lark Mason III, reading a statement on behalf of his father, Lark Mason, owner of Lark Mason Associates. "The early buildings that remain in the heart of the city such as these three that are slated for redevelopment are ties that visually connect us to the heroic efforts of these early settlers and later business owners."
Visiting old pioneer homes may be a draw to people who want to visit New Braunfels, said Tim Barker. 
Several other members of the audience indicated their agreement with the full Mason statement, before the HLC moved to recommend only demolition of the 207 property and added parts of the 173 and 189 properties. 
The meeting adjourned shortly following the passage of this recommendation by HLC members 8-1. 
The recommendation now goes to the New Braunfels City Council for consideration.