A local pharmacy that served the community since the 1950s  has closed its doors.
Comal Drug closed last Wednesday after being sold to CVS.
The pharmacy shuttered its doors after decades of supplying medicine to patients, as well as supplies like wheelchairs, walkers, hospital beds, wigs and nebulizers.
CVS Pharmacy will take over Comal Drug's prescriptions while the building remains vacant. The store was headed by compounding specialists Dr. Dennis Rust and Dr. Raymond Mendez, who retired.
Mendez said the industry is changing as health insurance companies and corporations overprice health care.
"Being at this stage of my life, I feel like I couldn't keep up with these changes in my profession and decided to sell," Mendez said. "It's the unfairness of how pharmacies are being treated by insurance companies and legislation, it's a conglomerate of things."
Former Comal Drug customers can call Comal Drug's number to transfer their prescriptions to a CVS location. Mendez said he is trying to donate the store's medical supplies to various health institutions and causes.
Mendez told his nine staffers about a month or so before that he was selling it. 
"I was particularly interested in making sure staff were accommodated in their pursuit of getting a  job," Mendez said.
It was originally a feed store before it opened as a pharmacy in the 1950s, Mendez said. The pharmacy did more than just provide medicine. 
"What was a unique thing at that time was that the pharmacy had a very nice fountain and a full grill service," Mendez said. "People here today still talk about it, like 'Remember when we could get five hamburgers for a dollar and milkshakes for 15 cents?' And over the years it maintained its hometown flavor."
The pharmacy experienced two or three ownership changes before Mendez bought it. He then merged it with his other pharmacy, City Pharmacy off Landa Street, in 1998.
The store would occupy a small building off North Union Avenue near a quaint neighborhood and down the street from the CHRISTUS Santa Rosa Hospital.
The other pharmacist, Dennis Rust, came to the local store looking for a break from a larger pharmacy.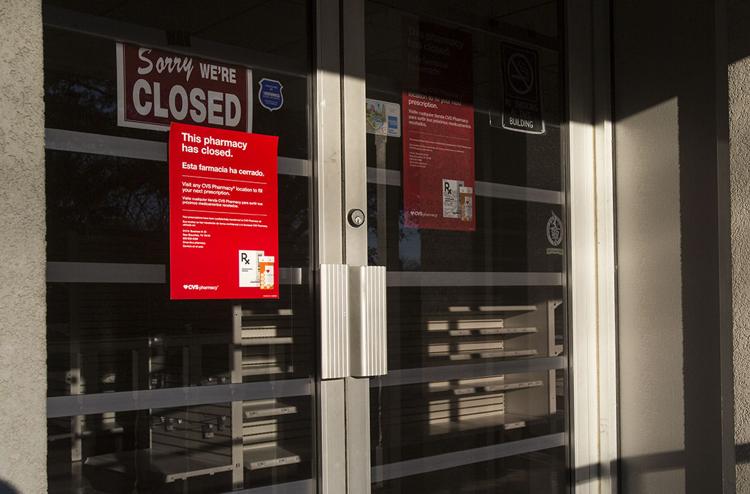 "We feel very fortunate because he's been tremendous," Mendez said. "He's very professional and has met all our needs to administer a pharmacy and was converted to a pharmacy manager."
Comal Drug customer Jessica Tiller, 48, frequently took her son, diagnosed with cystic fibrosis, to the pharmacy for his compounding prescription. 
Garett, 13, was less than a year old when his mother started his prescription there.
Through the Cystic Fibrosis Foundation, Tiller helped get sponsors for their Cystic Fibrosis walk to raise money for a cure. 
Rust always donated to the cause and Tiller said it meant a great deal to their family.
"It seems like it was a piece of old town New Braunfels, so it's always sad to see a neighborhood location close," Tiller said.
Garett would often go and thank Rust for the donation. He also gave them artwork to hang up, themed after Schlitterbahn and featuring colorful drawings of water park rides or Schatze, the park's dachshund mascot.
Other customers, such as Sydney Sharp, 59, went for general prescriptions and to chat with the employees.
"I got to know Candy who worked there, and I saw him delivering drugs everyday to EdenHill (retirement community) to the patients," Sharp said. "I thought that was very nice."
Sharp moved to New Braunfels about six years ago and went to Comal Drug ever since. For Sharp, closing the store is another sign of New Braunfels changing.
"I was sad, I like to shop locally and that's the biggest deal to me," Sharp said. "They knew who you were, they knew people by name. They told people stories and they were very helpful."
The surrounding neighborhood has many senior residents because of the hospital, and Sharp said a local pharmacy was convenient.
"It was in my neighborhood, you don't have to get on any big streets, especially if you're old," Sharp said.
Comal Drug also helped take care of Ann Stollewerk's family for a while.
"They were regular customers and they always delivered for my mom when she got older and they were like a family," said Stollewerk, 70. "Sometimes a pharmacist would come in if she had something and they were real sweet to my little sister, Molly."
Ann's husband, Russell Stollewerk, 73, said he worked downtown and found it convenient.
"It was easy for me to go over there and pick up my prescriptions," he said. "It was just handy, you didn't have to wait like at the bigger stores. It's sad a small, family-owned business would have to close like that."
As the debate over health insurance rages, Mendez said the cost of healthcare has greatly affected small pharmacies.
"You read an article that prescriptions are going up and it includes the pharmacy," Mendez said. "And it appears like the pharmacy is pricing higher and higher but by and large that's not the case."
Often customers must stick to what their insurance allows, and so specific and even generic drugs can be out of network.
"They are used by people who have to use them for a critical thing like cancer," Mendez said. "I don't know how a person can afford it out of pocket."
It was often difficult telling customers a prescription's cost was raised, and Mendez said he could not do it anymore.
"Now a third party is dictating what we charge and what person will pay," Mendez said. "I just cannot see a reason for it, but that's the world and how it is now."