It's almost time for New Braunfels to uncover the time capsule from the city's 125th anniversary.
New Braunfelsers will dig up a 50-year-old time capsule on March 14 — a week before the city's official 175th founding celebration — to get a glimpse of life decades ago when the town was nearly half the size it is today.
"I think it's going to be very exciting and with lots of people in Landa Park to see what's in there and what they put in or what their parents or grandparents put in," said Anne Miller, 175th Anniversary Committee chair. "It's going to bring back a lot of good memories and some history."
The time capsule bill be opened at 11 a.m. at the Landa Park Dance Slab.
The city keeps its time capsules closed for 50 years, and this capsule's ceremony is part of various events for the city's 175th anniversary.
A new time capsule, to be opened in 2070 or so, is set to be buried in December. It will have a plaque marking the capsule, which can hold letters, photos and flat envelopes containing other items.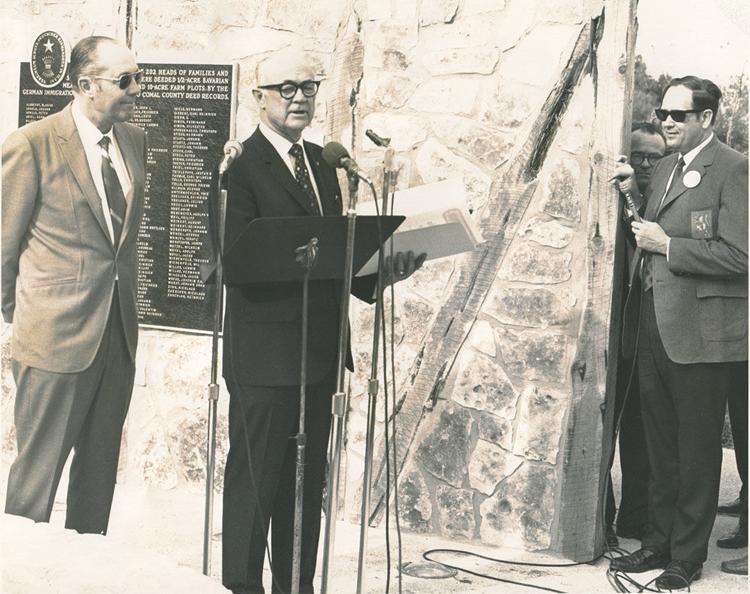 The time capsule was created during the city's 125th anniversary in 1970 and is buried in Landa Park in between the swimming pool and mini golf course, protected by rock walls and a cover.
Longtime New Braunfels native Herb Skoog, who was in his 40s in the 1970s, said he remembers putting several items in the capsule, which required much effort to bury.
"One of the companies here in town made the capsule and it was quite a job 
because it had to be sealed properly and be big enough to carry everything," Skoog said. "I know we had a copy of the paper and maybe some stuff from the radio station."
In the capsule is a letter from Skoog to his future grandchildren (who now exist) that he looks forward to sharing with them.
"I had some stuff I put in there, I don't remember what exactly, but there was a letter to my grandchildren," Skoog said. "It was quite an exciting thing to be a part of."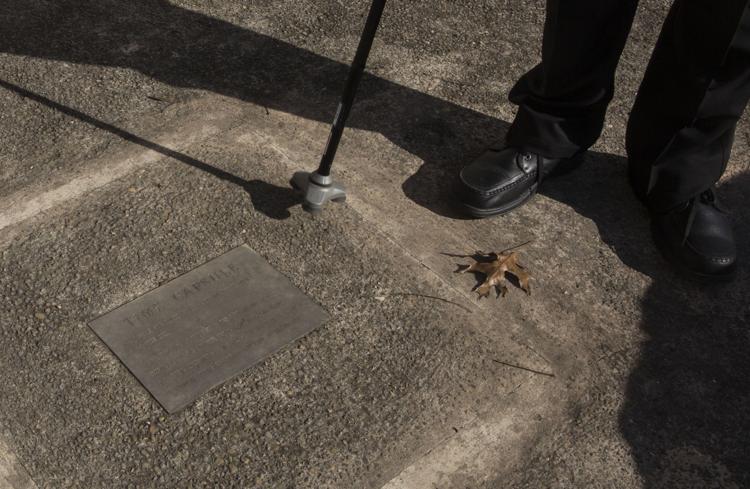 Later this year there will be a ceremony to bury a new time capsule from this year's 175th anniversary. It will be buried for another 50 years and opened for the 225th celebration.
For the city's 150th anniversary in 1995, community members could submit items for a time capsule to be buried that year and opened in 2045. Submissions had to be of "paper origin" and fit in either a 9x12 or #10 envelope, according to a Herald-Zeitung article published April 23, 1995.
The time capsule before that one was created in 1946, said Tara Kohlenberg, executive director of the Sophienburg Museum & Archives.
"New Braunfels was 100 years old in 1945, but we were in the midst of WWII," Kohlenberg said. "The Centennial Celebration took place in 1946 and was a huge thing, as it was the first real celebration after the end of the war."
Skoog said he also remembers when the monument containing the capsule at Landa Park Drive and Elizabeth Street was announced during the 125th.
"I remember that Jack Ohlrich was the mayor at the time and he made a joke about our governor, Preston Smith," Skoog said. "And he made a little joke, it's sort of a German thing, calling him Governor Schmidt. Then the governor had a little problem with that."
Compared to the 1970s, some may consider New Braunfels unrecognizable with its booming population and business growth.
Skoog said he never expected something like the Veramendi project, an enormous master-planned community with a dam, hiking trails and a mixed-use area for retail and business.
"A lot of things are for the better and some things there's no question about it," Skoog said. "We are a much larger city now and we have this growth problem and this area is growing so fast in population. And that's great and we certainly had no idea there was going to be a Veramendi project."
New Braunfels was settled by German immigrants in 1845, and although it is growing rapidly, many want to keep its strong German heritage and sense of community.
"To a degree there's some of that (small town feel) and I think people who move here are trying to keep that small town attitude, and that's harder to do as your town grows bigger," Skoog said. "The town has improved in many ways, like citizens and (Chamber of Commerce) people have kept up with things to stay ahead of the curve, and I think they've done a good job of it."
Besides the time capsule opening ceremony, the city has various events lined up to celebrate its history this year and look toward the future.
"I'm just looking forward to a really good turnout at the Founders Day breakfast," Miller said. "We already had a great kickoff with the Edelweiss Ball and lots of things coming up, so go on the website to stay on top of all the events and activities."