For the first time in New Braunfels' history, a Menorah lighting ceremony was held on Main Plaza.
"It took two years for this to become a reality," Rabbi Ari Weingarten of San Marcos said during the ceremony on Wednesday night. "From here once we're here, we're here to stay. Thank you to the city of New Braunfels and thank you to [New Braunfels Mayor Rusty Brockman] for the space. Thank you for your service."
Hanukkah, traditionally spelled "Chanukah," began Dec. 10 and ends Dec. 18.  
Jewish and non-Jewish community members gathered for the traditional ceremony representing goodness and light. Families wore masks, sang traditional songs and met fellow Jewish community members. 
Weingarten, director of the Rohr Chabad Center for Jewish Life in San Marcos and of Texas State University, led the ceremony for about 60 people. 
Weingarten let Mayor Brockman light the seventh candle for the seventh night of Hanukkah.
"I think it's very interesting for me because I'm learning as I showed up," Brockman said afterwards. "Like I told Rabbi Weingarten, it gives me an opportunity to learn something new about our very diverse community. And to realize that we have an opportunity to build a relationship between one another where we are not all alike, so that's very special."
Weingarten said the ceremony is not only for the Jewish community but for everyone during the global pandemic who need a glimmer of hope and kindness.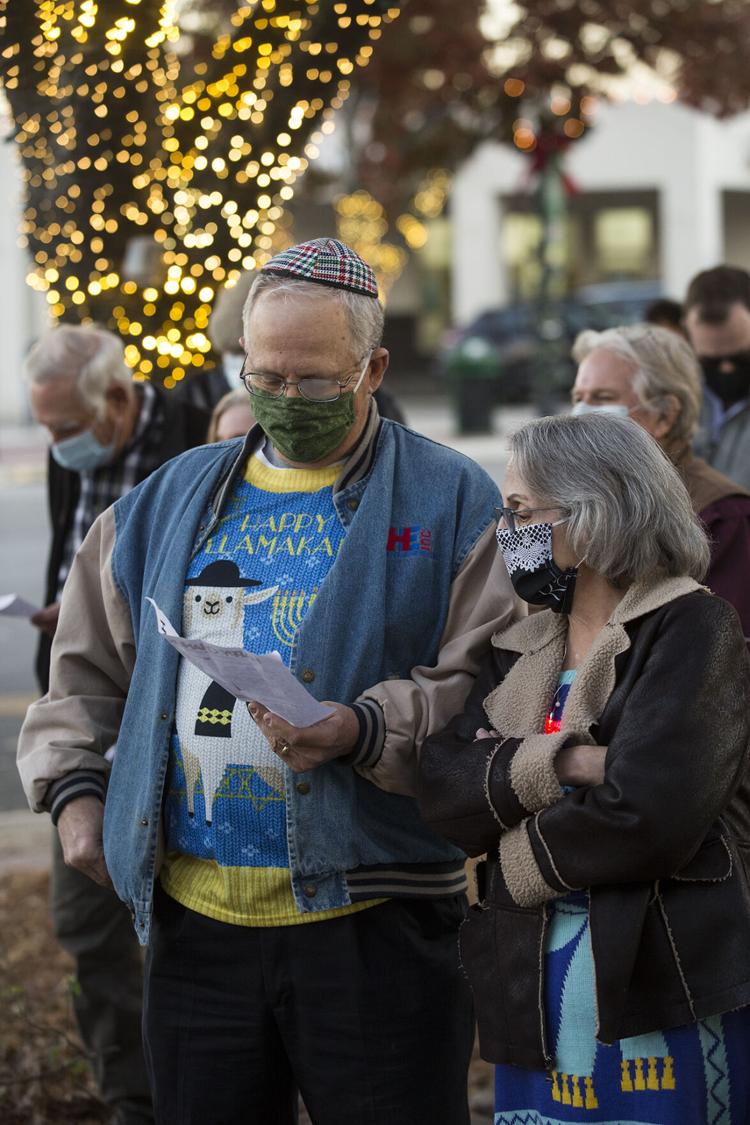 "The power of light and goodness is unstoppable," Weingarten said. "It's especially relevant during this year during the pandemic as we face anxiety, isolation and sickness." 
There are nine candles on a Menorah. One candle is lit each day — totaling eight — to represent every day of Hanukkah from when it begins to when it ends. 
The extra candle, called the shamash, is used to light the other eight candles. 
"The message of Hanukkah is that the little bit of light dispels much darkness," Weingarten said. "With a little hope and prayer you create miracles."
The ceremony was lighthearted and filled with violin music — and later pop music. People exchanged conversations and smiles. Some sang along to the blessings song, "Maoz Tzur," "I Have A Little Dreidel" and "Oh Chanukah, Oh Chanukah."
Kids also munched on "gelt," chocolate coins wrapped in gold and silver.
People could also receive a dreidel and some other items and enter a raffle. Two winners got a dozen jelly-filled donuts, traditionally eaten in Israel and around the world on Hanukkah. 
Robin Schriefer spoke during the ceremony and said she lived in New Braunfels for about 14 years, though she's met few other Jewish people in the city.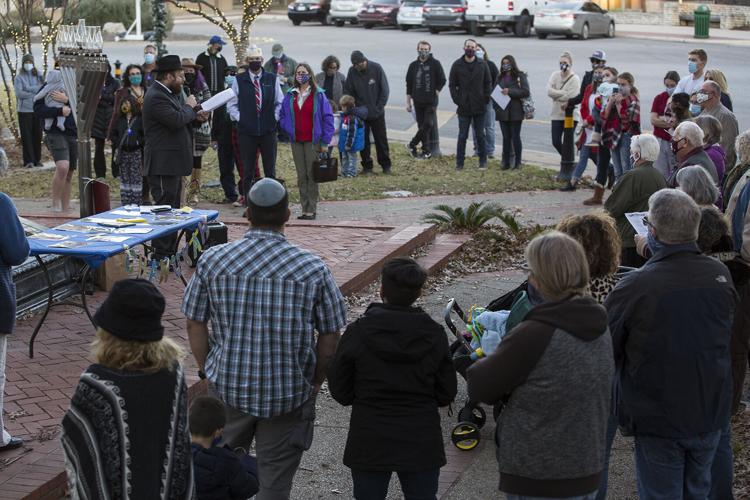 "I know about five of us — where have you been?" laughed Schriefer during her speech. "Because I've been at H-E-B, I've been everywhere. I can't wait to meet the rest of my Jewish family here in New Braunfels."
Schriefer and her husband, Kurt, enjoyed the festivities and dressed for the occasion — she in a knitted blue dress with a menorah on it and he in a sweater his wife knit for him with a llama that said "Happy Llamakah."
Schriefer is from the small town of Corsicana. Her mother is "the last living Jewish person there," Schriefer said. 
She moved to New Braunfels with her husband, Kurt, and they attend the Rohr Chabad in San Marcos because there is not a synagogue in New Braunfels.
"I thought it was about six [of us], seriously, because I know like two other couples," Schriefer said. "I think in today's climate it's really important for people to know that different cultures and different religions can live together, and this is one way we can do that."
Kurt said there was previously a congregation of about 10 to 20 Jewish people in New Braunfels but over time, the group dissolved. He was surprised with the night's turnout.
"It takes a lot of money to have a congregation," Kurt Schriefer said. "It would be awesome if we had a congregation and a building."
Neil Freidberg has lived in New Braunfels for 10 years and spoke during the ceremony. He joked that he is upset because he "can't get holiday decorations at Target," prompting laughter.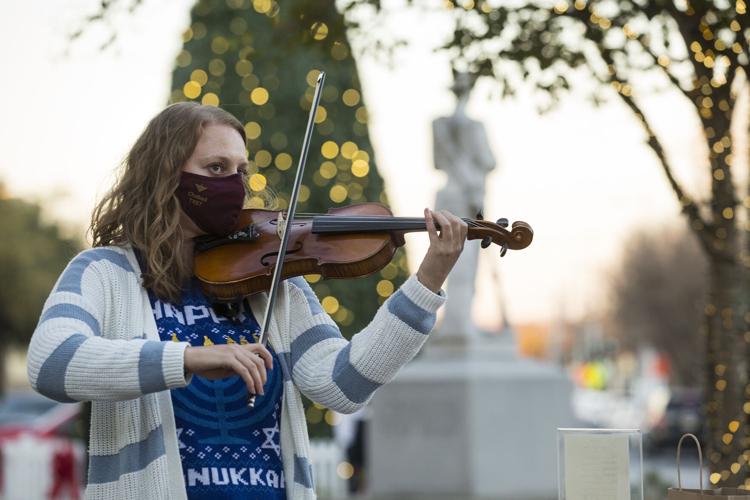 Neil is part of the Rohr Chabad Center for Jewish Life in San Marcos. 
"It was an amazing turnout. It was wonderful having the mayor here in New Braunfels," Freidberg said. "It was great to see the amount of people here, both Jewish and non-Jewish, to celebrate here with us."
Ruth Levi, 51, moved with her family to New Braunfels from Brooklyn, which has a large Jewish population. They have lived here for a year, and Levi said she is happy to see fellow Jewish community members out. 
"I happened to come by accident on Facebook that they were going to do this so I immediately jumped on board," Levi said. "It's a difference, but I'm very happy to see there are fellow Yiddishkeit here in New Braunfels who are willing to hold up our traditions and our holidays."
History
Hellenistic King Antiochus IV Epiphanes and his Greek forces restricted Jewish life. 
Jewish rebel warriors, the Maccabees, recaptured Jerusalem in 164 BCE from Antiochus' armies and was a significant victory.
"Their religious freedom was at stake," Weingarten said. "They won a religious battle and had service in the temple with only oil in for one night. But it lasted for eight days. Light is contagious, goodness is contagious."