Don and Elsie Hildebrand are in it for the long run. The New Braunfels couple, who will be married for 67 years in August, has been donating their time to the local community for over 30 years, beginning with the Meals on Wheels program, Hope Hospice, Marsch-und Wandergruppe and the Genealogy Club. 
They have lived in New Braunfels for almost as long, 31 years, after moving from Illinois to Corpus Christi in 1984, where Don worked at an Army Depot until 1989, and finally settling into the Hill Country for retirement after a year of travel.
This is not the first time the Hildebrands have been recognized for their efforts. Back in 2000, the Herald-Zeitung recognized the couple as Unsung Heroes; in 2003 they were given the Chair of the Board award by the Greater New Braunfels Chamber of Commerce and were honored on Jan. 23, 2004 at the annual banquet. They have been awarded numerous times for their work with the Salvation Army and were given the South Texas Blood and Tissue award, which was set at a 10-gallon measure at that time. While Elsie has had to stop her donation due to going on blood thinners, she has donated more than 12 gallons total during her time of blood donation. Don's total is over 16 gallons. 
Each time they receive recognition the Hildebrands make it clear that recognition is not why they give their time to others. This is made evident not only by the couple themselves, but those who know them as well. While it is that much more inspiring that they volunteer out of the pure goodness of their hearts, the impressiveness of it all can hardly go unnoticed.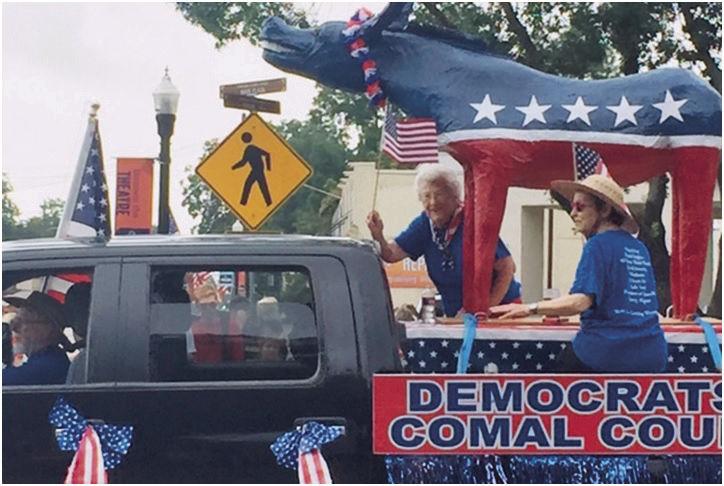 In the Herald-Zeitung article covering the Hildebrand's Unsung Hero award, Don said, "You have blown our cover... we don't do this for recognition," when picking up the award. Twenty years later, via email due to the COVID-19 pandemic, the Hildebrands responded similarly to the news that they were nominated as Hometown Heroes. 
"We are agreeable to the article, although we don't feel that we deserve to be recognized in that way. There are many volunteers that I am sure do as much as we do. We enjoy what we do and were sorry to erase our calendar the past couple of months and shelter at home," the couple replied. 
"They always insist, 'We are not heroes. We are just doing what we like to do,' and are embarrassed to be identified as such," Ruth Dober, Elsie's sister and nominator of the Hometown Hero award, explained. But since a global pandemic has shuttered the world, many people have found the time to sift through memories. "I have been looking through my big box of old pictures and came across these articles. Since it was exactly 20 years ago that they were Unsung Heroes, I thought it would be perfect for a moment to revisit," Dober said. 
Don, now 93, and Elsie, now 85, trace back their volunteering history with the help of Elsie's sister, Dober, and previous articles from the Herald-Zeitung, that spotlight the couple and their involvement in the community over three decades.
"They are unique in their volunteerism," Dober said. "It is not unusual for some people to make big contributions to society in one or two community organizations. But whether just volunteering or leading volunteer programs, Elsie and Don have impacted probably every aspect of the New Braunfels community since moving there in the 1990s."
She described Don fondly in a letter she shared that she had written for his 88th birthday, highlighting many of the things he has done for others and how 'big' of a person he is for the community.
"He is big in spirit. Many mornings in our weekly rental houses on our trips, I have come downstairs to join Elsie in the kitchen making breakfast, Don on the porch, singing in the morning. He takes such joy in living," Dober wrote. "Whenever we are walking during our road trips, Don is forever picking up scraps of paper, empty cans and bottles, any litter, so their community will be a prettier place."
Before retirement, Don was a rifleman in World War II, as well as a licensed professional mechanical engineer, and Elsie was a secretary. While they have no family in Texas, they have two sons, one who lives in Hawaii and the other in Ohio, and one daughter who lives in New Jersey. They have seven grandchildren and seven great-grandchildren. 
"Since retiring, we have given the most hours of volunteering with the Salvation Army here in New Braunfels. In Illinois, before retiring we had been foster parents for four years, had volunteered with a prison ministry, and I had driven "my little old ladies" twice a week to a meal at a senior center," Elsie said. 
For six years, from 1997 to 2003, they were in charge of setting up four Salvation Army kettles each day of the week for a month and then taking them down each evening. For the next 11 years they were only in charge of scheduling volunteers from church to do the same.
"Since then, we are still ringing often and scheduling others from our church," Elsie said. "We each were on the Salvation Army board for several years at different times. Peter Olson recruited Don to help him revive the Salvation Army Unit here in New Braunfels in about 1994 or 1995." 
A 2003 article in Herald-Zeitung covered the work the Hildebrands did with the Salvation Army. 
"Don is modest here," Dober said, describing Don in the article. "He was one of the 'founders' of the New Braunfels Salvation Army, at least in making it what it has become. It doesn't mention that for many years Elsie was also responsible for all of the scheduling of the Salvation Army Kettles and making sure they were always covered; if someone didn't show up, she and Don rang the bell wherever needed!"
Elsie has also been volunteering at the SOS Food Bank twice a month for 15 years. 
The COVID-19 pandemic delivered a blow to Don and Elsie's schedule, leaving most of their time devoted to Meals on Wheels as others have slowly started back up on their normal schedule. 
"I arrange for volunteers from our church for eight routes every Monday, outside of my regular volunteering. We also work at the Senior Center food booth during Wurstfest," Elsie said. 
They both also volunteer at the Lions Club booth during Wurstfest, keeping them busy during one of the busiest times of the year in New Braunfels. 
While Elsie can no longer donate blood as she used to, Don continues to donate during COVID-19 as a way to give back, as there is no age limit. 
"We have both donated blood for many years," Elsie said. "We received a plaque several years ago when we had donated 10 gallons each. Since that time Don has donated at least another gallon; he donated about two weeks ago. The blood center told me recently that I had donated 95 times since we moved here 31 years ago."
Politics and church are not forgotten to the Hildebrands among this extensive scheduling of activities. Both Elsie and Don have worked in local and national elections for a number of years. Don has since retired from it, but Elsie still participates. The couple are active members of the Democrats of Comal County and participate in affiliated parades and activities. The Hildebrands joined the First United Methodist Church upon moving to New Braunfels and are active members. Don sings in the early morning choir; The Sonrise Choir. Elsie is active with the women's group and assists with a yearly huge rummage sale, among other activities.
When asked what about volunteering brings so much joy to the Hildebrands, they described it as a worthwhile hobby and something productive to do with their time, "being able to bring a little joy especially to senior citizens and it is interesting meeting people at the Visitor Center from all over the country." 
The Hildebrands have volunteered their time at the Visitor Center in New Braunfels for 11 years. 
"I think it is hard to say what the biggest need of the community is, as it is always changing, but working with senior citizens is one of the biggest needs," Elsie said. 
While the volunteer history of the Hildebrands may be known to many in the community, there may be a few things that people don't know about the couple. For example, Don volunteered for several years with an organization called Rails to Trails, which promoted hiking and biking trails in New Braunfels. And, during the 1998 flood, Elsie and Don worked with New Braunfels Rebounds by rebuilding homes. 
They also volunteered from 1992 to 2002 with the Red Stocking Review, a stage crew for shows held every two years, with local talent and a New York-based director. For a few years, Don drove one of his antique tractors in the Fourth of July parade and dressed up as Santa one year, but "he didn't like it because it made the little people cry," Elsie said. They both are active members of the local hiking group, Marsch-und Wandergruppe, "although we are no longer able to walk the 10K or 5K walks, we still participate by helping with the two local walks the club sponsors each year," Elsie said. 
"We have a garden, and Don does all of the yard work, as well as maintenance on our car," she said. "Don's hobby for many years was restoring antique tractors and reselling them. For years we had a two car garage with a tractor in one half. He has retired from that hobby now."
For those who may just be starting out on their own journey with volunteering, the Hildebrands suggest a realistic approach. 
"Start out slow and do it in moderation," they advised. "Also choose something that gives you a feeling of being needed, and as the spirit moves you to do it." 
The myriad of activities the couple has participated in over the years exceeds the spacial limitations of this article, but there is no question that giving to others has been a prominent focus in their lives in many ways. From winning blue ribbons at county fairs and ushering at community theater events to serving on boards and helping those in need without pause, the Hildebrands have done it all and have had a great time doing so. 
Looking ahead, the couple hopes to have some more travel time again, as they have previously been able to visit all 50 states and 10 countries over the years. 
"We have enjoyed life to its fullest and hope to have many more years of volunteering," said the Hildebrands.