There aren't many people who can say their voice has been broadcast to 60 countries, but Analisa "Kiki" Culpepper, who turned 18 this summer, has that bullet point on her list of accomplishments.
For the last five years, she and co-host Jason Dias have released a weekly podcast, ChristCast2020, which explores the Bible from a historical and archaeological perspective. With the tagline "Two generations, one mission," Gen Xer Dias explains the historical background of scripture, while Culpepper translates and distills the information into clear, concise clips for others her age.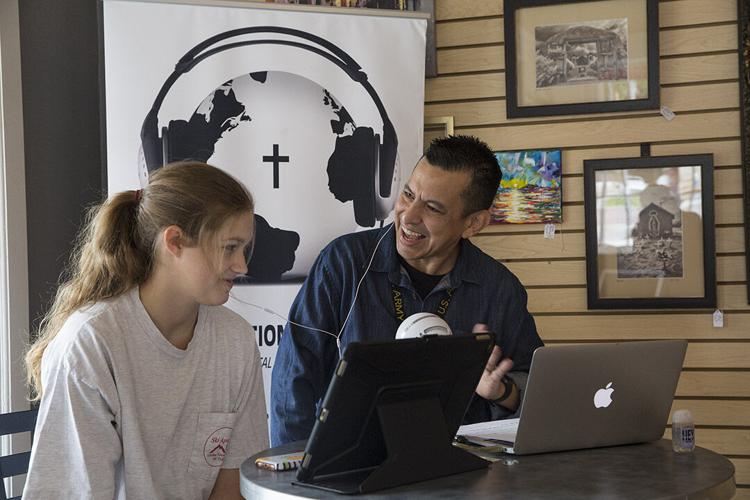 "I've grown cynical in my 50 years on earth and that hasn't happened to Kiki yet," Dias said, explaining Culpepper's upbeat energy set the tempo for the podcast which aired its final show in May to coincide with Culpepper's graduation from Cross Lutheran School.
"I gave the 'too long, didn't read, Cliff Notes' version," Culpepper said, going on to add, "I think I bring a more open mind into it."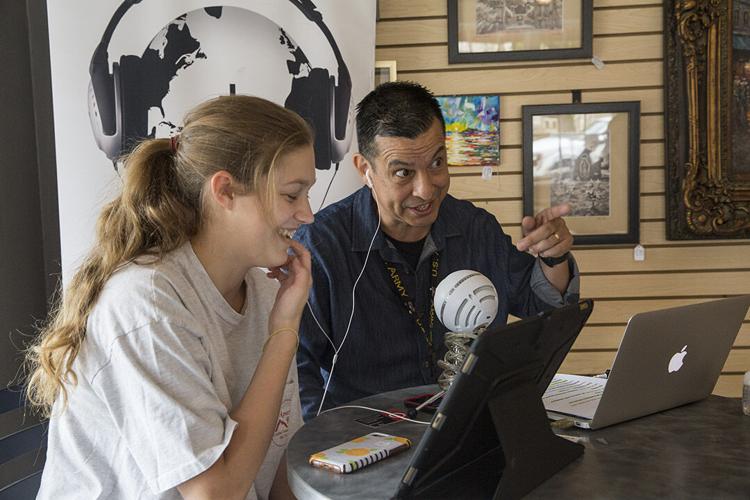 ChristCast2020 had nebulous beginnings. As president-owner of Eloquent Online, which creates training podcasts for banks and credit unions nationwide, and as a former professional speaker, Dias was no stranger to the podcast world. With a degree in history, his passion for the historical context of the Bible arose when his son, also a student at Cross Lutheran, brought home a scripture from the book of Ephesians. Dias' curiosity about who the Ephesians were was piqued, and he delved into research to learn more about them.
"I jumped into the archeology of the Bible with a historical interest and an enthusiasm that has never waned," he said. "I approach the Bible as historian. I have no theological credentials, but I've been studying the history and archeology of the Bible for the last 12 years."
While broadcasting a student body election in 2015, Dias interviewed Culpepper, who was in the race for her eighth-grade class, and knew immediately that she would be a great co-host. He spoke to her mother, and before long, Culpepper was on air.
"I think it was a different experience from what I'd done before, but I think it was a good experience to have," she said. "I think it was an introduction to what a normal thing would be in the future for a lot of people. In middle school podcasts weren't that big of a thing yet. They were around, but they weren't very popular. But the more we did it, the more podcasts began coming out more often, so it was almost like we were ahead of the curve in that way."
Most of her friends didn't understand what she was doing.
"All they knew was that I would disappear for like 30 minutes and then come back with food," she laughed.
The shows were broadcast from different sponsoring businesses around New Braunfels, such as Chik-fil-A at WestPointe Village.
"We definitely gave away far more food than we made money during the course of the podcast," Dias said.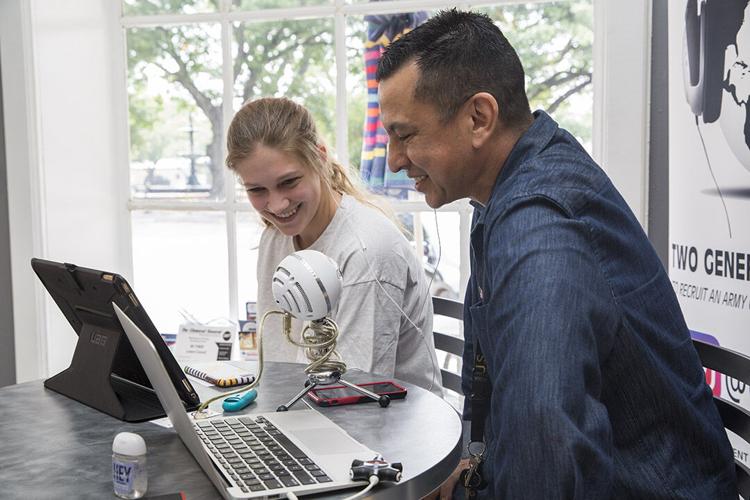 A range of special guests made an appearance on the show throughout the years, from Chick-fil-A CEO Dan Caffey to 25th District Texas Senator Donna Campbell.
"We did a special broadcast during quarantine with Angela Paloma, who lost her husband (TJ Mendez) to COVID-19," Dias said. "It was the most listened to show we've ever done. There were moments during the show that felt very significant."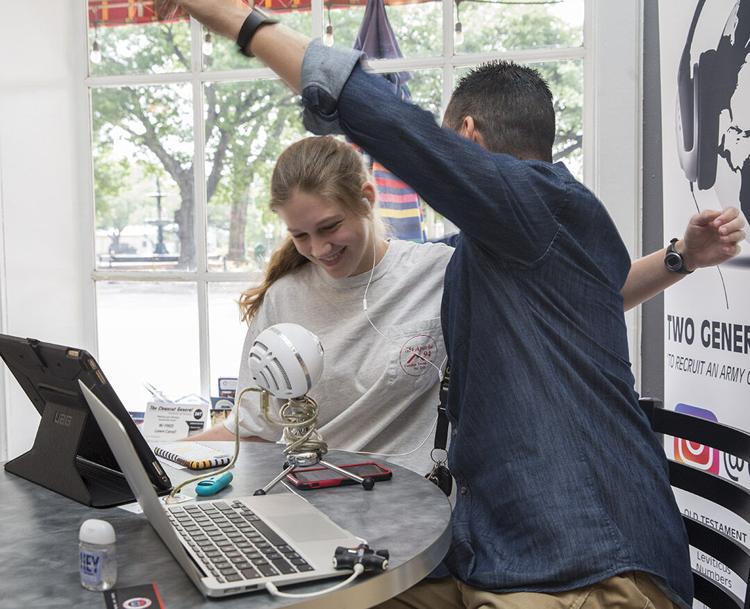 Another powerful moment for the two was when they discovered their podcast was being transcribed from English to French in Burkina Faso in West Africa by a pastor whose church community was being besieged by Islamic terrorists. The podcast provided a discreet form of ministerial communication that people could hide on their phones.
"That made the show feel really important to me," Dias said.
In January 2018, the pair began working their way through each book of the Bible chronologically, one book per month.
"In church you hop around from scripture to scripture," Culpepper said.
"I think it's healthy for every Christian to read the Bible chronologically at least once," Dias said, calling the experience "eye opening."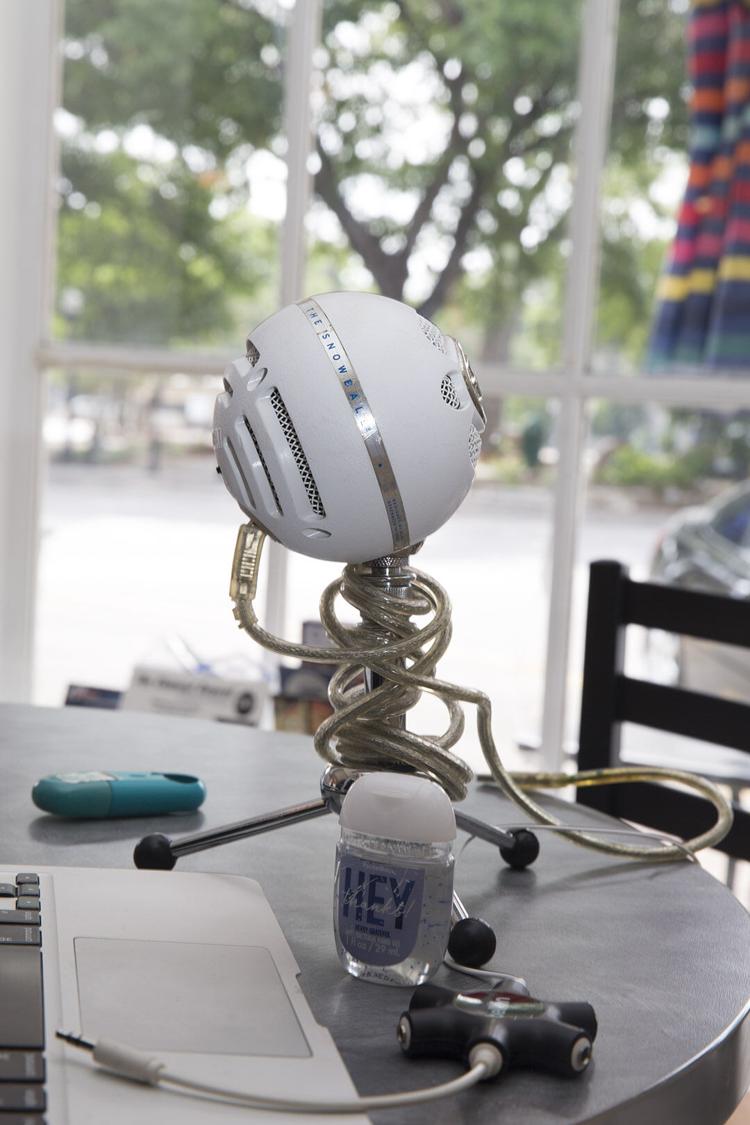 Culpepper's favorite Biblical character is Job.
"His story relates so much recently," she said. "God lets the devil in to ruin his life, but Job holds steadfast in his faith. I strive to have that kind of relationship."
Dias was drawn to Luke, an apostle who wrote a large portion of the New Testament, but doesn't mention his name or take credit for it.
Though the podcast, which is available on Blog Talk Radio, iHeartRadio and Spotify, among other platforms, focuses on the historical context of the Bible, some listeners didn't always like what they heard.
"The number one pushback we got was not from Muslims, atheists or agnostics, it was from other Christians," Dias said. "Churches didn't want us stepping on their message, and we were thinking, 'Wait a minute, there's only one message. What message are you talking about?'"
Though Culpepper's friends might not have understood what she was doing when they were in middle school, in the five years since ChristCast2020 began, podcasts have become much more common.
"My friends now are like, 'Oh yeah, that's cool,'" Culpepper said. "They tend to brush it off super casually these days, because everyone and their brother are like, 'Oh yeah, we're doing a podcast now.'"
This fall Culpepper will go to go to Huntington College in Alabama to play women's soccer and possibly study criminal justice. For now, neither Culpepper or Dias plan to start another podcast.
"If God wants me to do another podcast, though, I know I'm capable," Culpepper said.