If organ music doesn't come to mind when you think of a parade, then you likely haven't been to a parade in New Braunfels.
When Fred Fey, a deacon at Sts. Peter and Paul Catholic Church, rolls through the procession with one of his automatic musical instruments, the sound is nothing like the somber organ music you may have heard at a grand cathedral. Instead, it may bring forth some of your favorite childhood memories — carousel rides at the fair, perhaps, or the anticipation of an approaching ice cream truck.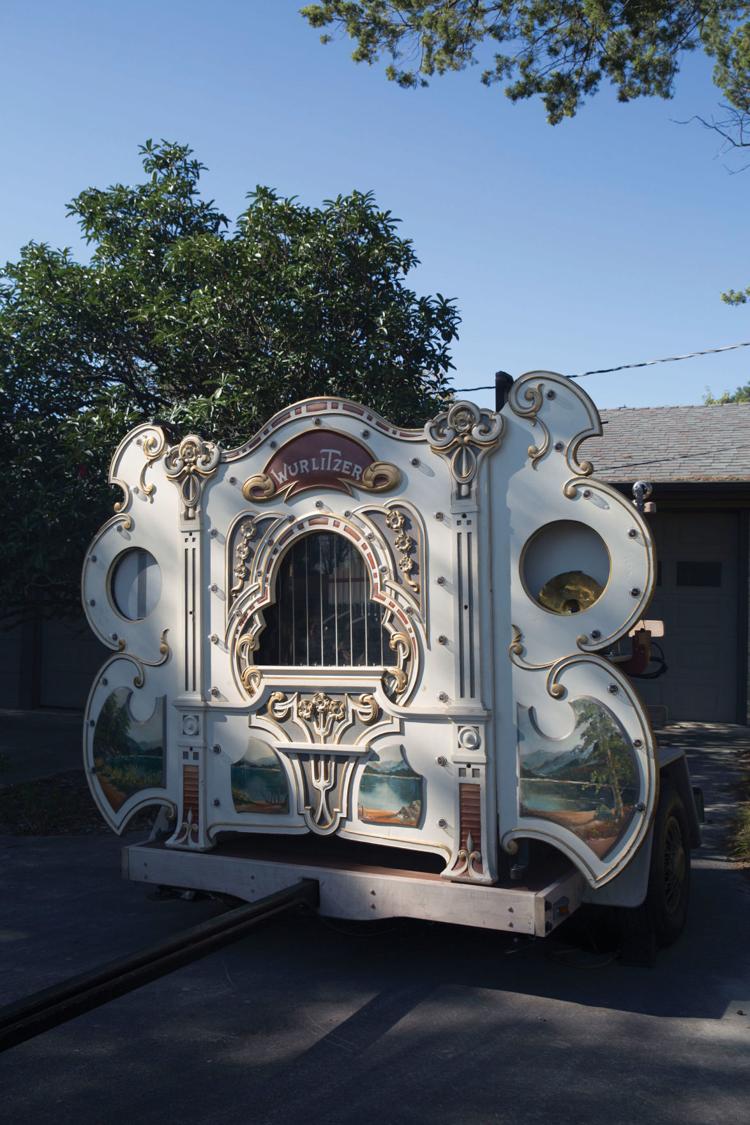 Fred's passion for the intricate instruments began in 1969 when his brother, searching for parts to build a theater organ, found an antique Wurlitzer military band organ in San Antonio.
"We didn't know what a jewel it was until years later when we looked it up on the internet," Fred said. "It needed total repair, but all the parts were there."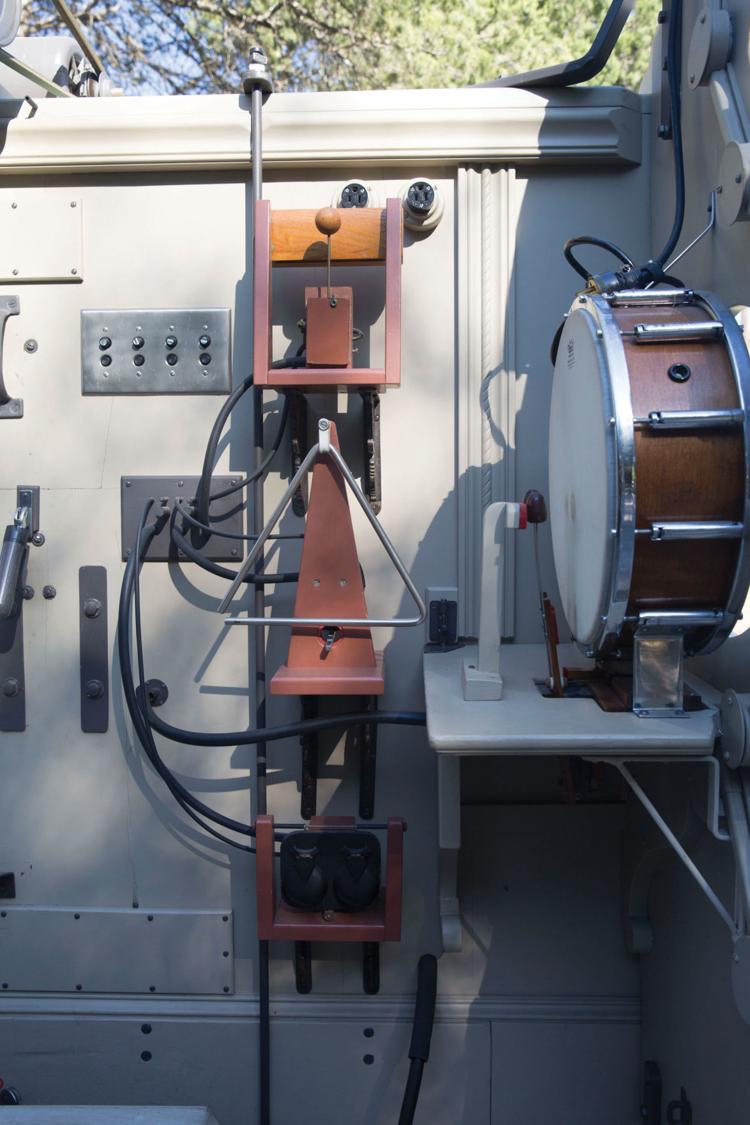 Built in Germany by the Gebruder Bruder Barrel Organ Company around 1900, it was originally a barrel organ.
"Barrel organs are like music boxes," Fred said, explaining that, similar to the mechanism inside a jewelry box, the rotating barrel had small teeth that played the tunes.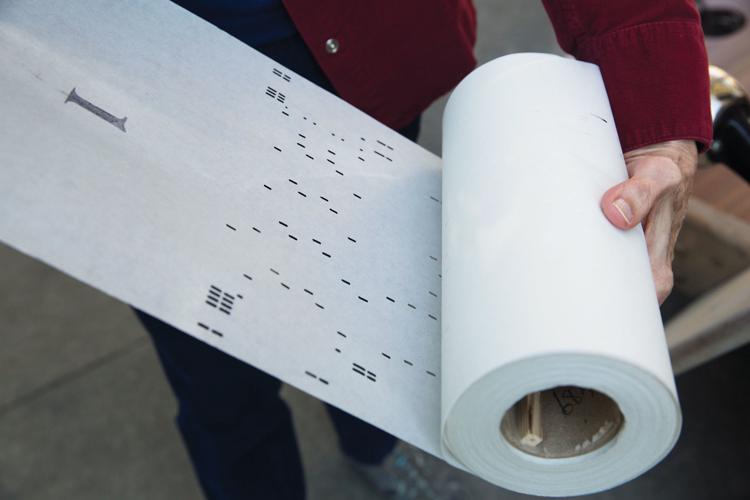 Unlike a music box, however, Fred's Wurlitzer doesn't play a tiny, tinkling melody. Instead, its voice is loud and its instruments are many, with 22 melody notes, 14 counter-melody notes, 10 accompaniment notes, six bass notes and percussion that includes a bass and snare drums, a cymbal, wood block, crash cymbal, tambourine, triangle, tympani and even castanets.
In 1924, his organ was converted by the Rudolph Wurlitzer Company to run instead on large rolls of paper with holes punched throughout the rolls. A pneumatic system pushes air through the holes, turning the paper into song.
"I have about 150 rolls with two songs on each roll," he said. "I have Christmas carols, the Aggie War Hymn, polka, country and western … just about every type of music you can think of."
Fred used to haul the Wurlitzer on its trailer to various memory care facilities around New Braunfels, where it was loved by residents, but he regretted that the residents had to go outside to listen to it. So, he purchased a Raffin hand crank street organ.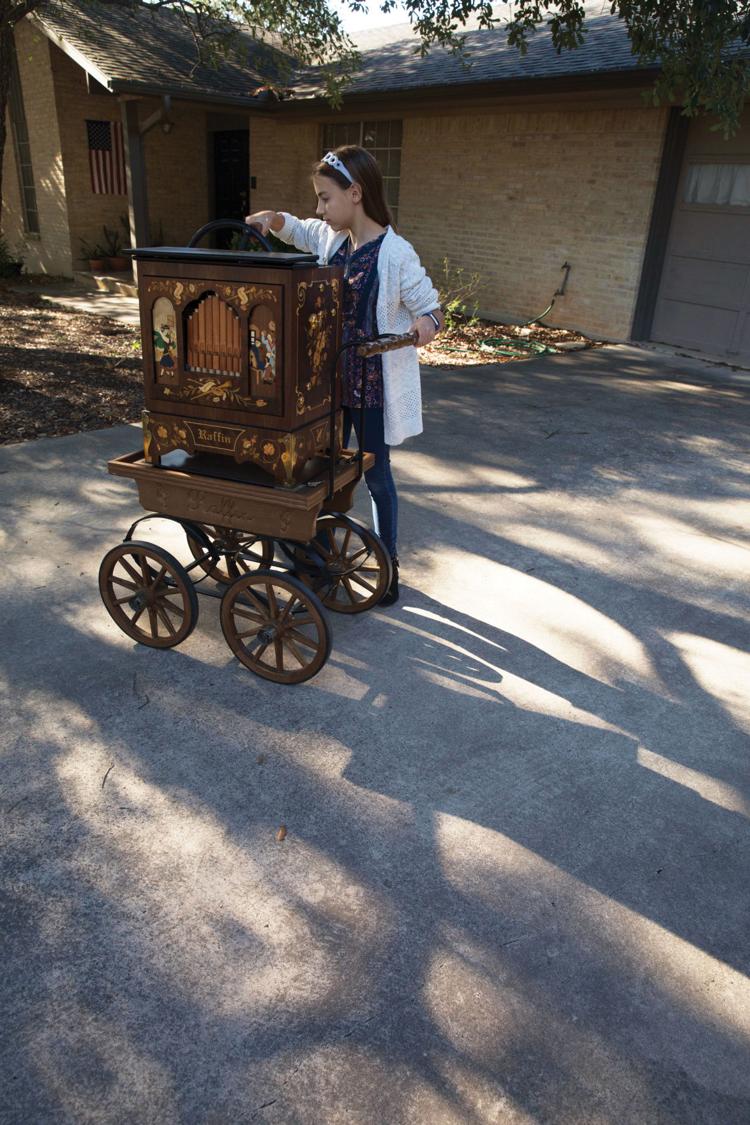 "It's really special," he said. "I take it to three or four nursing homes each month as part of our music ministry. About five homeschool families come to help me crank it and talk to the residents. It's good for the kids and for the residents. The residents love it. They stomp their feet, clap, a few can dance. They always enjoy the 'chicken dance' and anything with a lot of rhythm."
He also takes the Raffin to schools, daycares, vacation bible schools, senior centers and other places to entertain people of all ages.
Similar to the carousel organ, Fred's German hand crank organ uses rolls of paper to create music. It has 30 rolls of music and an Italian inlaid exterior. To play it, a person must grasp a handle and steadily spin a wheel on the back of the instrument.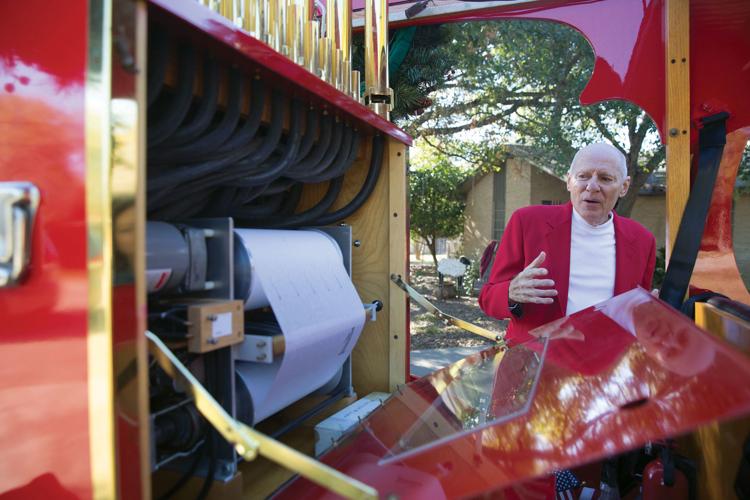 The cherry on top of Fred's portable organ collection is a Tangley Calliaphone air calliope — the instrument most often seen in local parades. The red 1915 Model T Ford Truck was restored by the Miner Company of Donnellson, Iowa in 2005, and the same company built the calliope to its late-1800s specifications. The 10-tune, 65-note organ can be played manually from the keyboard at the back or automatically by a paper roll pneumatic system. Fred has 25 rolls of music that fit the instrument.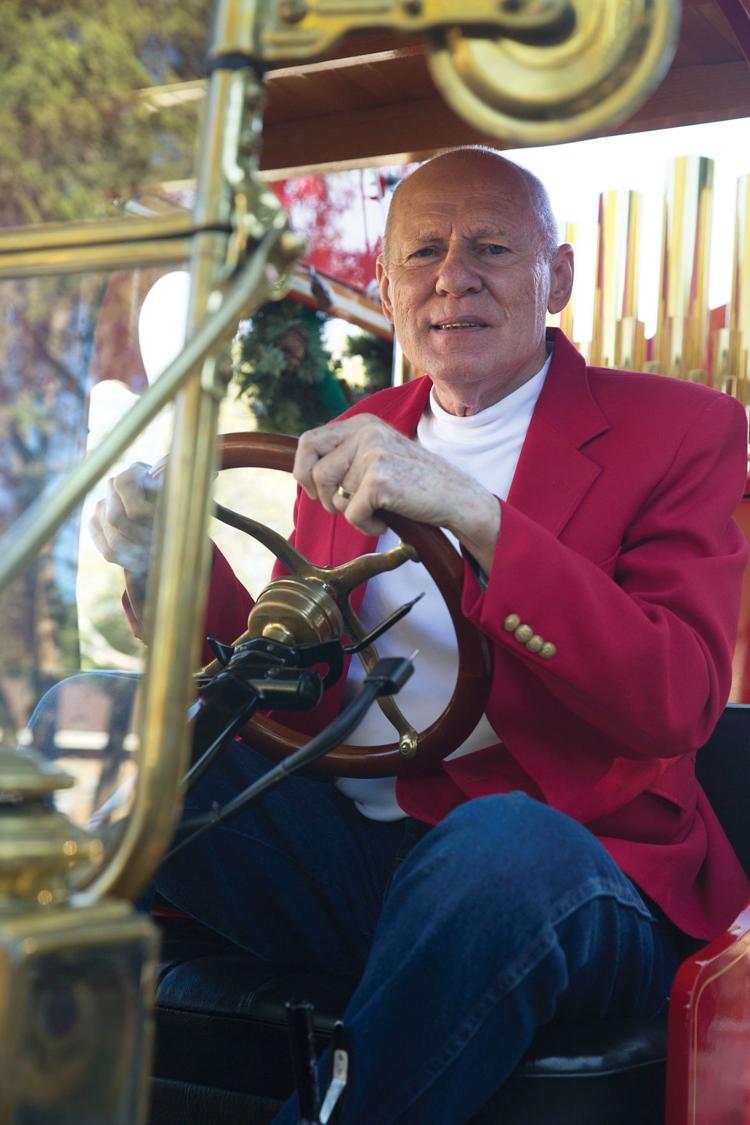 "Europeans were not fans of calliopes," Fred said. "They were more often used at carnivals and festivals in America."
The calliope made an appearance in last month's Veterans Day parade, as well as during New Braunfels' Christmas lighting on event on the plaza. A lesser-known event in December features both the calliope and the Wurlitzer, as well as another couple's hand crank organ.
"We call it the Sounds of Christmas," Fred said, explaining this will be the event's 39th year. "We set up all three in our yard with our nativity scene, and play carols on each instrument. My wife, Roselyn, bakes about 35 different types of cookies to serve."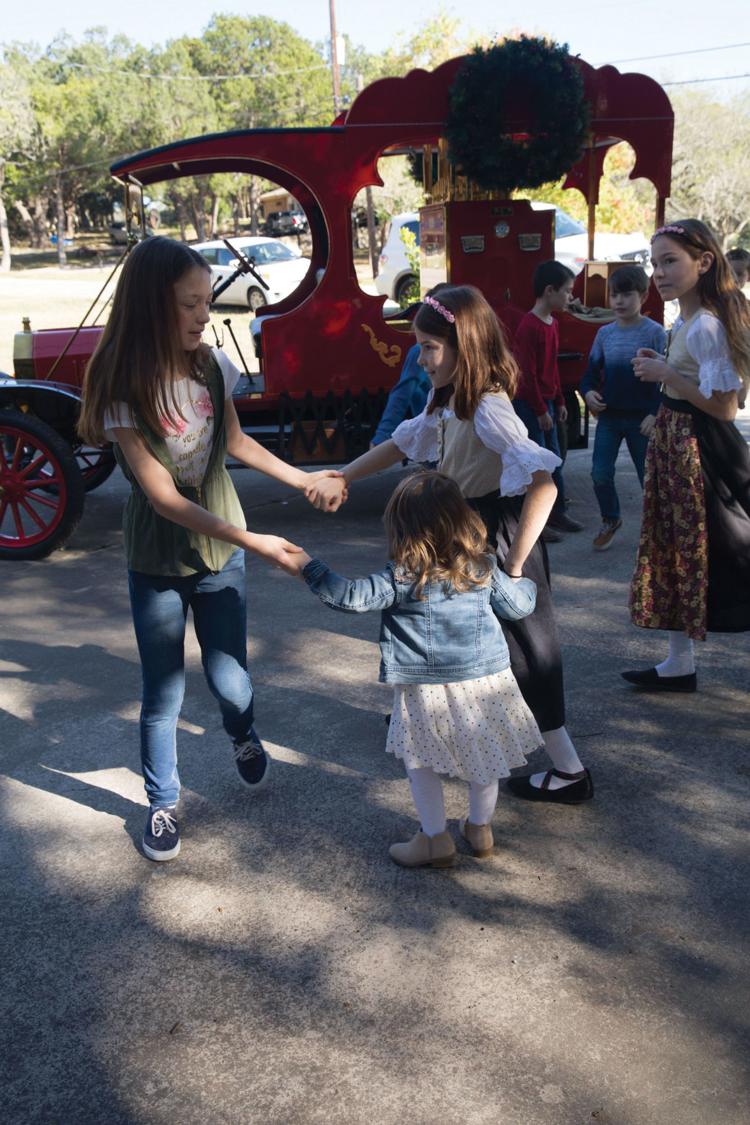 "I start baking around Thanksgiving and freeze them as I go," Roselyn said.
Each year the event draws 200-300 people to the couple's lawn.
The free, come-and-go event is on Friday, Dec. 20 from 4:30-8 p.m. at 350 Lark Lane.