The sound of bagpipes and drums filled the air as community members, firefighters and law enforcement lined Cedar Street on Saturday morning in honor of fallen Seguin Firefighter Roger "RJ" William Dean III.
Dean died at the age of 31 in a Houston hospital from complications due to COVID-19. 
A funeral procession, led by the San Marcos Fire Department Honor Guard and a pipes and drums corp, made its way to Seguin High School's Performing Arts Center where family and friends celebrated Dean's life and his legacy.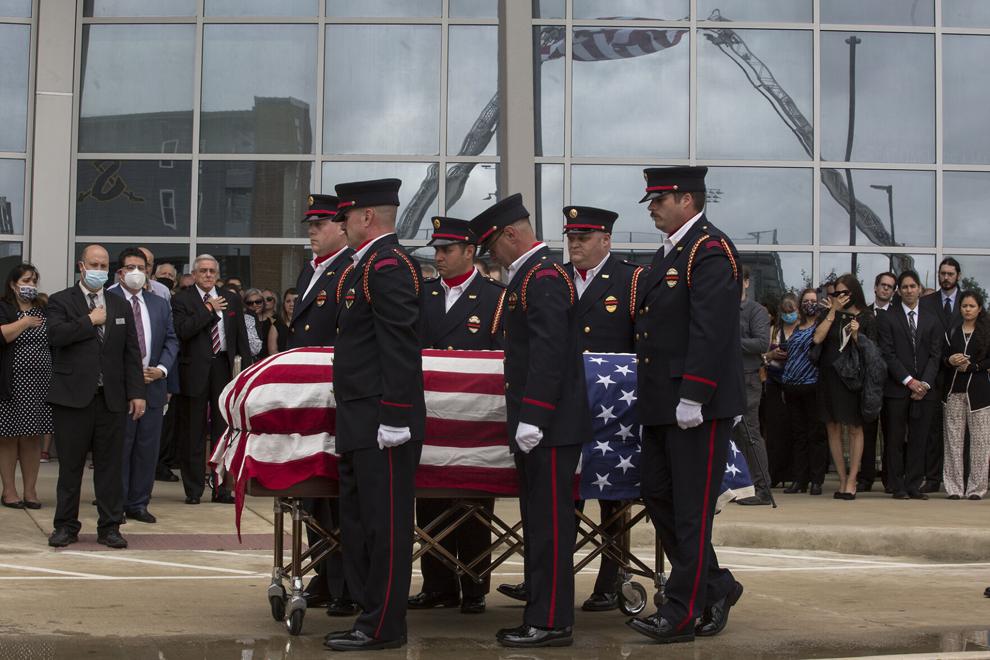 Firefighters and law enforcement officers from the region joined in honoring and remembering Dean with more than 18 departments participating in the procession leading to the funeral service.
During the ceremony, family and friends talked about his love of family and friends, passion for serving others, enjoyment of adventure and faith in God — the four cornerstones by which he lived, his father Roger Dean Jr. said.
Family was most the most important thing in his son's life, Dean Jr. said. That included friends and fellow firefighters. 
"He regarded all of you as his family," he said. "There was one thing in life Roger loved most, and that was his family."
His love of family spilled over into his professional life, as "family time" became a staple in his firehouse, friend and fellow Seguin Firefighter Joe Blahnik said.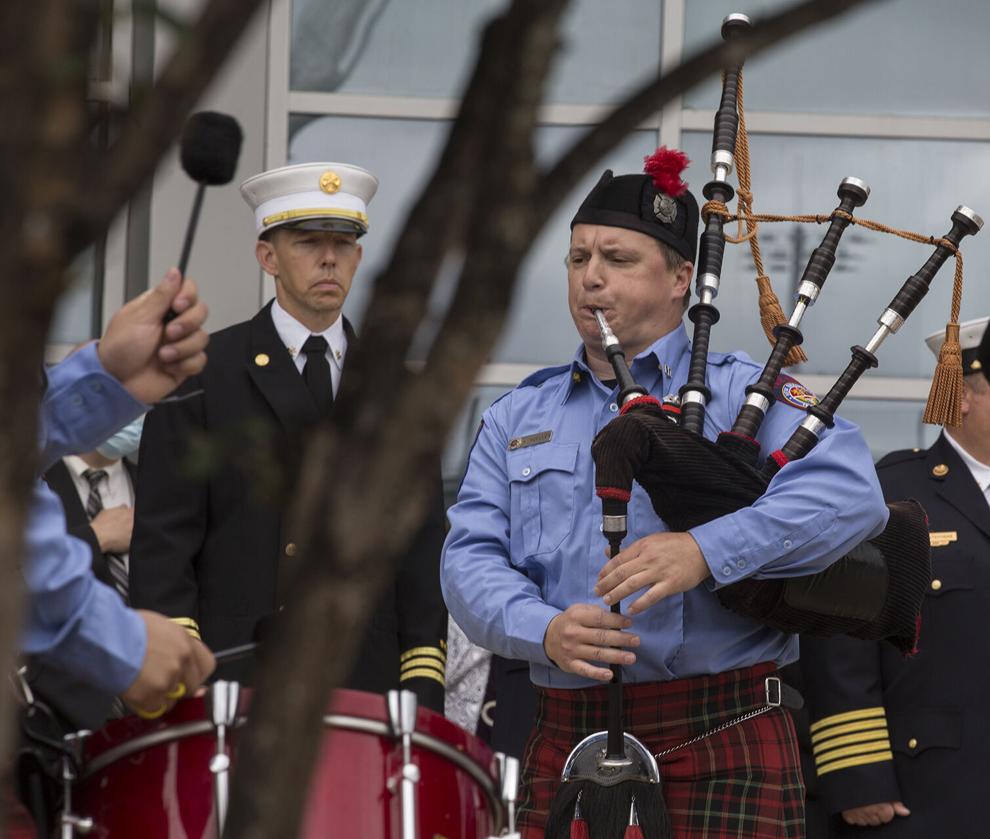 "This idea started when we would have downtime," he said. "We would just sit in the chairs in the front lobby of the fire station and just talk. No TVs, no phones, just talking. At first, family time started five or 10 minutes here and there, it progressed into hours and sometimes even overnight. Roger just had that capability to bring everyone closer together. It was much more than friendship — it was brotherhood and he was family."
His love for his fire family paled in comparison to that of his parents, his wife Stephanie and their daughter Amelia, Blahnik said.
RJ also had a passion for service and taking care of his community, Blahnik said. 
"He allowed his passion to drive his attitude toward his work and towards his life," he said. "He poured his heart and soul into everything he set his mind to. It was very apparent when he was taking care of his patients, doing chores and especially when he was getting to know his brothers and sisters."
RJ was what Seguin Fire Chief Dale Skinner called "a fire chief's firefighter."
"His love of service was evident," Skinner said. "His love for the job was evident. It was not what he did, but who he was."
In his service to the community and in life, RJ followed the phrase of Non Sibi Sed Omnibus, loosely translated as "Not for Self, But for All," Blahnik said.
"He truly believed in what this phrase meant in his job and in life, a trait he undoubtedly inherited from his parents," he said. "I asked my fellow brothers and sisters to take this phrase that Roger has bestowed upon us and remember it and honor Roger by carrying out his legacy."
When he was not serving the community as a firefighter and paramedic, RJ was on adventures with his wife. 
"Everyone that knew Roger knew that he loved going on adventures," she said. "He instilled that love of adventures in me. We not only enjoyed our adventure of the obvious outdoor sorts, but we also enjoyed adventures in life together. Our adventures were the best times of my life. I will always miss adventures with Roger, but will continue those adventures with Amelia."
There are many things RJ will be remembered for, and among them are his "magical" mustache, Dean Jr. said.
"That mustache is supposedly imbued with magical properties," he said. "It charmed at least one chief executive officer. This mustache was the envy of others and the target of chief's ruler on occasion. Roger's magic mustache continued to serve until his last days."
Skinner agreed, adding that many have tried to replicate it, but were unsuccessful, even though it was out of the department's uniform regulations.
"It was so majestic, like a unicorn," he said. "And you don't cut the horn off a unicorn. It was, well, magnificent. I simply couldn't ask him to trim it. It was hypnotizing. Roger was the only one who could get away with that."
Pastor Larry Maddox spoke about RJ's faith in God, while Seguin Mayor Donna Dodgen thanked the Dean family for sharing their son, husband and father with the community.
"There are no words or actions that will relieve the ache," Dodgen said. "We want to continue to hear Roger's stories and keep his spirit alive in all of us. I cannot thank you enough for sharing him with us. We are all better because of him."
The solemn service included the traditional Bell Ceremony, his last call for service, the playing of taps, and the presentation of RJ's flags and medals to his family. 
The pipes and drum corps played "Amazing Grace" before concluding the ceremony. Outside, firefighters and law enforcement formed two lines as a Wall of Honor to the hearse to salute Roger Dean III.