CORPUS CHRISTI — After relying on a mix of patience and perseverance throughout their 2021 postseason run, the Rangers ended a 16-year drought on Friday afternoon by booking a return trip to the UIL state baseball tournament.
Smithson Valley (35-5) defeated Los Fresnos 3-2 at Corpus Christi's Cabaniss Field after seeing the Region IV-6A championship game suspended Thursday evening due to torrential rainfall.
The Rangers held a 2-0 lead when play resumed Friday, but the Falcons (22-7-2) took advantage of a one-out, bases-loaded situation by tying the game in the bottom of the sixth inning.
Smithson Valley vaulted back into the lead thanks to an RBI single from Tim Arguello in the top of the seventh, and pitcher Brandon Taylor — who tossed all seven innings despite the lengthy delay — worked out of another bases-loaded jam in the bottom of the seventh.
The final out came on a grounder that Taylor fielded and tossed over to Garrett Brooks at first base to begin the celebration as the Ranger dugout spilled onto the field.
"It was just unreal," Brooks said. "I caught it with two hands to make sure I didn't drop it and we all threw our gloves and gave BT [Brandon Taylor] a big hug. He pitched a heck of a game."
Smithson Valley's journey to the state also featured weather-related postponements and schedule changes in each of the two previous rounds against Eagle Pass and San Antonio Reagan. Head coach Chad Koehl said afterward that, through it all, his ballclub has remained mentally focused.
"They're a group that gets along really well, they're cohesive, but that's what they've been showing for five weeks now, is character and composure," Koehl said. "That's why they're headed to the state tournament."
Los Fresnos loaded the bases with one out in the bottom of the sixth on Thursday night before a thunderstorm descended upon Cabaniss Field. The Falcons were able to cash in on those runners in scoring position when play resumed on Friday, as Matthew Padilla posted a sac fly before a Smithson Valley error allowed Germain Castillo to sprint home and knot the score at 2-2.
Taylor escaped any further harm by inducing a grounder to third that was handled by John Garza and tossed across the diamond to Brooks for the final out of the frame.
The Rangers then got a huge boost from Ryan Ruff, who led off the seventh with a single and later moved to third base following a sac bunt by Cameron Hodges and a flyout from Kasen Wells in which he tagged up.
Facing relief pitcher Sidney Moore, Arguello ripped the go-ahead RBI single into left field to plate Ruff and give Smithson Valley the slimmest of leads.
Taylor went back to the mound in the bottom of the inning looking to complete yet another seven-inning gem, but the Falcons again threatened by loading the bases with one out thanks to three singles.
The senior right-hander buckled down and got Victor Loa to fly out harmlessly to Drew Fagala in left field, which brought Padilla back to the plate. After firing a strike to move ahead in the count 0-1, Taylor got Padilla to tap a weak grounder back to the mound that resulted in the contest's final out.
"It definitely stressful at some points," Taylor said. "Things didn't go our way every time, and I just had to battle through adversity in that type of situation and just keep pitching my game."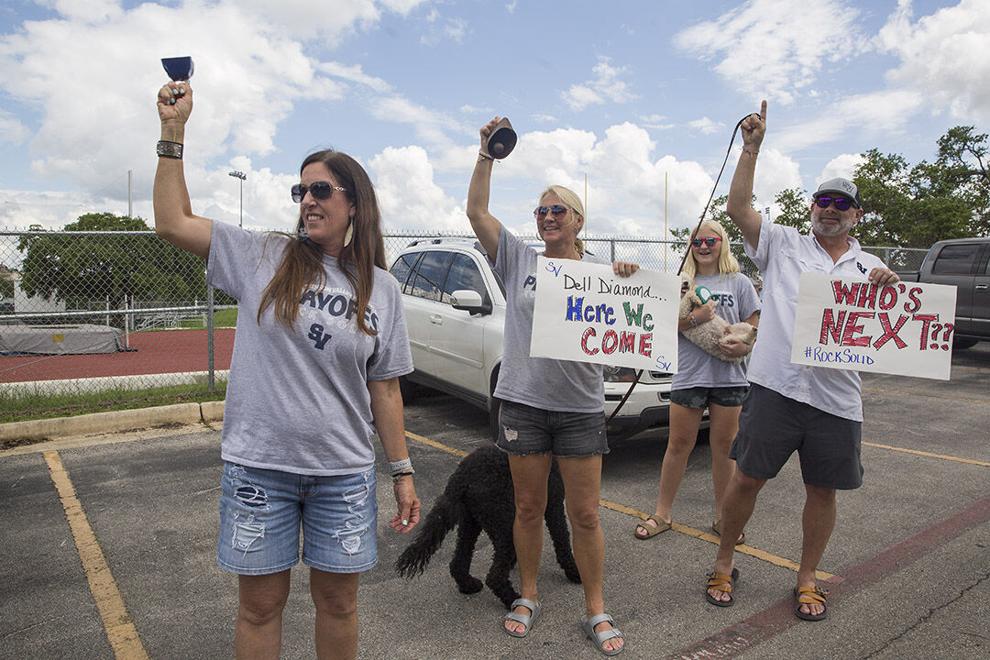 Taylor earned the win after scattering six hits and striking out five Falcons in the contest. The senior said he wasn't sure if he would remain Smithson Valley's pitcher for Friday's portion of the game, but after warming up, he told the coaching staff he was ready to finish what he started.
"I felt great, and I told them that," Taylor said. "They just gave me the ball, which was awesome."
Ethan Gonzalez drove in the Rangers' first two runs on Thursday and finished 1 for 2 in the win. Arguello was 1 for 4 with an RBI, and Brooks went 1 for 2 with a run scored.
Smithson Valley will now prepare for the Class 6A state tournament, which begins Friday, June 11 at Round Rock's Dell Diamond. The Rangers will play at either 4 p.m. or 7 p.m. in Friday's semifinal round in hopes of advancing to Saturday's title game at 4 p.m.
"It feels amazing," Taylor said. "I've been wanting to do this since my freshman year, and all of those seniors last year who didn't get the chance have been along this ride with us — being able to watch us and congratulate us and cheer us on. It's definitely really special for all of us."