Gary Coffing never knew where his family's home would be next, bouncing from rentals to a cramped spare bedroom in his father's house.
Comal County Habitat Humanity is wrapping up about five months of construction on a permanent place he and his two young children — Gary and Olivia — can call home. 
Gary and Olivia picked their rooms along with decor themes like Disney's "Frozen" and superheroes.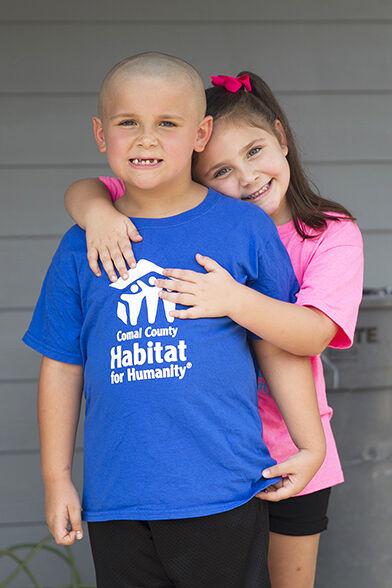 Coffing and his children are currently staying in an RV. When he's not volunteering to work on it, they drive by the house and walk around to take it all in.
"They're happy and they're excited — that's actually all they talk about," Coffing laughed.
Coffing said he remembers in 2018 attending a Comal County Habitat Humanity homebuyer presentation in Canyon Lake, which was a new service area for the nonprofit. 
A counselor for his children is friends with Habitat for Humanity Comal's head of construction and encouraged him to apply.
In December 2018, he was approved and throughout the process Habitat for Humanity held events like its "Stud-A-Thon." 
Community members came out to write welcoming messages like "Bless this house" on 2x4 wooden planks used for the house. One stud in the master bedroom was painted with Disney's "Frozen" characters on it.
"They painted one [stud] with Frozen characters and [Olivia] was convinced that it was her room because they painted it in there," Coffing laughed. "So they had to go put [Frozen] stickers on all the studs in the rooms. I think they used the whole book."
Coffing wanted to work on the house alongside volunteers and staff, and he got to pick out colored tiles and his own flooring, a modern gray floor with texturing. 
"It was like playing the Sims, except it was reality," Coffing laughed. "I enjoyed it, and it made it feel more real, because before it was all just volunteering and then finally whenever they sit you down and you're in this room picking stuff out it's like it's going to start flying by now. It seems like just a few weeks ago we were sitting down picking stuff out."
Comal County Habitat for Humanity home program coordinator, Javier Vargas, watched Coffing volunteer working on his house throughout the hot summer season.
"I've seen Gary work really hard toward this," Vargas said. "He's definitely earned it and we like to say we're building with him and not for him. We're super excited to hopefully go to closing really soon and after get that house finished."
Team Building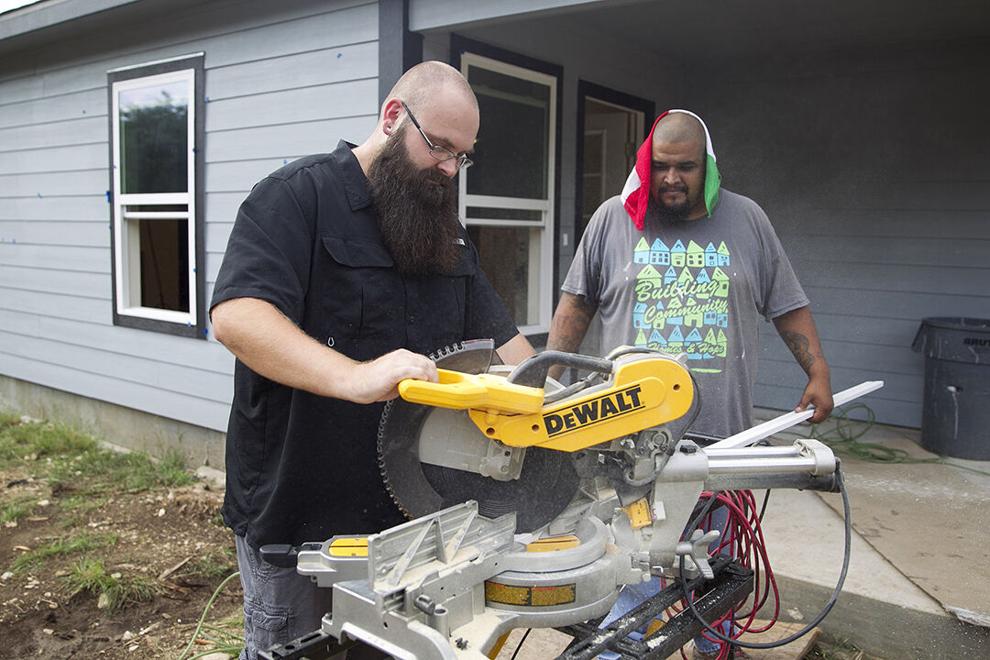 Coffing's home in Canyon Lake is one of several Comal County Habitat Humanity projects the organization is tackling this year. 
New Braunfels Habitat for Humanity is staying busy with tons of projects and fundraising. Open home applications closed in September and there were about 15 applicants.
The nonprofit is in "serious need" of volunteers, Vargas said.
Besides home builds, volunteers can also help out the Habitat for Humanity ReStore, which sells home improvement  items, furniture and home goods at an affordable price. The store also needs workers.
"Of course with our home build with Gary, but also we have our repair program where we go out to different homes in the New Braunfels area if they need windows replaced or really anything they can think of," Vargas said. "The more volunteers, the better."
An upcoming build will be a one-story duplex for two families with a shared wall in the middle and connected in the back. 
The nonprofit will have a "Stud-A-Thon" on Oct. 15 to raise money for the duplex. A $200 donation will help two families build their Habitat homes. 
Another project is "Casa de Esperanza," a set of Habitat for Humanity townhomes. Six buildings, with two units each, will be connected like a neighborhood and there is one individual home.
The nonprofit just finished going through applications, but hopefully it will open up applications again, Vargas said. 
The neighborhood is building off of some already existing Habitat for Humanity homes, and is meant to create a little community with a park area.
"What we're hoping for is a lot of the families in queue will actually end up being neighbors," Vargas said. 
Once everything is finished, Coffing said he anticipates the kids to run around excitedly once they first step foot in their new home.
"It's going to be like a weight lifting off," Coffing said. "I want a stable place for us that I can call home, so it's going to be a relief. I'm sure I'm going to just walk right in there and enjoy everything. Take it all in."
To volunteer, go to https://www.comalhabitat.org/volunteering
To sponsor a stud for "Stud-A-Thon," go to https://www.comalhabitat.org/events/studathon
Contact Tiffany at TQuiring@comalhabitat.org for sponsorship opportunities and event ideas to sponsor portions of a project