With more people buying bikes during the pandemic to get some fresh air, shops everywhere are facing bike and parts shortages while repairs ramp up.
Bike sales rose 78% during the pandemic, according to NPD Group, a market-research firm. 
That climb in demand has left shops with backorders on assembled bikes and parts that are expected to last into the fall and perhaps even to next year.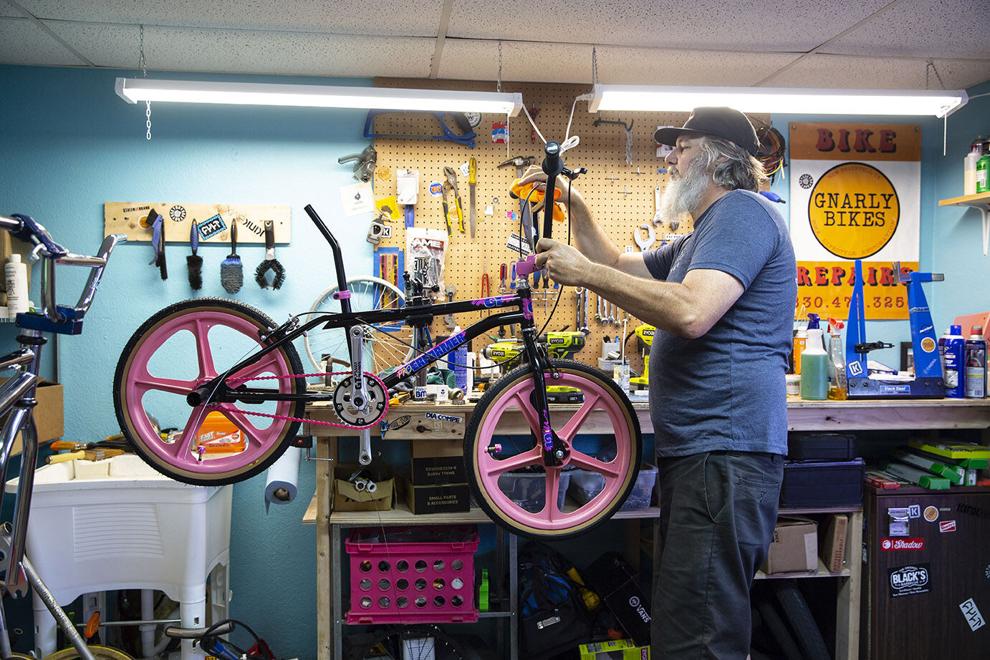 The Chain Link bike technician Erik Rodriguez said about 95% of the bikes in store are in for repairs. 
He said they get about five or six repairs a day and then five to six customers are coming in a day to pick up their repaired bikes. 
"We've been waiting on bikes for over a little more than a year," Rodriguez said. "People are constantly coming in and we barely have any walking space in the store because of repairs."
The Chain Link orders Specialized bikes, which are mass-produced and shipped to them from overseas. 
The shop sells road bikes, commuters, mountain bikes, hybrids, cruisers and children's bikes. 
"Probably our biggest market is hybrid bikes and commuters -— just things to ride around town for the most part," Rodriguez said.
Hybrid bikes prioritize comfort over speed by combining road and mountain bikes. 
This means a more upright position in the saddle and slightly fatter tire than road bikes to travel comfortably on different terrain including pavement and trails. 
Rodriguez said many people come in looking for hybrids or comfort bikes, which are out of stock since they are best for casual commuting.
"We've had to tell customers every day we don't have bikes for them," Rodriguez said. "Even special orders are out for quite a few months and that's even if we put anything in an order."
Since bikes are assembled with different parts from different manufacturers, such as widely-used Shimano gears, it takes longer to get bikes manufactured and shipped over.
The parts shortage also affects repairs.
"We have to be very resourceful when it comes to repairs," Rodriguez said. "The parts are really in short supply but my boss is doing a really good job using whatever when it does become available. When parts are available through distributors they sell out in an hour because people all over the state and country are wanting to get those parts."
Eliza Dahmen and her mother, Kristen Pokky, opened the Pedego New Braunfels Pedego electric bikes store in July 2020 during the height of the pandemic. 
Their sales skyrocketed during the lockdowns. Now it is difficult ordering anything as soon as it is available after constantly checking online.
"The supply chain issues are messing with everybody," Eliza Dahmen said. "It's been really hard to get anything bike-related like helmets, accessories, you name it. A lot of models haven't been available for a few months and they might still be unavailable months out even."
Dahmen said they get many customers are looking for that extra push from a battery-powered motor. 
"It's mostly older people who can't do regular things on a regular bicycle but want to get back on the bike again and climb hills, to go farther and go faster," Dahmen said. 
Although they range in the thousands compared to a regular bike, she said they are a long term investment well worth it. 
"[Electric bikes have] been around for a while and they're just now taking off in popularity," Dahmen said. "People are discovering how much freedom you have and you can save money on gas. It's very cost-efficient and you do get exercise." 
Gnarly Bikes specializes in mountain bikes but also does repairs and shipments on other bikes as well. 
Owner Galen Church said at the end of June he got his first new shipments since January — bikes that he got to pick, rather than ordering whatever was available.
"People will call in to order them and I'm like I will take a pre-order but it could be about a year," Church said. "At the height of the pandemic I couldn't get anything and didn't have bikes in here for six months."
Shipments are slowly trickling in, but Church said parts such as spokes and grips are hard to nail down.
He has been busy with repairs and mainly general tune ups.
"That's how we made it through the pandemic, with repairs," Church said. "All we lived in was repairs since people were pulling old bikes out of their garage." 
Like Church, Rodriguez said The Chain Link is also happy to get the reqpair requests and help out new and experienced bikers alike.
"There's no use in crying about it and we will get through it this time," Rodriguez said. "I'm sure with this bike demand I don't see it going away anytime soon, but we will be ready to sell them."