Monk Tam Dao Thich comes out to the road to greet his new visitors. 
Wearing simple gray robes and a Vietnamese straw sun hat, he is gently smiling as a small congregation of visitors follows him up to one of the mobile homes.
Walking past white marble statues surrounded by thriving plants and simple fountains, the monk walks up a small ramp and discards his slip-on shoes next to the door. He gestures for everyone to go inside before following behind, and walks around to sit on the far side of a long wooden table.
The monk is undisturbed, despite the lawsuit that has surrounded his beloved temple and the 5-acre property where it has sat for the past two years.
The temple's next door neighbor, a fellow resident of the Ashby Acres Subdivision, Gerry Meyer, is suing Dao Tam Buddhist Temple and its venerable monk Hung Nguyen, complaining the temple is not following the property restrictions. 
The plot the temple sits on has belonged to the Buddhists since 2012, and is just one lot on the five-lot subdivision set in Guadalupe County.
Despite closer neighbors arguing the temple has been quiet and no bother at all, Meyer, a resident of one of the lots, filed the suit stating the number of people who attend events at the temple disrupt him and his family, and the structures on the temple's land violate the lot's use restrictions.
The monk is the only permanent resident, but despite Mr. Meyer's efforts to have him and the temple removed from the land, he is not worried. 
Life as a monk is a life of peace, he says.
With the case set to go to trial Sept. 30, Thich said he hopes the Buddhists and Mr. Meyer can find a resolution and come to peace.
"We are neighbors after all," he said.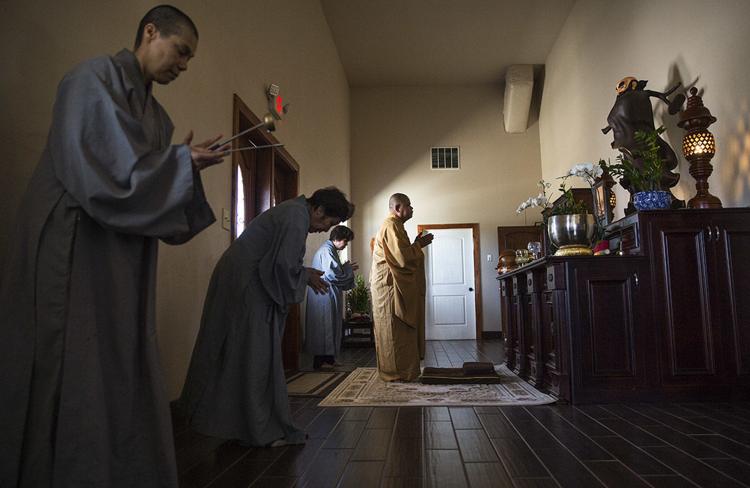 A monk's journey
Born in Southern Vietnam in the small village of Huyen Chau Thanh, Tinh Tien Giang, Thich recalls growing up alongside 10 siblings — five brothers and five sisters.
"My family was also Buddhist," Thich said. "One of my sisters is also a monk actually."
Thich said he did not play much as a child, but instead was tasked with work around the house and helping his family survive.
"It was really bad conditions before, when I was there," Thich said. "It's better now, I hear."
Encouraged by his family to become a monk, Thich said he always wanted to help people, which is what led him to dedicate his life to the Buddhist faith.
"When I became a monk, I had to let go of all family and belongings," Thich said. "This is my family now," he said smiling, gesturing around at the temple and land.
Leaving his family forever at 20, the first temple Thich attended was in Vietnam. It was a larger temple, he recalls, with about 20 monks in training. Now 51, Thich spent about 18 years in a temple in Vietnam, training. 
He came to Texas in 2006, to San Antonio to teach at the Dao Trang Lien Hoa temple.
"I'm the only one from my siblings who has come to America," Thich said. "I really liked San Antonio, but it was completely different coming to America. I didn't know how to drive, the culture here is very different."
Thich recalls discovering root beer, a beverage he thoroughly enjoys. 
"I was 38 when I came to San Antonio," Thich said. "At that point, there was a lot of need in the area so it was a good time to come and provide assistance."
Becoming a monk is a process, Thich said. 
"It is similar to school — it has structured levels you go through, like a child goes through middle school and high school — there's a structured practice, where we learn how to talk and teach," Thich said.
With daily life, there are many stresses people bring forward. Buddhism helps teach them to take a step back and enjoy peacefulness, Thich said.
"I've been teaching more than 10 years, and I'm still learning, too. Always learning," he said.
Thich said his goal is to help elderly Vietnamese, and he chose New Braunfels because it is in the middle of San Antonio and Austin.
"A lot of people come over here to America and don't have a lot of people to talk to. That can be extra hard for the elders," Thich said. "It's like hospice — they don't have anybody, but they're still able to get around here. So I wanted this to be a community, where they can come and we can take care of them."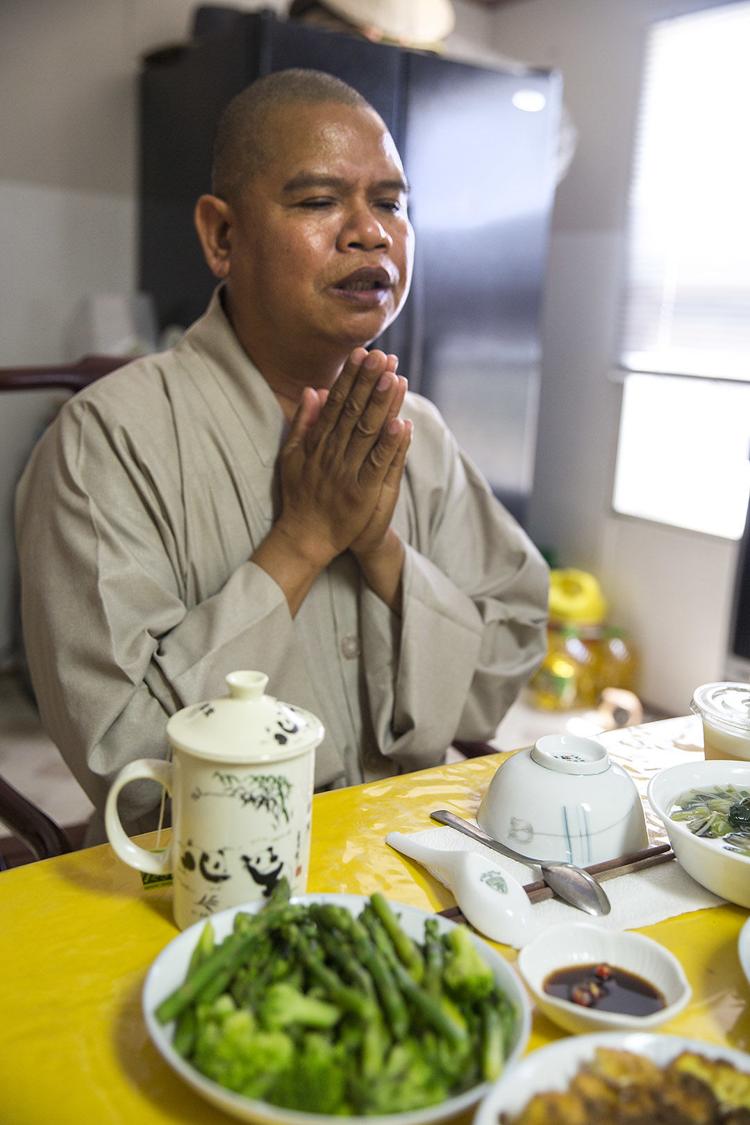 A day in the life
Waking up at 5:30 a.m., it's still dark out, though the rays of the sun are starting to lighten the sky. 
The monk readies and dresses before strolling over to the temple. Moving around the temple, he prays for an hour, singing and chanting tranquilly, before practicing tai chi for an hour.
"After that I'll eat breakfast, which is usually oatmeal or cereal," Thich said.
He spends 8 a.m. to noon landscaping the 5 acres and tending to a small garden in the backyard — among the growing vegetables are melons, squash and herbs of various types.
Thich moves around the property, cutting the grass and trimming bushes. A large, fluffy, black and white dog named Kiki follows him as he goes about his work.
"I'll usually relax for an hour before making lunch, and then from 2 p.m. to 3 p.m. I pray again," Thich said.
After a lunch of rice, salad and tofu, Thich, a vegetarian, picks a couple squash for dinner and relaxes for a little while.
"After lunch, I'll tend to the temple — sweep, clean, make sure everything is nice and tidy," Thich said.
He makes his dinner around 5:30 p.m. — a squash soup — before praying one last time for the day from 7:30 p.m. to 8:30 p.m.
"Then I go to sleep," Thich said. "That's my day, every day, day after day."
Thich is the only one who tends to the land and the temple, said Lien Truong, a member of the temple and a New Braunfels resident. 
"He does it all by himself, the entire property, the majority of the time," Truing said.
Thich said he enjoys the tranquilness of tending to the land and temple.
"It's a very relaxed, peaceful and calm life," Thich said. "Since 2013, that's been my routine."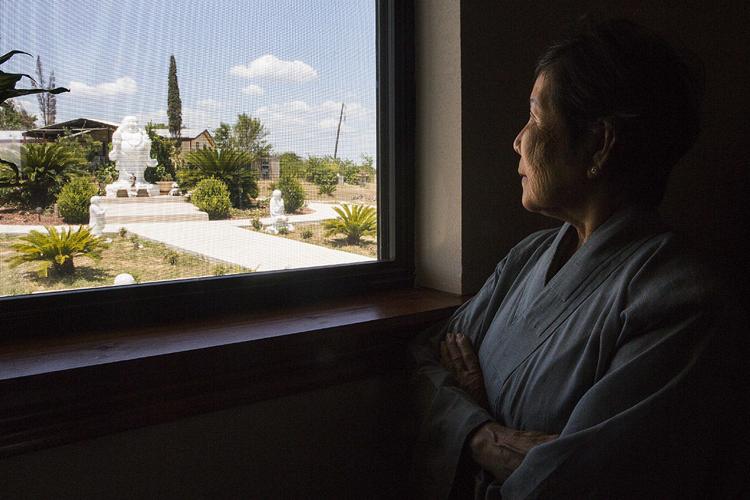 A look at the land
Thich leads the little group out of the meeting house, past a group of outdoor restrooms into a small building that houses three small altars.
"This, here, is a place for anyone who's lost a family member. They bring a photo of them here and I pray for them," Thich said. 
Buddhists believe in reincarnation, Thich explains. The altar on the left is for those long gone, while the altar on the right is for those who are recently deceased or "newly born," Thich said.
The center altar is for Buddha.
Oranges and watermelons are stacked in front of the altars, a sign of reverence, explains Hung Tran, a member of the temple who lives in San Antonio.
Thich takes the visitors through another building, a small mobile home that serves as his living quarters. At the center of it is a large yellow altar.
"When the weather is bad, I pray at this altar here in my home," Thich said. "Otherwise I will go to the temple or to the altars. But I never skip my three times of praying per day."
The temple itself is a large white building with three golden statues inside. 
"This statue on the right is for anyone who has passed away and is one of the Buddha's helpers," Thich explains. "On the left, this one is for anyone who's had hardship."
The largest middle statue is Buddha, Thich said. 
A large bell sits in the temple for festivals, as do statues of angels.
"This bell is for festivals, we ring it during our bigger festivals," Thich said. "Our temple is a place that provides food and comfort — no meat though," he said laughing.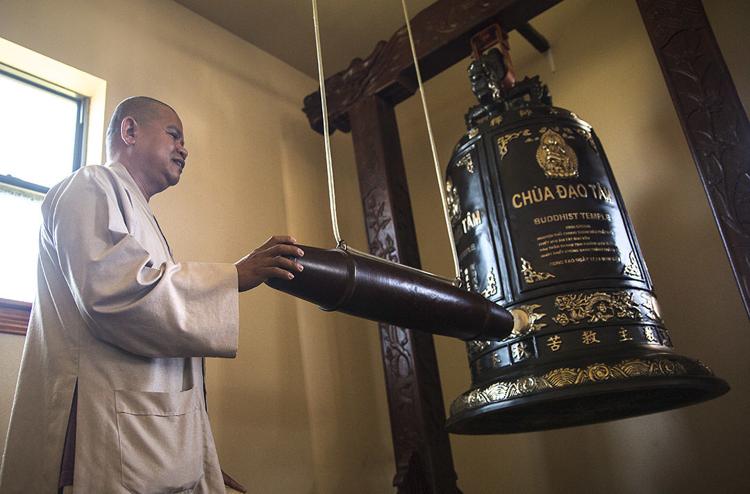 Festivals and fun
Apart from his daily routine, Thich also leads and teaches services Sunday, as well as teaches tai chi. 
"Services Sunday last from 9:30 a.m. to 12:30 p.m.," said Dung Compton, another member of the temple who lives in Schertz.
Large celebrations of the temple include Chinese New Year, the Buddhist version of mothers day, the Moon festival and Buddha's birthday.
"We're going to have a festival here on Sept. 15," said Truong. 
The festival will feature food, children's activities and more. All are welcome, Thich said.
"We want to teach kids about the Vietnamese way of life and maintain the Buddhist culture," Thich said. "New Year's is a big celebration, with the dancing dragons and lots of food. Mother's Day is different, it focuses on mothers and children."
Festivals can draw close to 100 people, Thich said.
"We are grateful anytime we have visitors," Thich said.
The temple is located at 1410 W. Klein Road, New Braunfels. For more information about the temple, visit www.daotambuddhisttemple.com.