On Thursday New Braunfels closed access to its parks along the river after crowds continued to gather there even as the city pleaded with people to take steps to help slow the spread of the coronavirus pandemic.
The city closed Prince Solms, Hinman Island, Cypress Bend and River Acres parks, the Landa Park wading pool, City Tube Chute, Last Tuber's Exit, and access to the river underneath the Faust Street Bridge – and will use signage, barricades and fencing to deter people.
"NBPD will actively patrol those areas because they are officially closed," New Braunfels Police spokesperson David Ferguson said.
Ferguson said the police are following city policy outlined by City Manager Robert Camareno.
"In general, when it comes to the stay at home order, we're looking for voluntary compliance," Ferguson said. "The intent is to protect the health of the public."
He said enforcement by the police department would be a last resort.
"Code enforcement and park rangers are on the front lines of the education effort," he said. "Only in the rarest of circumstances would the police department become involved or potentially issue citations."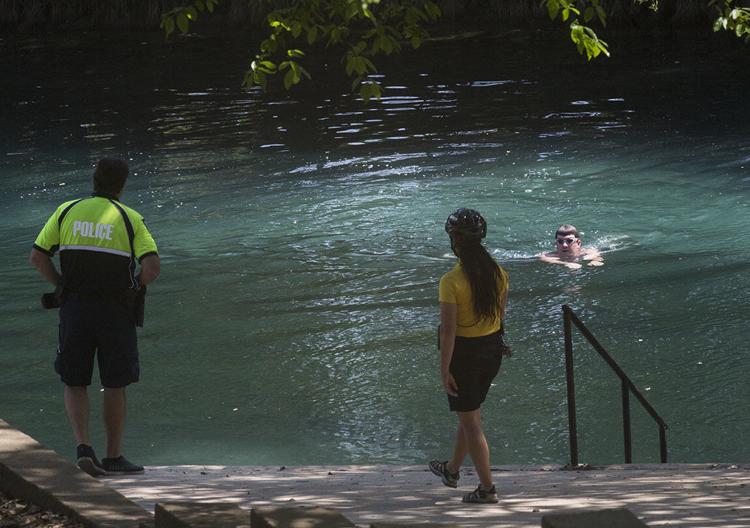 The move followed a day after a Stay At Home Work Safe order was put in place by Mayor Barron Casteel, designed to keep most of the city's residents at home. Those who were out were told to maintain social distance to help minimize the spread of the virus.
Photos and video from social media showed those efforts were falling short as many people who weren't in school or at work were making their way to parks along the rivers, angering others in the community who felt such gatherings were selfish and short-sighted.
Similar situations unfolded in Austin, San Marcos and in other states like Florida and California. Some national parks have also followed suit.
The pandemic has killed more than 22,000 around the world and more than 1,000 in the United States, including three in San Antonio. Health officials have said the worst is still to come in the U.S. and that the best thing Americans can do is avoid gatherings where the virus could easily infect multiple people. That's been advice echoed by state and local officials.
There have been 8 confirmed coronavirus cases in Comal County. Three of those patients have recovered while two of them are hospitalized outside the county.