Children poke their heads through the sunroof and gaze at sparkling lights and intricate displays at Santa's Ranch.
It is a haven for holiday cheer and hot cocoa all while people stay in their cars and slowly tour. The car tours work especially for this year, when people must social distance to prevent COVID spreading. 
"It is a beautiful, almost perfect scenario during this pandemic," Santa's Ranch co-founder Melanie Bass said. "You do have to stay in your vehicle and you can't get out. There are restrooms at exit that we maintain and we make sure there's hand sanitizer and follow CDC guidelines."
It also brings hope to those feeling the weight of a global pandemic, Bass said. 
"It's been hard for us, it's been hard for everybody," Bass said. "It's just about being together no matter what season it is and experiencing joy, which everybody needs right now." 
Santa's Ranch off North I-35 between New Braunfels and San Marcos brings long but quickly moving lines. People must wear a mask and order tickets online ahead of time or at the gate to do contactless entry. It opened Nov. 6 and ends Jan. 3 and runs 6 p.m. to 11 p.m. Friday to Saturday and 6 p.m. to 10 p.m. Sunday to Thursday.
Tickets are $35 per vehicle and a season pass is $70. Bass said they open the ranch early so people can be together for the holidays.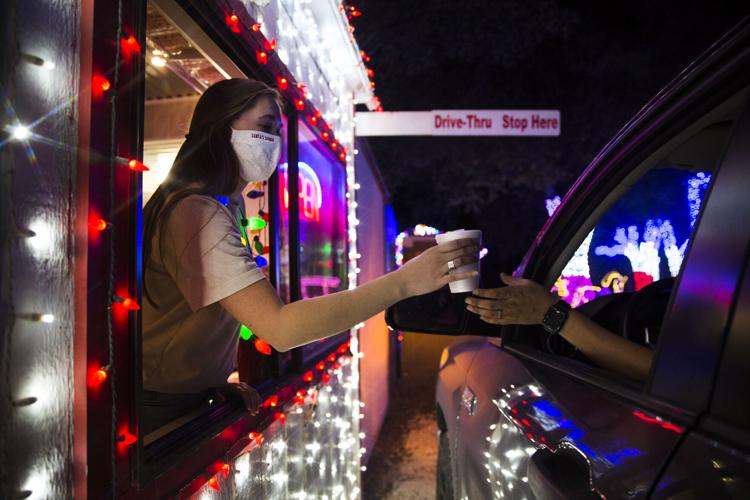 Past the gate, cars can go to the concession stand's drive through before their tour. The small wooden white house with lights and a small window has Bass' "elves,"  her family and friends, serving hot cocoa, coffee, kettle corn and other goodies. 
They also sell merchandise such as light-up toys, dark green and red Santa's Ranch shirts and coffee mugs. 
The tour stretches about a mile of weaving road glowing from the lights and displays. There are more than at least 1.5 million custom made lights, with more added every year, Bass said.
The theme isn't just traditional jolly Santa Claus, with elaborate sets which tell stories and leave many nostalgic and in awe. The trail includes a Texas theme with a giant San Antonio Spurs logo, the Alamo and a mariachi band greeting people near the front. 
There is a quaint "reindeer barn" and a skating rink of bright white LED lights. There are also historical figures and iconic landmarks, like a glowing red Golden Gate bridge which is reflected in the still, dark water.  
The trail's main theme tells the story of Jesus starting at the creation of the universe and all throughout biblical stories.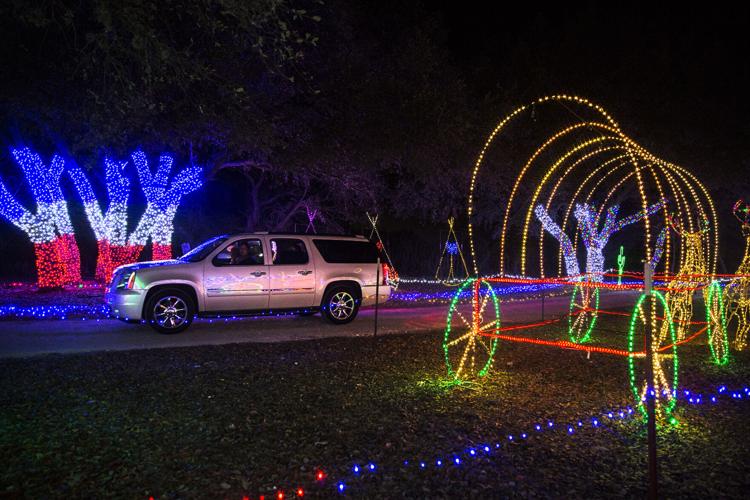 "It tells the story of his birth and life all the way from creation to the Garden of Eden to the Red Sea and biblical characters throughout," Bass said. 
Bass and her husband, Frank, along with their two children Bailey, Blake and son-in-law Zachary Stallings design the sets. Frank and Blake weld the pieces to make unique fixtures. 
"We're a small family-owned business," Melanie Bass said. "We have maintained that it's important for us that that is clear to everybody. We truly understand the importance of family and family unity and that's kind of been where we've extended our efforts into it — being we all take part in preparing for it."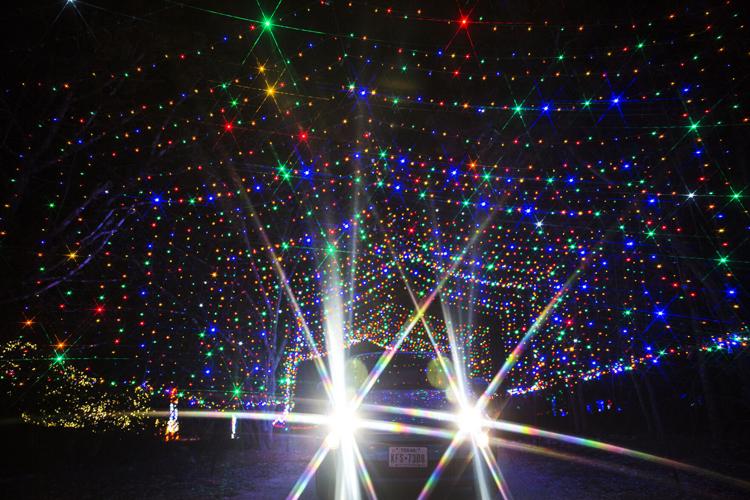 Holiday Cheer
A certain magic fills the air at Santa's Ranch. A couple whose first date was at Santa's Ranch about five years ago surprised onlookers on Friday. Under the glowing lights, the boyfriend proposed to his girlfriend and volunteers smiled and cheered excitedly.
Teagan Mayberry, 11, said she and some volunteers spotted the couple and noticed the girlfriend had her hands on her face looking surprised and ecstatic. 
"They were coming down and we were like sneaking back around the barn," Mayberry laughed. "She was so excited and I was like 'This is so cute!'"
Teagan and her mother, Abbie Mayberry, were in the concession stand that night picking up some donations from the ranch.
Abbie Mayberry is CEO of Light Work 316 Inc, a nonprofit helping families facing financial hardship due to serious illness or injury. She said there are four families who lost their kids to cancer this year, and so Light Work 316 organized free Santa photos for their siblings.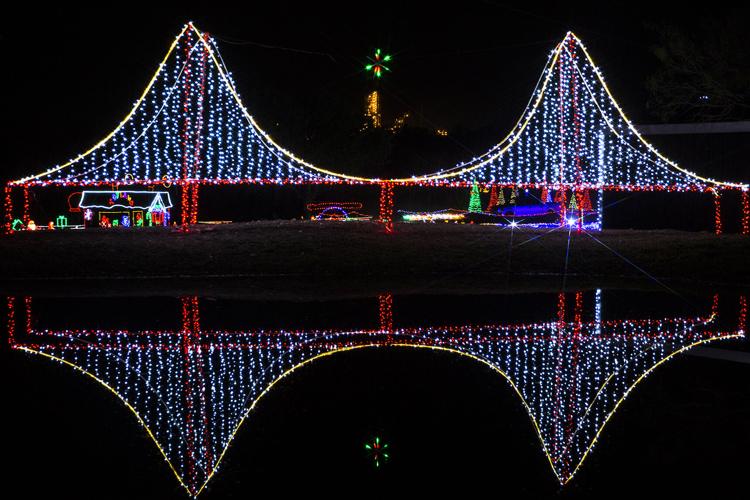 The siblings at the end got a special certificate from Santa.
"We did it so that it said 'Santa invites you to his south Texas ranch to go see his lights,'" Abbie Mayberry laughed. "We already did it last year with their siblings at the time when they were here, so it takes a special thing to provide that to the families over and over. I don't even have to [ask the Bass family] 'Can you?' They're like 'How many do you need?"
Teagan said she loves coming to Santa's Ranch and how tight-knit the family is. Although there is usually a line, she likes waiting and finally seeing the bright attraction.
"I kind of like when we wait because it builds up your anticipation more and it's like 'I can't wait!'" Teagan said. "They are so good about letting the kids stand up at the sunroof or sit down in the back of a pickup truck and let them really get that experience instead of just rolling down the windows and sitting. You can actually reach out for the lights and it's magical."
Teagan said she loves how tight-knit the Bass family is and how much a short trip through the lights can brighten someone up.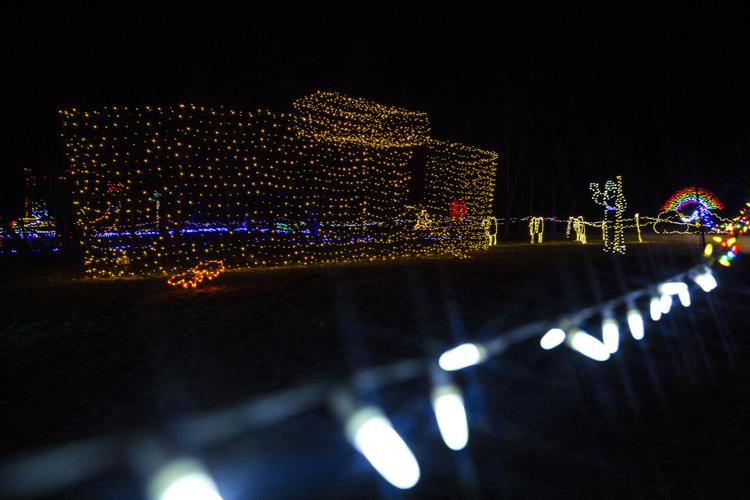 "They're so nice at the windows and they're so good about getting the tickets my mom was talking about right away," Teagan said. "When they come here they cheer up a little bit more and the next time I see them, they're always talking about the lights that they saw and that it was so magical and the hot chocolate was so good."
Teagan said it was fascinating watching volunteers and family help the newly engaged couple with photos and cheering them on. She said the Bass family and Santa's Ranch make people near and far feel together. 
"That's the kind of community and family feel that is special here," Abbie Mayberry said.