It's been a tough last year for nursing, long-term and senior communities in Comal County — with isolation, restrictions on visitation and the loss of loved ones — because of the COVID-19 virus. 
But the proverbial light at the end of what has been a very dark tunnel for the senior community is slowly getting brighter.
Pharmacies in the state began administering COVID-19 vaccines to residents of nursing homes and long-term care facilities through the Pharmacy Partnership Long-Term Care Program on Dec. 28. 
The federal program is a partnership between the Centers for Disease Control and Prevention and pharmacies, including CVS and Walgreens.
The pharmacies schedule, coordinate and administer the onsite vaccination clinics with nursing homes and assisted living centers. 
After some disappointments and distribution delays, nursing home and assisted living residents and staff at EdenHIll Communities in New Braunfels began receiving vaccinations on Jan. 8, according to Terry Jackson, the community's director of independent living.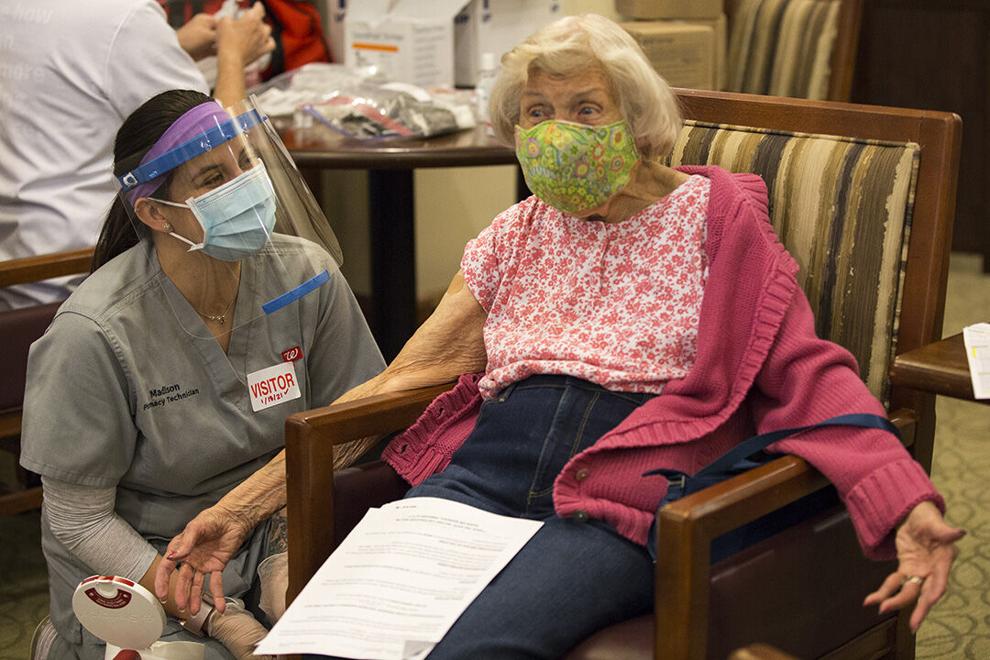 Additionally, residents living in the community's independent areas began receiving shots on Monday.
Jackson said community administrators petitioned Walgreens, the facility's contracted pharmacy for vaccinations, to receive the shots for all residents and staff. 
"We needed to quickly gather exact numbers of all residents and staff interested in taking the vaccine," Jackson said. "However, prior to tallying these numbers, it was essential to provide an educational campaign to help everyone understand the critical need for receiving the vaccine. People had serious concerns about how the vaccine might impact their health, whether it was necessary, and how it could directly impact the well-being of the seniors we serve. We offered written information, multiple Q&A sessions and staff- produced educational videos." 
The atmosphere was festive on Monday as residents received jabs in their arms. 
"Never before had folks been so eager to roll up their sleeves," Jackson said. "A surprising number of our jovial, mature adults requested a lollipop after their shot."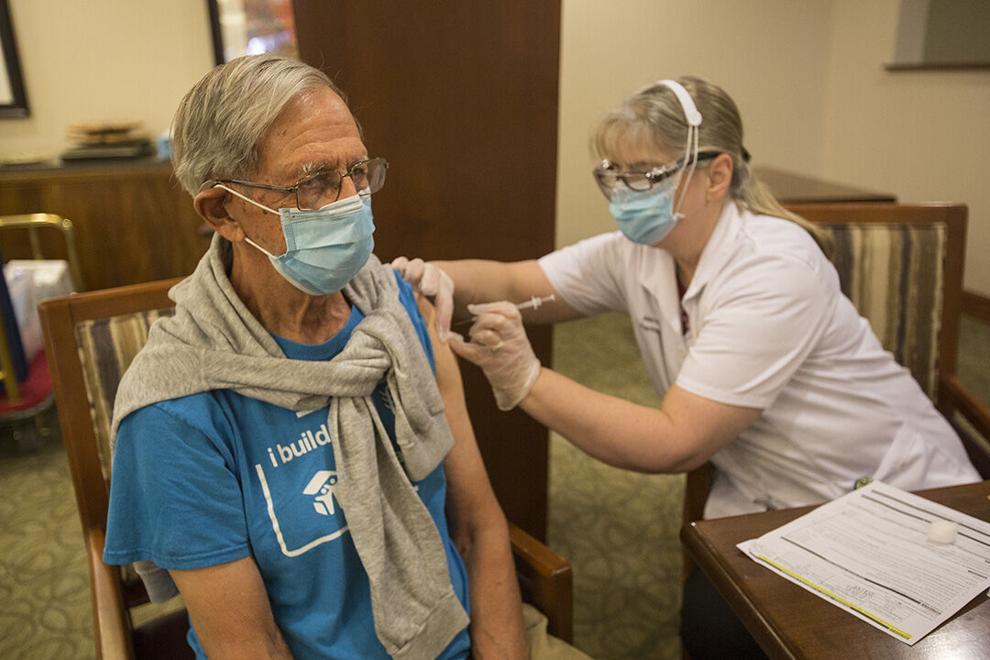 Some EdenHill residents expressed their appreciation during the clinic.
"I'm glad to have the magic stuff," Robert Manning said. "One more (dose) to go."
Lila Zwart reacted in disbelief that she didn't feel the shot after receiving her first dose of the Pfizer vaccine. 
"I can't believe I didn't feel that," Zwart said. "It was nothing."
Zwart then requested the same nurse for when she comes back for her second dose.
"I'm excited to get out of quarantine," John Landry said.
Joy Hitz also received her first dose of the Pfizer vaccine on Monday. She said her daughter in San Antonio had been calling for weeks trying to make an appointment, so she's grateful the facility was able to get residents the vaccine. 
"I do not take this for granted at all," Hitz said.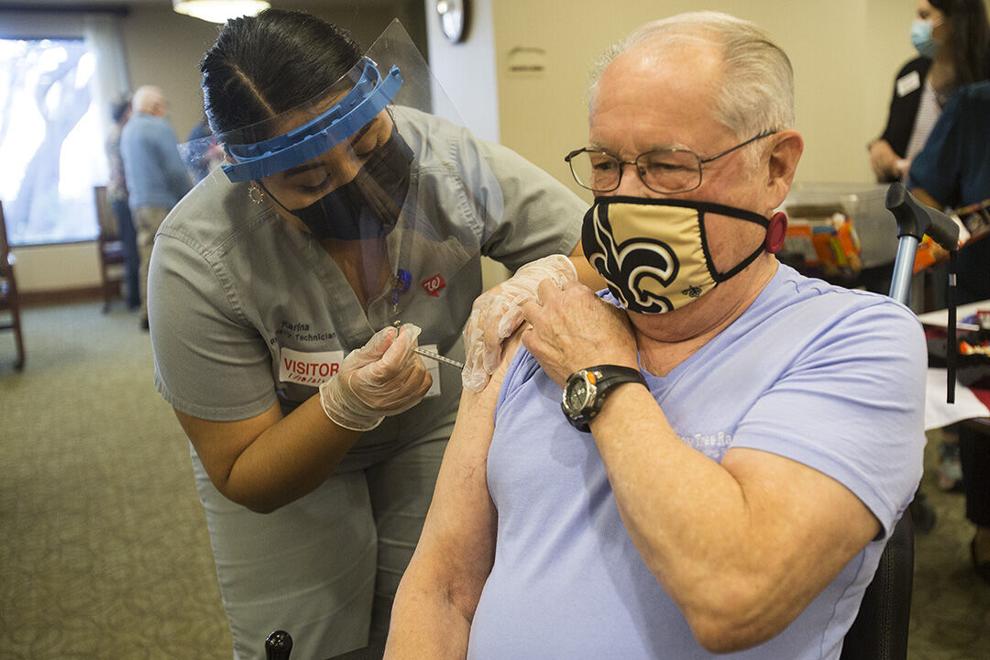 Two more sets of vaccine clinics are scheduled, Jackson said. People will receive their second dose three weeks after their first and a second set of clinics was established for anyone who couldn't participate in the first clinic. 
Other nursing and long-term facilities in the county are vaccinating their residents as well.
Melody Chatelle, spokesperson on behalf of The Heights of Bulverde, said many of their residents have also received the vaccination and added that the facility had no problems in getting the vaccine from its immunization partner.
"We view this vaccine as a sense of hope and a way to be on the offensive in our ongoing fight against this virus," Chatelle said. "This is a time we have been waiting for since the pandemic began. We look forward to the day when our residents can fully hug their loved ones, and we stand grateful for our front-line team members who are the true heroes in the fight against COVID-19." 
According to Chatelle, the facility serves about 92 residents. She said they anticipate the completion of the final vaccination round by mid-February. 
Taylor Pittman, director of communications and media relations with Fort Worth-based SLP Operations LLC, said the company pre-registered all the centers they operate, including Colonial Manor in New Braunfels, for priority distribution through the federal pharmacy partnership program.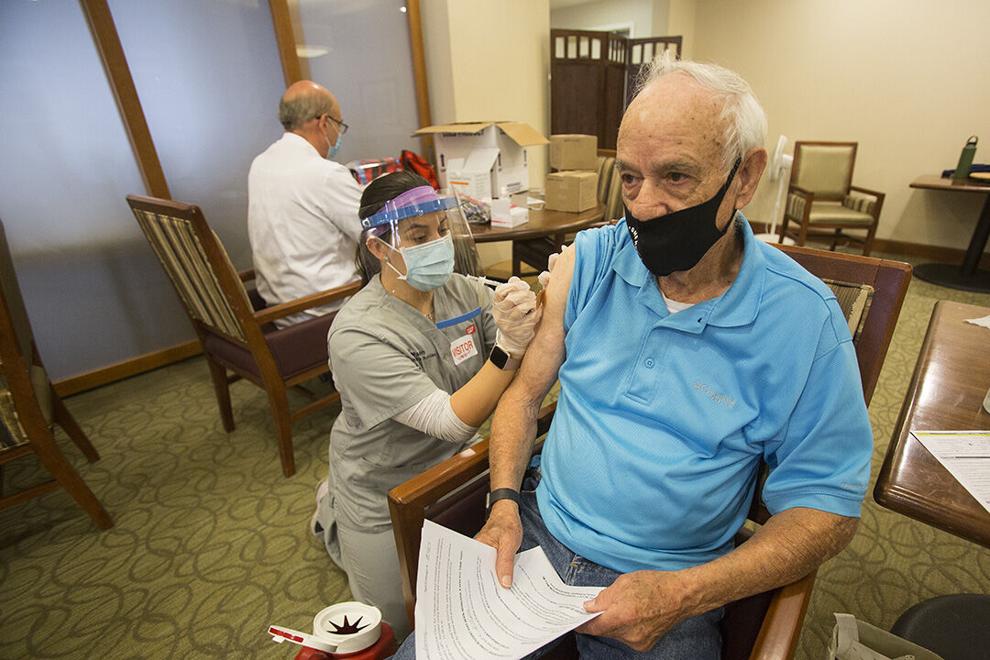 Pittman added that the facility is receiving vaccinations through Walgreens, and residents received the first onsite immunization on Jan. 5. A second onsite clinic is scheduled for Jan. 29. 
"We were able to successfully vaccinate nearly three-fourths of our resident population at the first clinic," Taylor said. "And although it will be voluntary, we are strongly encouraging all of our residents and employees to receive the vaccination. Further, our employees at Colonial Manor continue to go above and beyond to provide the very best care to our residents during this pandemic. We know this has been a very challenging period of time for all of our residents, their families and our employees, and we are grateful to take this first step on the path to brighter days."
The state, at least for now, allows two categories of people to receive the vaccine.
The first group, referred to as Phase 1A, includes health care workers and residents of nursing homes and long-term care facilities. 
Phase 1B includes people 65 and older and people 16 and older with at least one chronic medical condition that places them at an increased risk for severe illness from COVID-19, such as cancer, heart conditions, chronic kidney disease or obesity.  
All people in Phase 1A are eligible to receive a vaccine. Those in Phase 1B are also eligible, but doses of the vaccine available to people in that group have remained in short supply.
Since EdenHill serves about 400 seniors in a variety of settings ranging from fully independent cottages and apartments through 24-hour nursing care and employs more than 300 staff members, it has people in both eligible groups. 
Jackson said all of the residents in nursing care and assisted living were clearly ranked in the 1A category of those eligible for the very first vaccinations. 
"These residents are over age 65 and have medical conditions which make them susceptible to the worst effects of this virus," she said. "However, those living in our Independent areas are just that: independent. And while they are over age 65, some, but not all of these individuals have challenging medical conditions."
Those residents were initially categorized in the 1B category, she said. But because the staff works across several areas of the campus, Jackson said the most effective strategy was to vaccinate the entire campus to prevent the spread across service lines. 
"As state health departments recognized CCRCs (Continuing Care Retirement Community) as a continuum, our independent living residents were considered part of the initial vaccine group," she said. "When we learned that all levels of our campus were eligible for the vaccine, the joy was palpable. Staff literally cheered. We submitted our tallies of people to be vaccinated." 
The Pfizer-BioNTech vaccine was approved for use in the United States on Dec. 11, and the Moderna vaccine was approved Dec. 18.
Both manufacturers have reported 95% efficacy for their vaccines.
A vaccine developed by Maryland-based Novavax began phase three testing in the U.S. and Mexico in December.
According to Texas Department of State Health Services data on Tuesday, 4,526 Comal County people have been vaccinated with at least one dose, and 589 people had received the second dose needed for full immunization.
The vaccination program at long-term facilities comes as state officials warn the COVID-19 pandemic is as its worst in Texas after 1,231 deaths were reported for the state in just three days. 
Hospitals in the Abilene, Bryan-College Station and Laredo areas have also run out of intensive care unit beds.
Texas is outpacing other states in administrating the vaccine, topping 1 million total doses last week. As of this weekend, the state had fully vaccinated, with both doses, nearly 180,000 people. Another 500,000 doses will be shipped to Texas for second doses.
State health officials on Tuesday warned Texans to continue social distancing and to wash their hands, pointing out that the state's supply of vaccine is still far short of the more than 8 million people who are currently being prioritized.
They also encouraged residents to trust the vaccine.
"Everyone needs to run towards this vaccine and get this vaccine when it's their turn," said Dr. Marc Boom, Houston Methodist Hospital president and CEO said during a press conference in Houston on Tuesday.
Larry J. Merlo, president and CEO of CVS Health, said in a statement that the company's work with long-term care facilities isn't a mass vaccination effort — it's quite the opposite.
"We're dealing with a vulnerable population that requires onsite and, in some cases, in-room visits at facilities with fewer than 100 residents on average," Merlo said. "Despite these challenges, we remain on schedule, and the number of vaccines we administer will continue to rise as more facilities are activated by the states."
Walgreens President John Standley said in a statement that since receiving the first allotments of vaccines in late December, "Walgreens has remained on track in vaccinating our most vulnerable populations, and we are steadfast in our commitment to accelerating access to COVID-19 vaccines as we receive additional guidance from state governments and jurisdictions."
"Walgreens takes immense pride in being a part of protecting our communities from COVID-19 and helping the country take this first step toward emerging from this pandemic," he said.
Both companies said they expect to complete the administration of the first doses at skilled nursing facilities by next week.
Back at EdenHIll, Jackson said hard work, organization and patience were key ingredients in order to provide vaccines to an entire senior living campus.
"Ours is a success story," Jackson said. "By partnering with Walgreens and our regulatory agencies, we will have achieved an optimal number of residents and staff vaccinated by the conclusion of these clinics. We couldn't be more appreciative. We owe this outcome to so many hard-working staff as well as the support of our residents and their families. This was truly a monumental challenge met with monumental effort. We couldn't be more joyful to achieve this success with those we serve."
The Texas Tribune contributed to this story.