No events. No concerts. Fewer visitors.
New Braunfels' hotels are hurting.
The impact on tourism, recreation and businesses amid the coronavirus outbreak has left most of the city's hotels with single-digit occupancy at what is usually a busy time for the industry.
According to Vinay Patel, who serves as president of Avi Hotels and is representing New Braunfels hotel owners, occupancy rates declined by 65% in March and an estimated 80% in April compared to last year. He added that hotel owners also expect a decline of 80% in May.
And that means a potential 60% drop in revenue at a minimum due to the impact of the COVID-19 outbreak.
"It's been terrible," Patel said of recent hotel traffic. "Starting from the second week of March, we went from 60% to 70% occupancy right down to single-digit occupancy. Right now, that's what we're doing."
Patel said hotels see more than 75% occupancy during a usual May. The recent partial opening of businesses hasn't helped much. With the rivers open again, Patel said occupancy rates have occasionally reached 10% to 15%.
"New Braunfels is a tourist town," he said. "It's seasonal. May, June, July and August are the biggest months because of (visitors going) to Schlitterbahn. Even after the partial opening, people aren't flying. Corporate people certainly aren't flying and traveling. Schlitterbahn isn't open yet, and so for the hotel business, it's really tough. We're probably the last industry to come back to come back from this disaster."
In response to the COVID-19 outbreak, the city of New Braunfels decided to waive all late fees associated with delinquent filings. The decision applies to February taxes moving forward. Properties are still required to file taxes even if they experienced no rental activity. Once payment is 90 days delinquent, a penalty of 15% of the tax assessed is due.
But waiving late fees for three months doesn't go far enough, Patel said.
"Deferment is not going to help much because everybody is cash-strained," he said. "We don't know how our busiest season of the year is going to go. It might stay like this for the rest of the year. We don't know."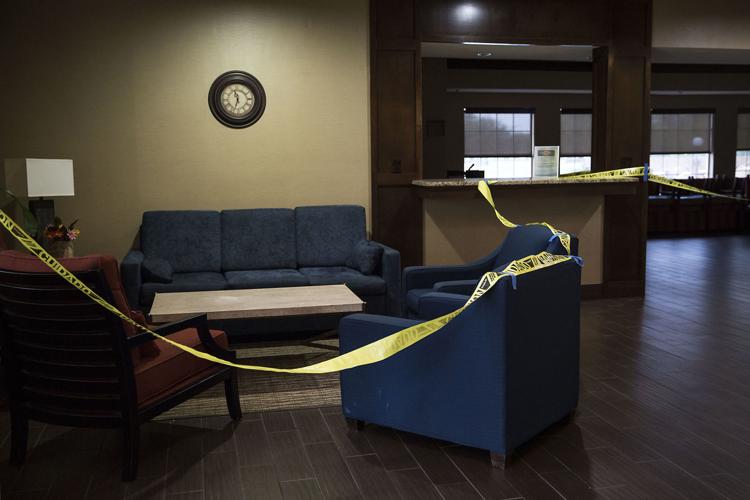 In addition to Schlitterbahn, the customer base for local hotels mainly consists of events, corporate, sports travel and shopping. The coronavirus has impacted all of those activities.
Patel said he had written a letter to city officials asking for financial relief in the form of deferring hotel occupancy tax payments, lowering utility payments for a limited time, and property tax relief.
Hotel owners, operators or managers must collect state hotel occupancy tax from their guests who rent a room or space in a hotel costing $15 or more each day, according to the Texas Comptroller's Office. The tax applies not only to hotels and motels but also to bed and breakfasts, condominiums, apartments and houses. Local hotel taxes apply to sleep rooms costing $2 or more each day.
The city of New Braunfels' hotel occupancy tax rate is 7%. The city's tax is in addition to the 6% rate imposed by the state, which hotel owners remit separately. Patel estimates that local hotels remit about $2 million in hotel occupancy tax annually to the city.
In response to Patel's letter and an inquiry from the Herald-Zuitung, City Manager Robert Camareno said city officials have sought relief by way of waiving remittance of municipal hotel occupancy taxes, but "Texas tax laws do not permit lodging facilities to keep any portion of the local or state hotel occupancy tax they are legally required to collect and remit."
"The city of New Braunfels has assisted local lodging facilities by being one of the first cities in the state to suspend fees due from lodging facilities," Camareno said. "Additionally, (New Braunfels Utilities) has suspended disconnects for non-payment and late fees on customer accounts. Customers experiencing hardships should work with NBU Customer Service Department to set up a payment arrangement based on their specific needs. As is always the case, all businesses in New Braunfels may request a modification to the level of service provided by the Solid Waste Department based on their specific needs."
The Comal and Guadalupe county appraisal districts determine the appraised value as of Jan. 1 of each year. The appraisal districts operate independently of all local governments. Taxpayers can appeal the valuations to the appraisal district.
Patel said hotel owners hope the city will adopt a program similar to what Buda established in March. The city of Buda developed a "Hotel Occupancy Tax Payment Emergency Deferral + Forgiveness Program" to assist hotels. 
The program provided a 60-day deferral of hotel occupancy tax payments for March 20  and April 20, with an additional offering of forgiving up to $5,000 of deferred hotel occupancy tax payments. This program has an aggregate of $45,000 available for hotel occupancy tax forgiveness. Hotels had to apply to be eligible for the program.
"The tourism industry, including hotels and other accommodations, restaurants, bars, attractions, activities and entertainment venues, is significant to our economy," Camareno said. "The city's Economic Recovery Advisory Committee is working to find ways to provide relief to impacted businesses across New Braunfels."
In addition to federal resources that businesses may apply for directly, Camareno said city staff, along with the New Braunfels Economic Development Corporation, known locally as the 4B Board, is exploring avenues for support, including federal and state funding. The board will discuss opportunities at a 4B Board meeting at 5 p.m. Thursday via Zoom. 
Michael Meek, president of the Greater New Braunfels Chamber of Commerce, said he agrees with Patel that hotels will be last to recover due to the nature of their customer base. 
"In a pandemic, it is magnified," Meek said. "Recovery is not going to be fast. It may take years."
The chamber houses the New Braunfels Convention and Visitors Bureau, which Meek describes as a critical promotional agency for local hoteliers.  
"They have already produced and launched some recovery videos and have more planned," he said. "The tax funds hoteliers collect from visitors in turn go toward these type programs. We certainly support our entire business community.  Every one of them is 'essential' to us. No one is 'non-essential.' Hotels are no different and are a key sector in our eventual recovery as a community."
Texas is estimated to lose 268,797 jobs that are in the hotel industry or supporting it, according to data from the American Hotel and Lodging Association. The association is projecting a 3.9 million job loss number for the industry nationwide, with the current pace of occupancy decline for the year.
"Our hotels employ many employees and these employees depend on our business for their livelihood," Patel wrote in the letter to the city. "I am not sure how long I can keep my doors open for business."