Newly opened food truck NB BBQ is bringing barbecue staples to Gruene.   
With a smoker on an attached patio, Chris Blackburn and Kaela Compton serve up BBQ classics and creative sides out of their bold yellow truck in Winery on the Gruene's parking lot.
It opened in early October, only two weeks after accepting a deal with the property owner to park there and serve food. Together, the winery and food truck work hand-in-hand, bringing in patrons hankering for Texan sips and snacks. 
Last fall the winery was looking for a way to add food service, because under pandemic restrictions at that time, establishments primarily serving alcohol were required to serve food to stay at 50% capacity.
Blackburn and Compton saw the winery's post on Facebook and immediately snagged the spot where Gruene Road curves before crossing the Guadalupe River. 
"We wanted to help them and it kind of helped us start our own business," Compton said. "It kind of fast-tracked it."
Blackburn said he and his wife, Sharon Blackburn, and their friends Kaela and husband Tyler Compton had been planning to open a truck for about a year. 
"Kaela loves to cook, my wife loves to cook," Blackburn said. "We really love food. We like to cook and do things like that. I had been doing barbecue for a while and so it just kind of married up real well for us."
Meat choices include brisket, sausage, pulled pork, ribs, chicken and turkey.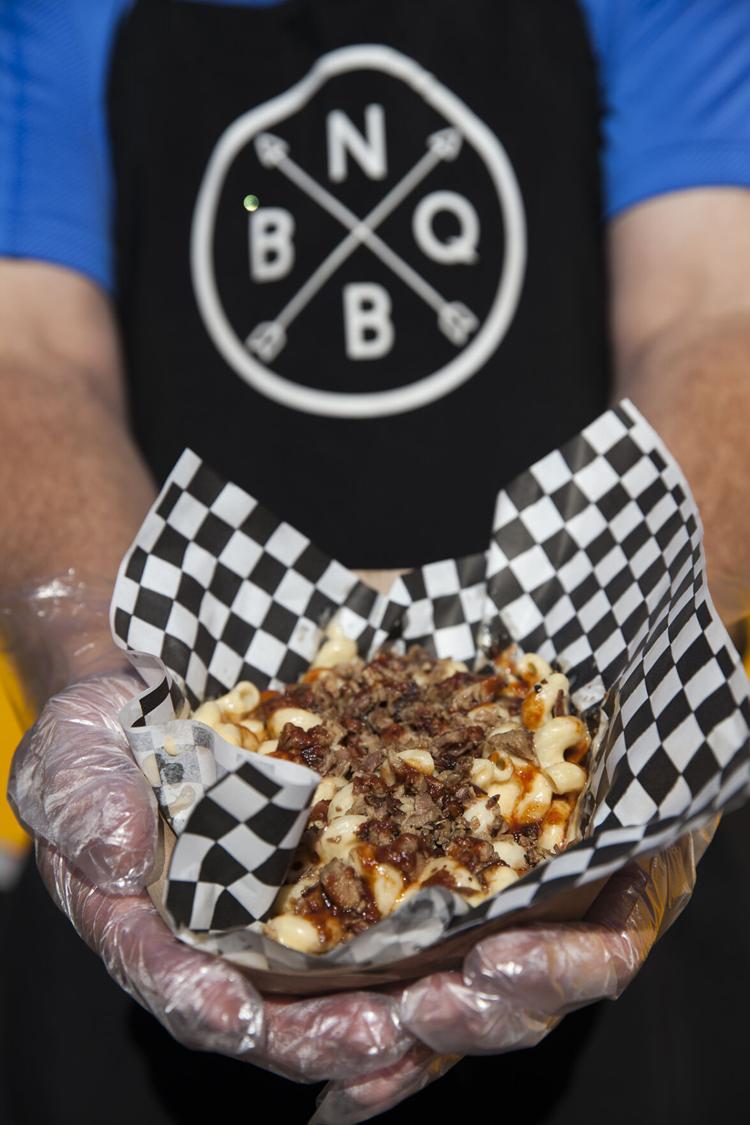 Blackburn said he has never been in the food business, but knows how to smoke meat to perfection.
He uses a standard Central Texas rub and stays true to the family's Hill Country roots. He cooks his brisket for almost 17 hours.
Compton makes traditional sides such as potato salad and beans. While the meat menu stays consistent, Compton adds new sides, such as brisket mac and cheese, baked potatoes and nachos. 
They once had six consecutive orders of nachos in one day.
"I think we're always kind of evolving," Compton said. "We've added and subtracted from our menu since we started. We're always open to suggestions and what people like. We started doing Taco Tuesdays. We're always just trying things out."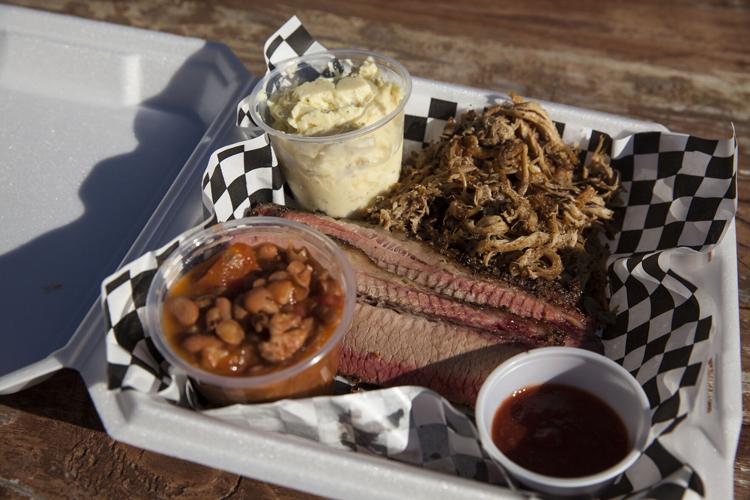 For the pandemic, they wear masks, clean their spaces thoroughly and use hand sanitizer.
"I scour my hands I don't know how many times a day," Blackburn laughed. "But I had this thing about germs, so I think it's good to be in the restaurant business when you're already a germaphobe."
Both Compton and Blackburn quit their jobs to work full time in the food truck. Compton, formerly a corporate recruiter, said the food truck is a lot of work but loves meeting people and making them happy.
"It has been such a breath of fresh air from coming from corporate world to owning our own business," Compton said. "It's a ton of work but it's super rewarding. It's so fun to see the look on people's faces when they eat our food. It's been amazing."
They often sell out depending on what people want that day and how much they prepare.  
They have several repeat customers and people even come back about three or so times a week. 
"We've had people eat with us 15 to 20 times — pretty much since we've been open," laughed Blackburn. "We're talking people who drive up, get out and think, 'Man, it's been too long' and it's been like three days."
Compton said word of mouth brings new customers to the barbecue truck.
"The weekends are awesome," Compton said. "Sometimes [Gruene] will have markets. We've seen continuous growth since we've gotten more catering jobs and we do holiday catering. Each month it continues to get better as the word spreads."
Winery on the Gruene has a covered patio with several tables. The patrons often spot the hot meat and sides the truck serves, enticing them over.
Winery on the Gruene manager Pamela Morales said it was a perfect deal, especially since there are not barbecue spots in Gruene. 
"They kind of help us out and we help them out, because they're kind of brand new to this business as well," Morales said. "I thought it was going to be perfect, I wish we had done it a long time ago. You worry about people drinking too much and now they have a place they can get some food."
Texas does not take its barbecue lightly, and with so many options Blackburn said their family is competitive and making people happy makes them love what they do.
"We seriously want to make the best food we can," Blackburn said. "When somebody comes up to you and says, 'This is the best we've ever had,' it throws you back. At the end of the day if you're not doing too great in sales but you get two or three of those compliments, it makes you come back the next day."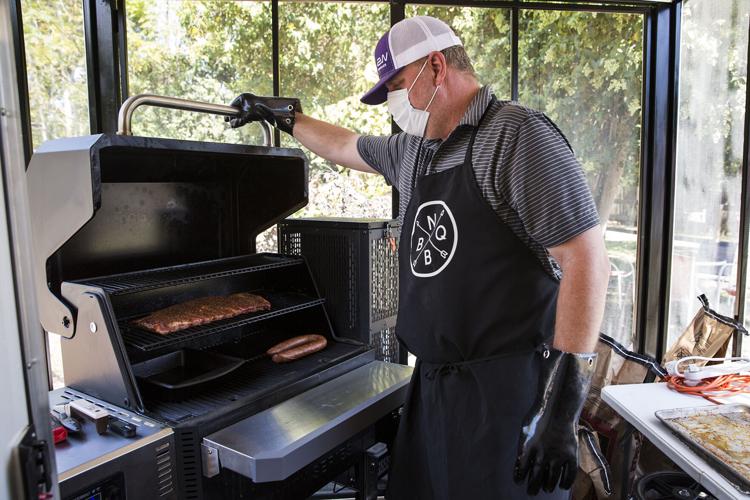 The pandemic has shuttered many businesses, but their family was so focused on getting their business off the ground, it kept them working hard and confident, Blackburn said. 
"I can't control the weather," Blackburn said. "What I can control is inside that cage, and I can't even control that sometimes. I'll focus on what I can do and control and hope for the best, hope that people recognize we do make good food and that they crave it."
Their location and giving a great first impression and keeping regulars has helped a lot, Compton said.
"We like to pride ourselves, I think, on just being exceptional at great service," Compton said. "So I think if people get great food and good service that should help us."