A group of people gathered in downtown on the nation's 244th birthday to press for New Braunfels to open after Gov. Greg Abbott's pandemic order closed bars and rivers outfitters and limited occupancy for restaurants and other businesses.
The demonstration, organized by Keep New Braunfels OPEN, a group advocating for business owners, bars, river outfitters and residents, brought about 300 participants to Main Plaza with flags, banners and signs, according to organizers.
In addition to demonstrators on the plaza, cars with decorations and flags also circled the roundabout.
One of those participating in Saturday's demonstration was Theresa Jones of New Braunfels and her 8-year-old son, Max.
"We're out here to stand up for our freedoms and to protest our freedoms being taken away," Jones said. "We want New Braunfels to be open and for Texas to be open."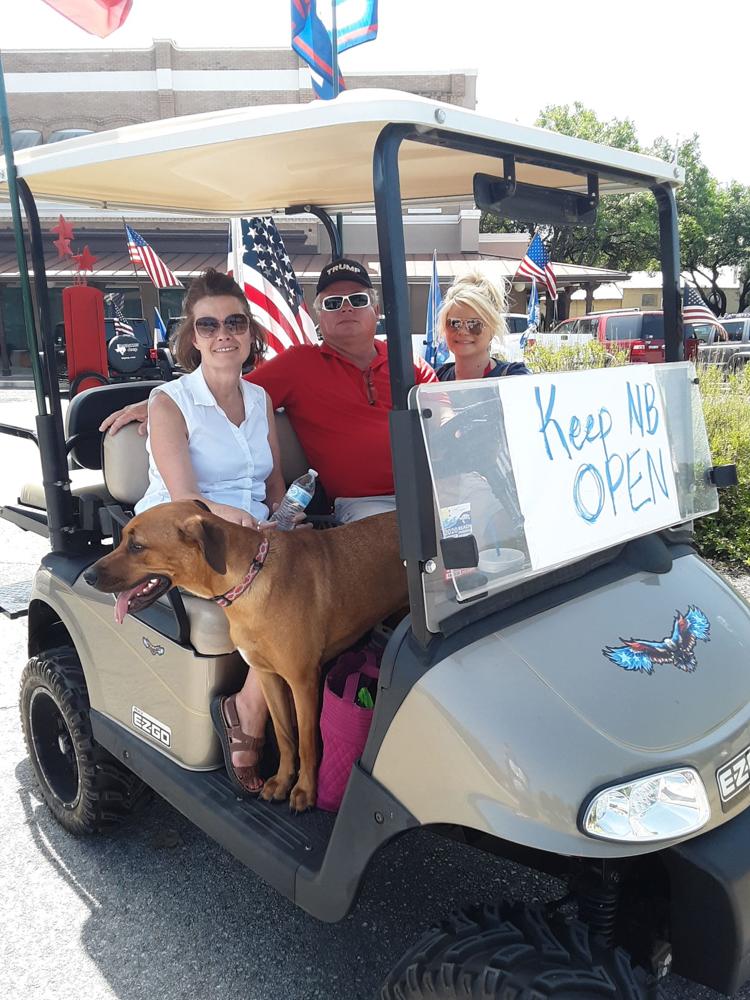 Jones was seen holding a sign with the Benjamin Franklin quote: "Those who would give up essential Liberty, to purchase a little temporary Safety, deserve neither Liberty nor Safety."
Chris Sanger, one of the organizers of Saturday's protest, said the Keep New Braunfels OPEN movement began in response "to the mayor's edict to shut down things and govern businesses inappropriately by threatening to fine the businesses for the actions of others."
"…More people became disgusted and joined upon seeing the governor's shutdown of bars and river outfitters, in addition to parks in the city, which we pay tax dollars for the city to use to maintain them not block them off from citizen usage," Sanger said. "They're putting good people out of business, families and people have lost their jobs because of this. Lives are being ruined. All the indicators for a local (economic) recession."
Sanger added that people should consider the economic impact of the closures and capacity limitations.
"I think that's going to be far worse than what we're seeing now," he said.
Restrictions and closures
Local and state government officials have been taking action in recent weeks in what they say is part of an effort to curb rising COVID-19 cases.
Commercial rafting and tubing businesses, considered a mainstay of the New Braunfels economy, were forced to close under an executive order issued by Gov. Greg Abbott late last month.
Under the order, bars that receive more than 51% of their gross receipts from the sale of alcoholic beverages were required to close.
Those businesses could remain open for delivery and take-out, including alcoholic beverages.
Restaurants can remain open for dine-in service, but at 50% of total listed indoor occupancy, down from the 75% capacity limit allowed under a previous order.
All business establishments except essential critical infrastructure workforce, religious services, local government operations, child-care services, youth camps and recreational sports programs are under the 50% capacity order.
City officials responded to the order by closing river parks along the Comal River and Guadalupe River within the city limits, including Prince Solms Park, Hinman Island, River Acres Park and Cypress Bend Park.
Other city-owned riverfront property that is controlled or maintained by the city's Parks and Recreation Department also closed, including the wading pool in Landa Park, the Garden Street Exit, the Last Public Exit and the area under the Faust Street Bridge.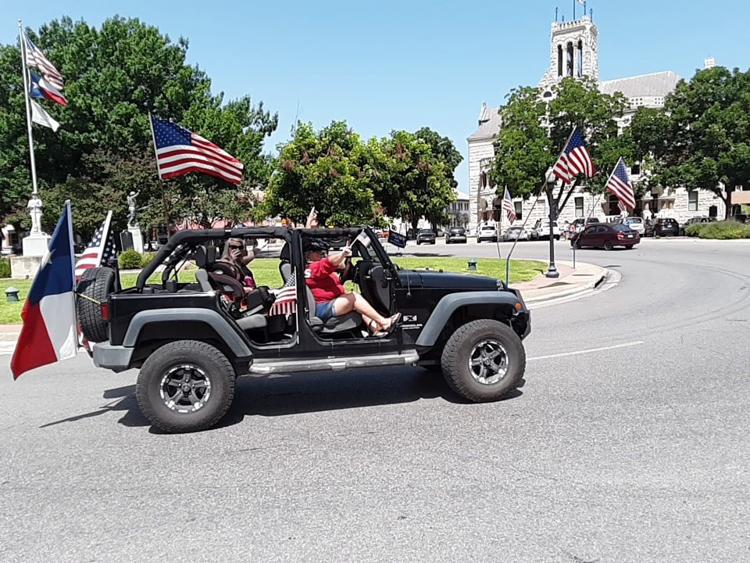 Supporting freedom
Katelyn Kraft of New Braunfels participated in the demonstration by holding a sign saying, "USA Land of the Free."
"We're here to support the land of the free, our rights and everything this country stands for — the ability to be out here with everybody of every color, whether they're Democrat or Republican, we're all here to support being open and celebrate the Fourth of July," Kraft said.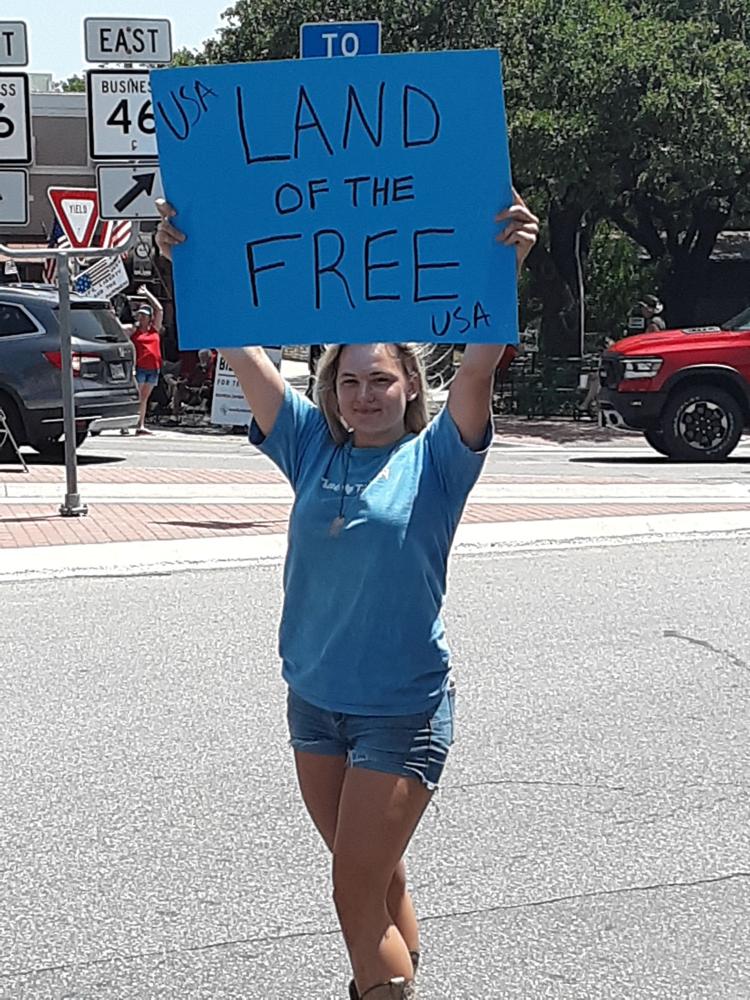 Most participants did not don masks. The demonstration was not billed as an anti-mask protest, but when asked, Harlan Kraft of New Braunfels expressed his concern about government mask requirements.
"They have no constitutional right to do that to us," Harlan Kraft said. "The governor doesn't have that right. The law only allows him to quarantine people with a proven disease by testing that shows that they are a danger or a threat to others. It's totally a psychological operation."
Abbott issued a statewide mask mandate last week requiring Texans living in counties with more than 20 coronavirus cases to wear a face-covering over the nose and mouth while in a business or other building open to the public, as well as outdoor public spaces, whenever social distancing is not possible.
There are exceptions, including for children who are younger than 10 years old, people who have a medical condition that prevents them from wearing a mask, people who are eating or drinking and people who are exercising outdoors.
Prior to the Abbott order, New Braunfels Mayor Rusty Brockman had signed an order requiring the use of face coverings at businesses operating within city limits.
Comal County Judge Sherman Krause last week issued a similar executive order.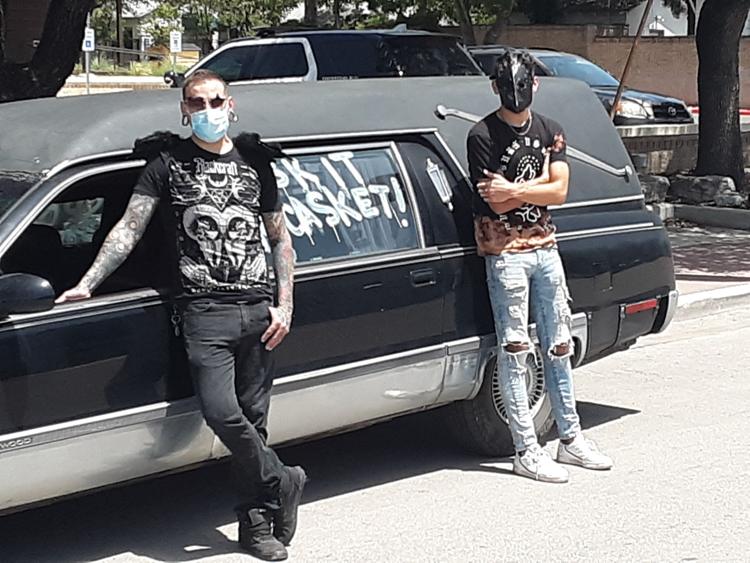 Hearse with a message
Among the vehicles circling the plaza was a hearse with the message, "Mask-it or Casket."
David Newman of Schertz drove the vehicle along with his son, Issac, who was wearing a mask with a bird-like beak reminiscent of those worn by doctors during the Black Death.
"I'm just here to have a good time," said David Newman, an out-of-work bartender affected by the closures who purchased the hearse a year ago. "Today just seemed like the perfect elements, all coming together. I'm pro-mask. I have an immune disorder. I've worked at several bars in New Braunfels for the last couple of years. I love the city. I can't wait for everything to open. But I guess the stance is, the sooner that we abide by this, this sooner this will go away."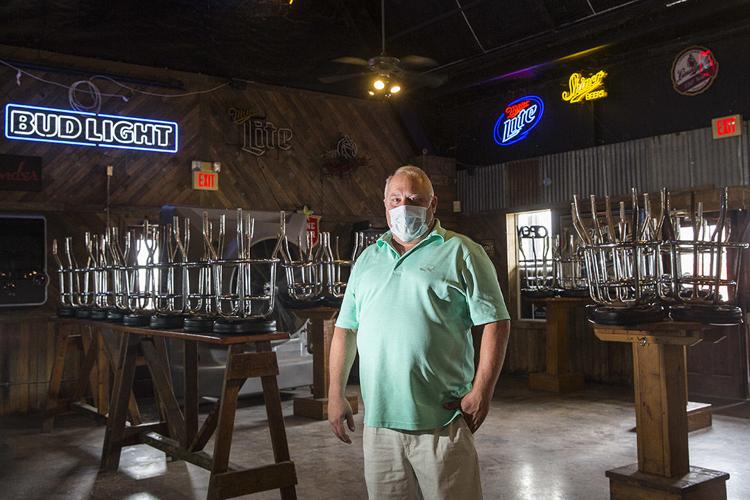 Impact falls on businesses
Bob Wilson, owner of Billy's Ice, was unable to attend Saturday's protest but said he was there "in spirit." He has closed his business for the second time after Abbott's order.
"We not only went to the level that state and federal agencies told us we had to do as far as social distancing and cleaning and all that, but we went above and beyond," Wilson said. "We were prepared to go to the face mask order that was going into effect last Monday, but we were shut down by then. We were even taking people's temperatures at the doors when they were coming in, and we were one of the few places that on a few occasions, we were turning people away because we weren't going to go over the 50% limit."
That hurt, he said. And then, bars were given little notice before their closure.
"A lot of bars get their delivery on Thursday, so their inventory is cold and ready to go for the weekend," he said. "In our case, we spent thousands of dollars on beer that's now sitting there and aging that we can't sell. Had the governor said on Friday that we're going to shut down on Monday, we would have had four days notice and ordered accordingly."
The governor "didn't afford us that respect," he said.
"He didn't offer any studies or anything other than just opinion," he said. "When you lose your livelihood based on speculation, for the second time in four months, it kinda stinks."