Six years of experience gave way to new blood on Tuesday, as the New Braunfels City Council transitioned into a new era.
Rusty Brockman, Jason Hurta and James Blakey were sworn in to succeed Mayor Barron Casteel, Mayor Pro Tem and District 5 Council Member Wayne Peters and District 6 Council Member Leah Garcia.
The newcomers were all unopposed when the May filing period ended in mid-February. Sworn in by Comal County Court at-Law No. 2 Judge Charles Stephens, they joined incumbents Shane Hines, Justin Meadows, Harry Bowers and Matthew Hoyt, representing council Districts 1, 2, 3 and 4, to comprise the first all-male city council since 1992-93.
Members of the trio were accompanied by their wives, children, and, in Brockman's case, grandchildren, as they took their oaths. The last was Brockman, who campaigned to draw from lengthy roles with the Comal Independent School District and Greater New Braunfels Chamber of Commerce.
"I appreciate this opportunity to be part of this organization, which Barron has honored tonight and represented so well along with six other council members who represented the 'work, live and play' that New Braunfels is all about," said the new mayor, as wife M'Liss, their children and grandchildren looked on.
"I look forward to working hard and applying some of the things I've learned during my 70 years of growing up," he added, then joked, "I still have some growing up to do."
Brockman thanked his supporters, outgoing council members, and especially Casteel.
"You three, along with the four still sitting here, have made some great things happen in this wonderful community over the last six years," he said. "Respect, responsibility and listening are the things I appreciate about Barron and his leadership. I hope I can do the same …. You took it to another level."
Hurta, a 45-year-old investment advisor, was joined by his wife Traci and their three children.
"This is a very humbling … I'm very honored to serve the citizens of New Braunfels and especially District 5," he said. "This city is really a great place to call home and I'm glad I'm a part of it.
"I've got big shoes to fill," he added, looking up at Peters, "but I will rely on his counsel and my fellow council members to do that."
Blakey, a 54-year-old sales director and 1984 New Braunfels High School graduate, was joined by his wife, Lori, and daughter, Hannah.
"I want to thank the leadership of the council. You've given me a lot of direction and advice and also Leah Garcia — thank you for leading the way in District 6. You served everyone like family members and I'm looking forward from getting more advice from you," he said before thanking city staffers then adding, "I want to thank you all and say I'm here to serve."
Under the current city charter, Casteel, Peters and Garcia, each elected in 2014 and reelected in 2017, reached their limit of two consecutive three-year terms, though all could seek third terms following a three-year hiatus.
Meadows, elected in 2016 and now senior council member, was unanimously elected to succeed Peters as mayor pro tem before the new council presented outgoing members with plaques commemorating their service.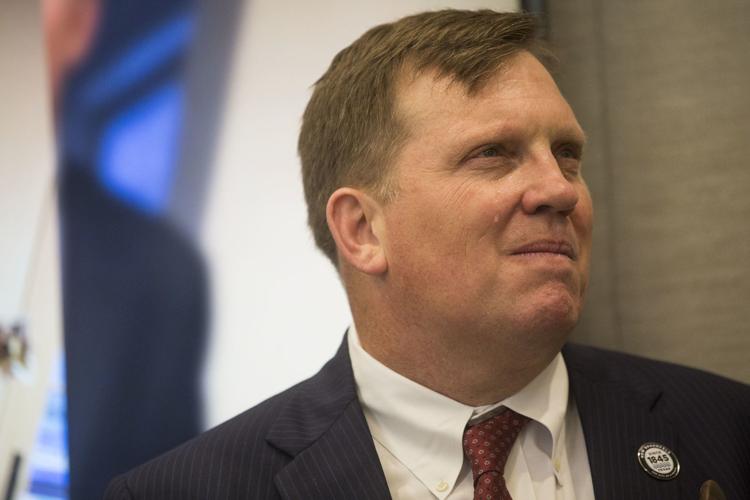 In his last act, Casteel surprised City Manager Robert Camareno with a proclamation thanking him for his assistance — not just during his Casteel's years as mayor, but for helping right the city's ship during his seven years as city manager.
"One of the things you find out as mayor of New Braunfels is the great people working here and the amazing tools they provide the boards and commissions and the council serving the city," Casteel said. "At the top of that list is Mr. Camareno, and without his help, I don't think the success of the last six years can even be mentioned."
Casteel had his own surprise minutes later, as the former mayor was presented with a video montage featuring friends, family and elected officials saluting him for his service.
"You have been an incredible, incredible leader," said his mom, former Comal County Judge and state Rep. Carter Casteel. "You were one who brought people in to arrive at solutions. I know you would be a wonderful and caring public servant — and that you have been."