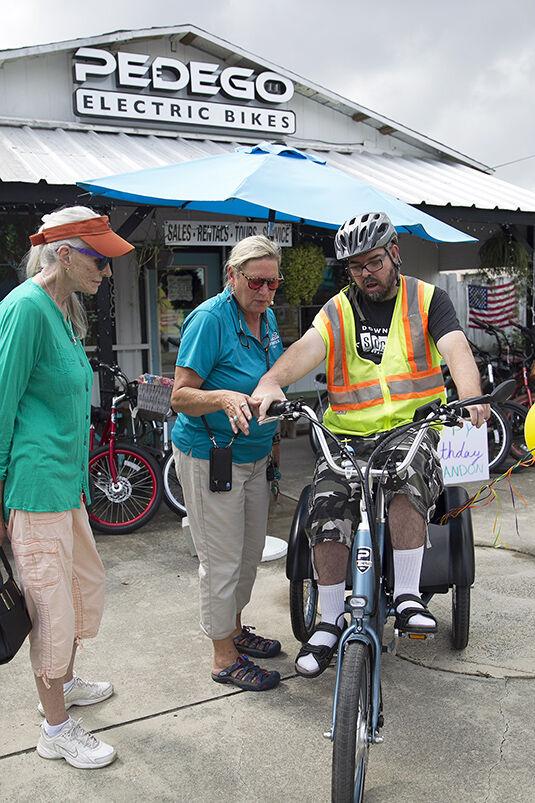 A New Braunfels man got a pleasant surprise for his birthday on Wednesday.
Brandon Knight, 41, physically challenged after he sustained a brain injury resulting from an automobile accident as a child, received an electric-powered trike from Pedego New Braunfels.
Knight uses a manually-powered trike as a delivery service for some of the downtown restaurants and businesses, but due to the heat and the hills, he has been riding less and less. 
That's when Kristen Pokky, owner of Pedego New Braunfels, decided to do something about that. 
"One time, I was at the Farmer's Market and Brandon came riding through on a trike, but it wasn't electric," Pokky said. "He seemed to be really tired and sweaty and having a hard time. I went ahead and petitioned (the Pedego corporate office) for a trike. He's getting older, so it's getting harder and harder for him to ride a regular trike."
According to Pokky, Pedego corporate absorbed half of the $3,500 price tag, with the remaining donations coming from "Pedego friends and family."
Knight also received a helmet and other accessories to go along with the trike.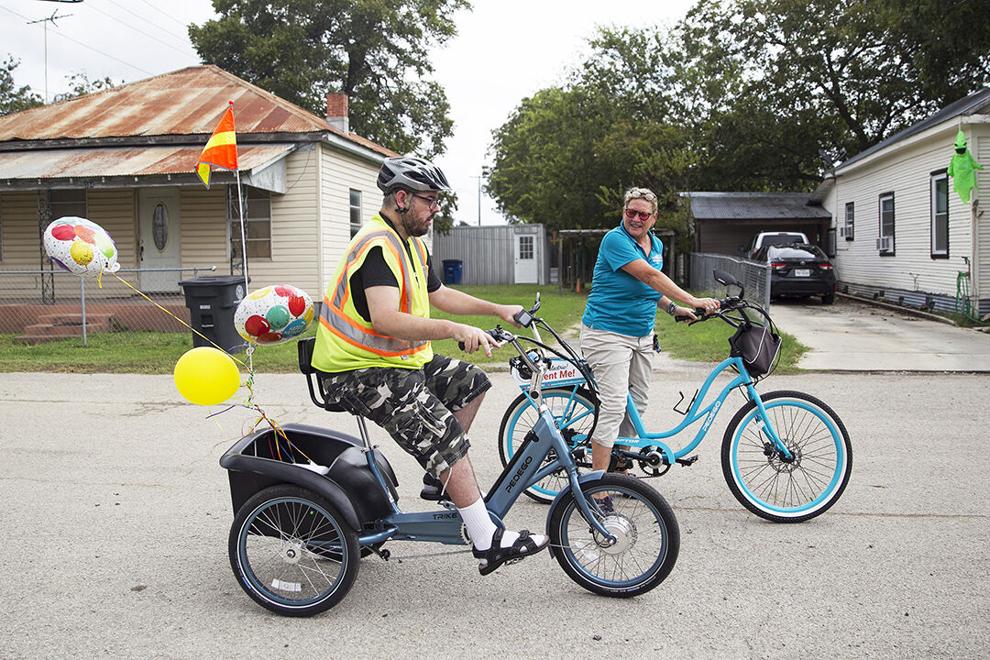 "It will be a great day for him," Pokky said.
The trike, with its three wheels and a basket attached, is powered by a state-of-the-art battery that uses the same advanced lithium-ion cells as an electric car. It weighs less than a housecat and can take the rider up to 33 miles on one charge.
The trike was decked out with balloons and a happy birthday sign as Knight and his family pulled up to the Landa Drive storefront.
"It's cool," Knight said as he sat on the trike for the first time. "I deliver stuff — lunch and breakfast. That's what I do. I'm a delivery man."
Knight's sister, Kim Bowers, said the electric trike would allow him more freedom and independence.
"He'll go downtown and ask, 'Do you need tea? Do you need a drink? And he'll pick up something, and they'll tip him," Bowers said. "He'll make out like a bandit on his birthday. He probably has more friends (downtown) than I do. He had no idea this was coming. He's on Cloud Nine. This will be so much easier for him."
A former registered nurse, Pokkey opened the electric bike sales and rental business last spring.