Moving or saving three potentially historic downtown structures at the center of potential development discussions would be highly unfeasible, a San Antonio home mover confirmed Wednesday. 
San Antonio-based home mover Edgar Dodson confirmed what developers from Woolsey Design Build said about three downtown structures during a Historic Landmark Commission meeting earlier this week — moving or saving the structures would be very difficult and costly. 
"What my company does is come in to relocate buildings," Dodson said. "A lot of what we do is portable classrooms, but we've done many historic buildings in San Antonio and worked closely with the Historic Commission in San Antonio on those."
During a Historic Landmark Commission meeting Tuesday morning, HLC members, developers Eli Woolsey and Matt Schumann, of Woolsey Design Build, and concerned residents discussed the company's application to demolish buildings at 173, 189 and 207 East San Antonio Street in the Downtown Historic District. These properties would be repurposed for retail, Woolsey explained. The buildings would not be demolished outright, but would be deconstructed, with salvageable parts being saved for reuse in the new development, Woolsey said.
"We're talking about deconstruction, reclaiming and preserving any material that's salvageable. For instance there's pine flooring in there, a lot of the timber — cypress, that's something that I feel like our team brings a lot of experience with," Woolsey said at the meeting.
During the meeting, Amy McWhorter, historic preservation officer, touched on the historical significance of each building. McWhorter stressed much of the historical integrity of these structures has been lost over time due to renovations and alterations to the buildings.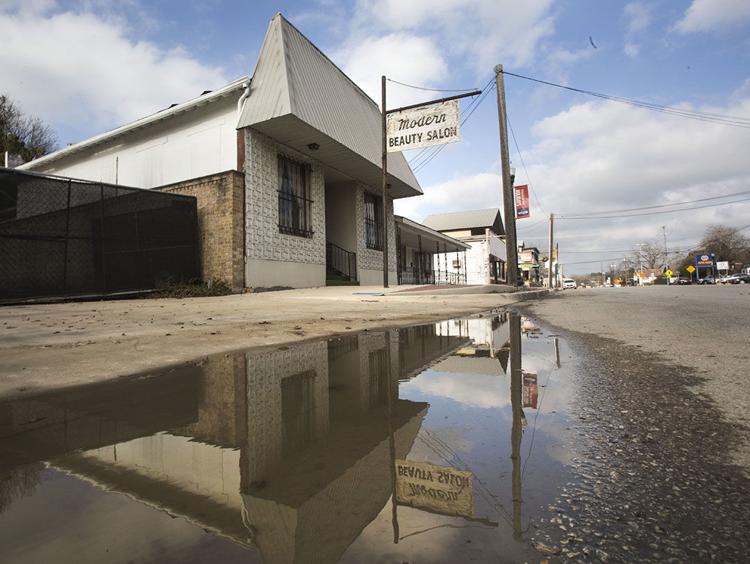 A main concern for many residents in attendance at the meeting was the structure at 189 E. San Antonio St. — a former fachwerk building Woolsey and Schumann queried several contractors and builders, including Dodson, about moving.
Dodson gave an estimate of $130,000, Woolsey said during the meeting — a figure Dodson confirmed via phone Wednesday morning.
"I was on site, I looked at 189, and we expressed it would be very difficult to move," Dodson said. "You have to look at cost effectiveness, and the character of that building has been changed so drastically it would be very difficult to even bring back a lot of its historical context."
Boarded up windows, changed roof structure, added on rooms and more have taken much of the historical context from the location, Dodson explained.
"The condition of the floors — a lot of the lumber had started to deteriorate," Dodson said. "My suggestion to them was to salvage what materials they could and use them in reconstruction or in the finish out, to use it as a finish material to bring in some of the character."
Dodson recalled the recent moving of a fachwerk structure in New Braunfels from its location on I-35 to the corner of West Mill Street and Castell Avenue — referring to the Lark Mason Associates building and gallery.
"That was a structure you could open up and still grab — the character was maintained," Dodson said. "Some people said it looked bad on the outside before it was fixed up — but everything was there structurally, not as much inside had deteriorated."
The 189 E. San Antonio St. structure, however, had not been well maintained at all, Dodson said.
"I gave them $130,000 estimate in round numbers," Dodson said. "When you're talking about coming in, deconstructing, picking a structure up, moving it and putting it back on a foundation … in this case there's a lot more work than people think that goes into it."
Dodson compared the structure to a car with flood damage — it may seem like it's okay because it looks okay on the outside, but there's a lot inside in bad condition.
"The framework has really deteriorated," he said.
As a building mover, Dodson stressed he loves the idea of saving buildings when they can be saved.
"I'm all about saving buildings, and there's a lot of good buildings that need to be saved, but you have to be sensible about it," Dodson said. "Some people are for saving everything and some people are for crushing everything, and there's a middle ground to that using common sense."
During the meeting Tuesday, Woolsey and Schumann said they have been working closely with groups and programs such as the Texas Main Street program and historical architects for months to do what they can to honor the three structures' histories.
Woolsey and Schumann declined to comment on follow-up questions Wednesday afternoon.
The HLC approved recommending partial demolition Tuesday, allowing for the demolition of the property at 207 E. San Antonio St., but only for additional structures added onto the properties at 173 and 189.