It seemed as if all of Comal County's 116,067 registered voters lined up to cast ballots Tuesday, the first of the 17 days of early voting for the Nov. 3 elections.
Balloting was brisk at each of the county's seven early polling locations as lines of voters began forming at 7 a.m., Elections Administrator Cynthia Jaqua said.
"People were standing in line then but we don't open until 8," she said. 
Jaqua said the main early voting site, the Comal County Elections Center near downtown New Braunfels, had lines that extended into adjacent Market Street, and it was the same at Mammen Family Public Library and Comal County Annex Building in Bulverde and the Goodwin Annex in New Braunfels.
"I would think this could set a record (turnout for first day of early voting)," she said. "The last two elections at the Bulverde annex had hardly any voters but (on Tuesday) had lines that wound around inside the building and had to be moved outside.
Jaqua said poll workers at the overcrowded Community Resource and Recreation Center directed voters up Farm-to Market Road 2673 to St. Francis by the Lake Episcopal Church on FM 306. First-day results were unavailable after polls closed at 6 p.m. with many still lined up to vote.
"Everyone will have their chance — we can't turn them away," Jaqua said, reminding remote voting available at all locations is another option for voters.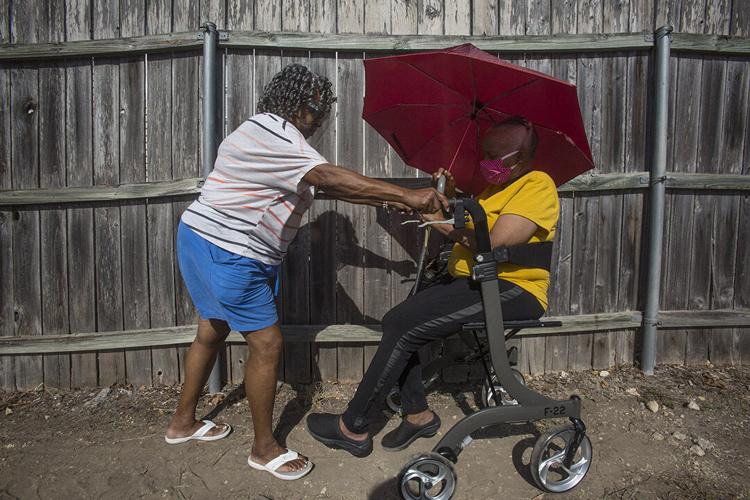 Long ballots
It took longer to vote as ballots have been extended for this election. It features a lengthy slate of Republican, Democratic, Libertarian, Independent and write-in candidates for federal and state offices and also includes city, school district and other elections postponed by COVID-19 last May. This is also the first election to be held since the elimination of straight-ticket voting.
Late Monday, the 5th Circuit Court of Appeals reinstated Gov. Greg Abbott's Oct. 1 order limiting each of the state's 254 counties to a single drop off location for ballots submitted by mail. The court stayed a federal judge's ruling, issued Friday, that stated the Republican governor's order curbed residents' right to vote.
"Leaving the governor's proclamation in place still gives Texas absentee voters many ways to cast their ballots in the Nov. 3 election," Judge Stuart Kyle Duncan wrote in the opinion which also said Abbott's orders gave voters 40 additional days to cast mailed ballots, which can be submitted in a variety of ways.
"These methods for remote voting outstrip what Texas law previously permitted in a pre-COVID world. (The) proclamation abridges no one's right to vote," Duncan added.
Abbott said limiting drop-off sites was needed to ensure election security, but Democrats and voting rights groups said it was another effort to suppress voters. Lawsuits challenging Abbott's order were filed by the Texas League of United Latin American Citizens; National League of United Latin American Citizens; League of Women Voters of Texas and private citizens.
Texas is one of just five states that did not substantially expand mail-in voting this year, despite official health warnings against attending large gatherings to curb the spread of COVID-19. To be allowed to vote by absentee ballot in Texas, voters must be 65 or older; have a disability; or be outside the county where you're registered to vote on Election Day and during early voting. 
With 16 million registered voters in Texas, elections officials are taking novel approaches to protect the electorate. Harris County, which includes Houston and is home to more than 2.4 million voters, tripled its usual number of polling sites compared to previous elections.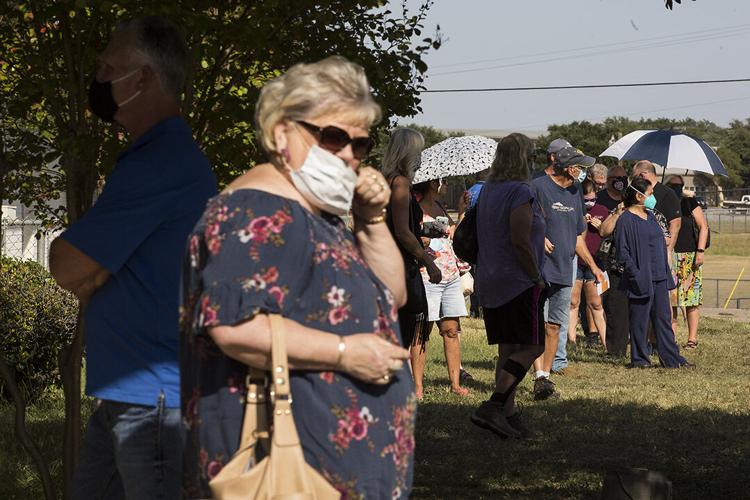 Both parties energized
Voting was more manageable in Comal County, where the usual questions about when and where to vote also went to party chairs.
"There have been calls on every question," said Sue Piner, county GOP chair. "They want to know how long to vote early, request sample ballots — it's been constant. We're also getting calls from those who live in the city and don't even realize they vote in (Guadalupe) county.
"We're fielding a lot of questions (about court cases) and we are just addressing each issue as they come. And they are coming by the office to pick up signs and T-shirts, anything with the Trump name on it."
Democratic chair Gloria Meehan said voters are "turning out in droves."
"People are very passionate about this election and Democrats have done an amazing job getting out the vote in Comal County," she said. "We've registered more than 30,000 to vote statewide since the March primary and turning out thousands to vote here. We're excited and we're ready."
Meehan called decisions in recent court cases "more GOP shenanigans" among a concerted effort to suppress voting throughout Texas.
"They are shooting themselves in the foot because it hurts every voter — not just Democrats," she said. "It's going to backfire  — Democrats are made of thicker skin and after years of having votes suppressed and denied the right to vote."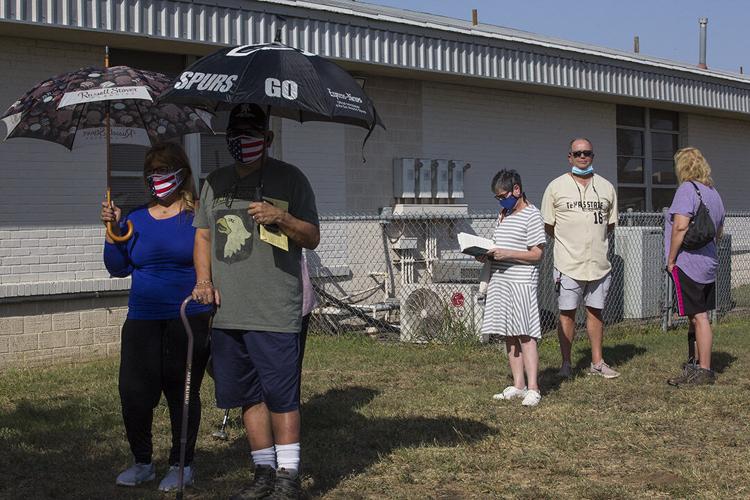 No COVID concerns
Jaqua said as of Tuesday 7,810 ballots had been mailed to voters. She said she hadn't received any reports concerning COVID-19 preventive protocols or problems with voting machines at polling locations. 
"There are none that I know of — we are sanitizing all of the machines and doing everything after each voter," she said. "But we appreciate everyone coming out to vote."
The final day for ballot-by-mail applications to be accepted is Friday, Oct. 23 and the final day for early voting is Friday, Oct. 30. For election information, including sample ballots, precinct maps and early voting and Election Day polling locations, visit www.votecomal.com or www.co.guadalupe.tx.us/elections.