The demonstration on Tuesday in downtown New Braunfels wasn't nearly as large as in some other cities, but the message was the same. And it was peaceful.
Around 300 people — black, brown and white, men and women, young and more seasoned residents — gathered at the city's Main Plaza to express frustrations with the current state of the country and plead for police reform. There was also a baby or two.
"Black lives matter more than any other time," said Elsa Graham of New Braunfels. "We need to make a change. We can start the change with our vote. Everybody needs to vote in November."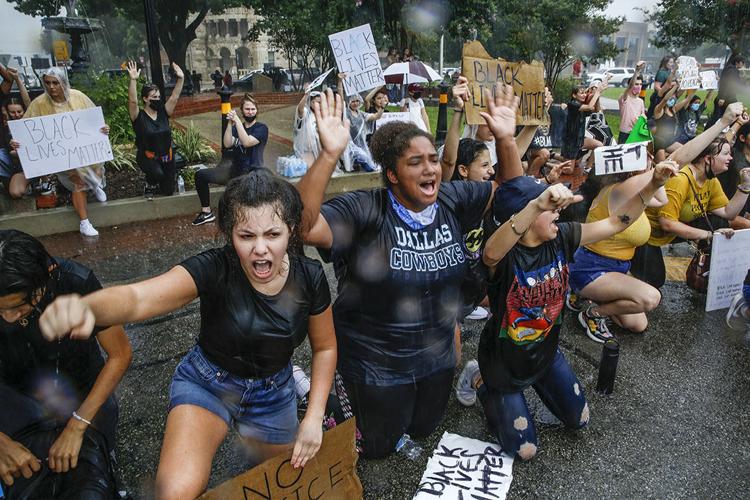 Jay Miller, pastor at Legacy Church, said he's been constantly praying as these nationwide events have been taking place.
"I believe the people of God have an answer to this, and that's in Jesus," Miller said. "For me, like the brothers who are laying down right now, I see them, and I see the pain. We have to have empathy. Being here now, I believe there's also those who would try to come in and co-opt the real reason this is taking place to a place where it's not meant to."
Tuesday's demonstration came following the death of George Floyd, an African-American man who said he couldn't breathe while being held down with a knee on his neck by a Minneapolis police officer.
"We're just trying to spread awareness for George Floyd in downtown New Braunfels," said Devin Gilbert of Angleton. "I know they have stuff going in the big cities, but we wanted to start here a little bit closer to home and make everybody aware of what happened and who he was."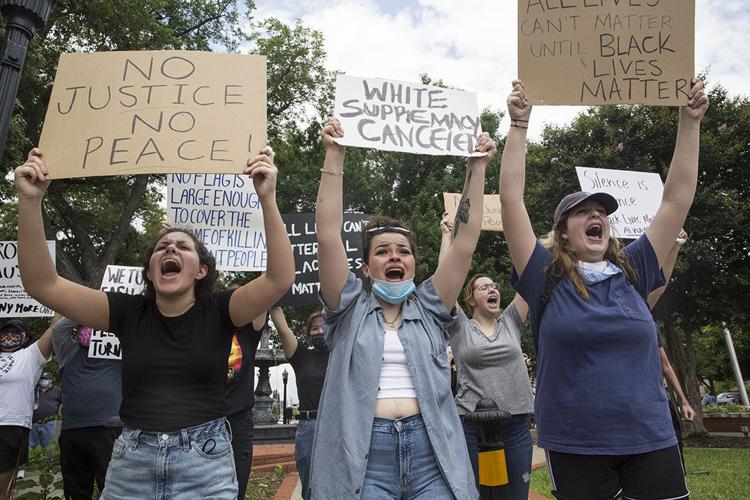 Floyd wasn't the only person on the minds of demonstrators. Protesters also expressed their grief for Ahmaud Arbery, a 25-year-old African-American man who was fatally shot in February near Brunswick, Georgia, while jogging; Breonna Taylor, a Louisville African-American woman working as an EMT who was killed last month after officers forced their way inside her home and exchanged shots with her boyfriend; and Eric Garner, an African-American man who died in 2014 after being choked by a white New York City police officer.
The protesters and passersby were under the watchful eyes of officers from the New Braunfels Police Department and deputies from the Comal County Sheriff's Department. Some law enforcement personnel stood back, surveying the area, while others interacted in friendly conversations with demonstrators.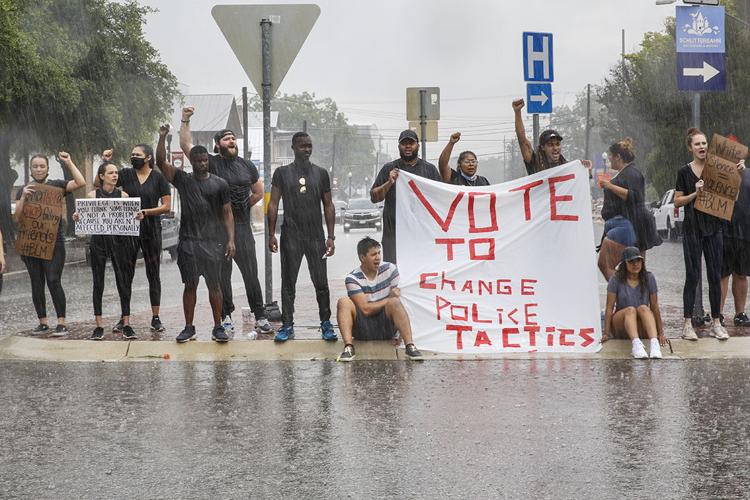 Comal County Sheriff Mark Reynolds said law enforcement's presence was primarily to protect the peace.
"We'll protect their right to protest, but if the protest turns into someone wanting to pick up a brick or object to assault a person or destroy property, that's what we're to prevent," Reynolds said while observing the demonstration. "We don't want this to become like some of the places we've seen on television. There are de-escalation classes, there's dealing with civilians, and there's a lot of training that the state of Texas has implemented in the last couple of years. We have riot-trained and SWAT-trained people, but we're not here to be antagonistic. They don't appear to be an antagonistic crowd."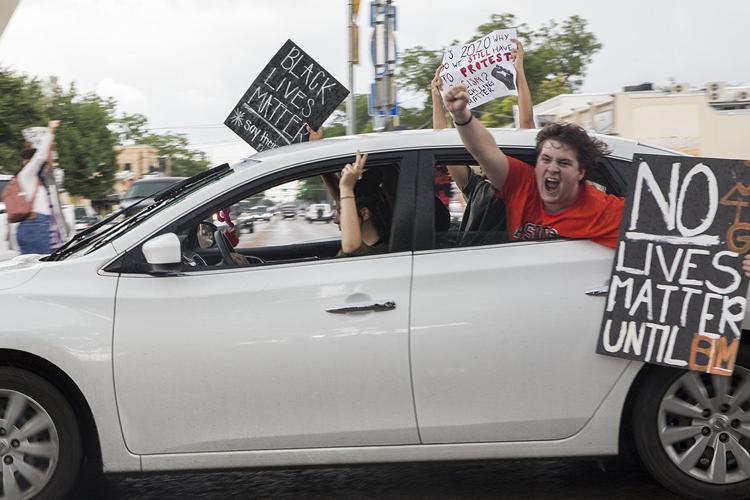 Floyd's death has sparked protests across the country, with violence and looting in many cities. Fortunately, that wasn't the case in New Braunfels.
Henry Ford, with the New Braunfels MLK Association, said the demonstration was not all about George Floyd, but also about recent injustices suffered nationwide by the African-American community.
"You have a fire that was smoldering all along, and with the death of George Floyd and Ahmaud Arbery, it's the wind that has fueled the fire. This is what's happening because of that. All that the protesters are doing is asking people to speak up. It so good to see so many white people out here who believe in justice because that's what Dr. King was all about."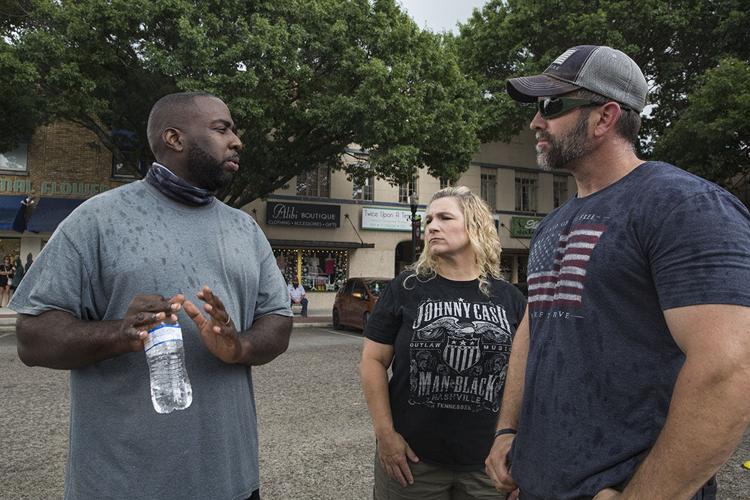 While many drivers supported the protesters by honking their car horns, not everybody appreciated the efforts of the demonstrators. One man drove by shouting, "get a job," while another man yelled, "go home." Another passerby yelled out, "I hope you suffocate."
A smaller group was expressing their support for police by displaying the "Thin Blue Line" American Flag. Cody Ceh of New Braunfels was one of those.
"I lived in Las Vegas all my life, and a cop (was shot) from these protests last night," he said. "I'm supporting him. They keep saying, 'Black lives matter,' but all lives matter. When they say I'm racist for saying all lives matter, that doesn't make sense. We're out here supporting our New Braunfels Police Department and doing the best we can."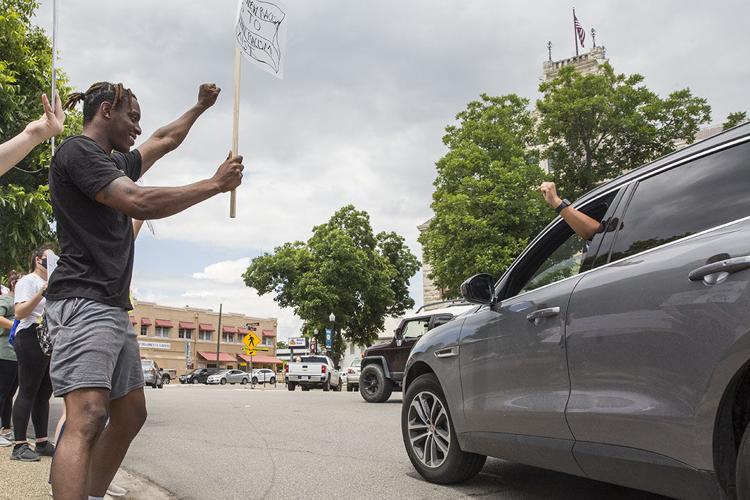 According to the Las Vegas Review-Journal, a Las Vegas police officer was shot and critically injured Monday as police attempted to take protesters into custody in front of Circus Circus during a protest.
The only tense moment in Tuesday's demonstration was when protesters interacted with those displaying the Blue Line flag and a large banner promoting the reelection of President Donald Trump.
Some yelling took place across the Main Plaza street, but obscenities and the use of the middle finger were kept at a minimum.
But some friendly conversing also took place between individuals from the two groups.