As most locals got reacquainted with their couches over the summer, New Braunfels Christian Academy senior Camdyn Doucet punched her ticket to paradise.
Doucet, a top beach volleyball prospect, inked a scholarship offer from Stanford University to become part of the Cardinal's growing program. She then celebrated by teaming up with partner Jessica Smith of California to win her third consecutive AAU Junior National Beach Volleyball championship. 
It was the culmination of years of dedication for the homegrown standout, who will now look to help guide the Lady Cats to a second straight TAPPS Class 3A state championship in the indoor version of the game.
"It's been a goal of mine since I've been playing, really," Doucet said of her collegiate choice. "Stanford has been at the top of my list and when I went on my tour there I fell in love with the campus and the coach of the team — the whole environment. I just had to wait a while for the application process. All my friends had already committed and got to announce it a while back, but it was definitely worth it. In June I got my acceptance letter and it was super exciting just to make everything final."
Doucet has been one of the top-ranked sand volleyball players in the nation through her club organization, 210 Beach in San Antonio, since she was a freshman. Stanford quickly became her target school, and after an abundance of success and tedious work, that dream has finally become a reality.
The NBCA senior said her love for volleyball began with the indoor game and expanded to beach once she got accustomed to the nuances. In fact, there's even a sand court in her backyard in New Braunfels, although it's mainly used for family fun rather than serious training.
"I've been playing since I was in fifth grade," Doucet said. "I think my love for volleyball probably started in indoor and it kind of transferred to beach. I think it's the environment because it feels a lot more family-oriented and relaxed."
Doucet began to pile up honors with 210 Beach and met her eventual partner, Smith, through a volleyball camp. Since then, the duo has captured three national titles in a row in Chula Vista, California. 
One of the biggest threats to their crown came in the form of the COVID-19 pandemic, but Doucet and Smith once again successfully navigated a tough field to come out on top this August in the 18U Gold Bracket.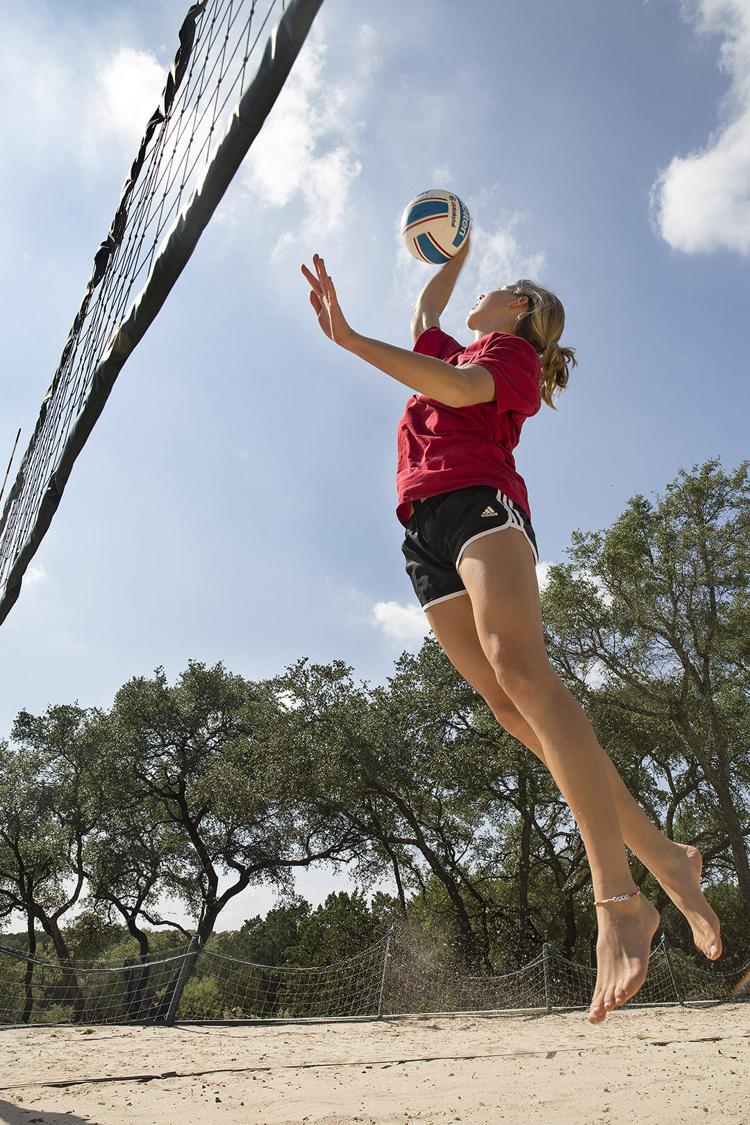 "It was a little bit different because of corona," Doucet said. "We were scared it was going to get canceled. It was a really fun tournament — lots of great competition and no game was a blowout. Every single game was tough and we almost lost so many times, but when we pulled it out we were really proud of ourselves."
There were also some tense moments with regard to the 2020 TAPPS indoor season, but thankfully the Lady Cats have been able to compete following a delayed start. New Braunfels Christian Academy recently cruised to its 19th consecutive district victory dating back to 2018, when current head coach Megan Dugie took over the program.
Even as a sophomore, Dugie said Doucet displayed maturity beyond her years.
"She's every coach's dream," Dugie said. "She's just so determined and she has her head on straight and knew what she wanted from day one. She's the most humble and hardworking kid and shows it every single day. She's a go-getter and she's not going to let anybody stop her, and I think that's going to get her super far in life."
Dugie said many opponents know of Doucet's accomplishments in both beach and indoor volleyball, but the senior's diminutive size at 5-foot-7 can still provide a few surprises once a match begins.
"She's tiny, but she's fierce," Dugie said. "She's so smart on the court and it's more about placement than power."
During her time at NBCA, Doucet has teamed up with another local beach volleyball star — TCU commit Hailey Hamlett — to give the Lady Cats a formidable one-two punch at the net. Both helped lead New Braunfels Christian to its first volleyball state title in 2019 and have their sights set on another memorable run this season.
"I think there's more work to be done, but we have come a long way since the start of the season already," Doucet said. "Our setter, Adria (Galles), she graduated, so it was definitely a learning curve getting used to the new setters. We spread out the work, so it's not really on one of us individually.
"School and volleyball feels pretty normal right now and I'm really thankful for that."