New Braunfels Utilities is taking New Braunfels into the future.
The utility announced it is launching an unmanned aircraft system, or drone program, Thursday morning, which will utilize technology to monitor for quality assurance and control across its service area.
"We have four uses that we're starting with," said Robin Britton, director of technology systems and systems control. "And those are elevated tank inspections, electric line inspections, we'll be doing some (quality assurance/quality control) on contractors and some vegetation maintenance monitoring as well."
NBU has studied drone technology and cost effectiveness for the past several years. In 2017, NBU started utilizing drones to perform inspections on three-phase electric distribution lines, which helped provide insight into the potential of what a drone program could do for the utility.
Benefits to NBU and the customer
The NBU Drone Program will help NBU be safer while also saving money, Britton said.
At the moment, elevated tank inspections have someone going up in a harness to physically inspect NBU's elevated water tanks, Britton said.
"That's time consuming, that's 
costly and it can be a safety issue," Britton said. "So we can go in, in a shorter amount of time and not have to put anyone in jeopardy by hanging them off the side of a water tank."
For vegetation maintenance monitoring, NBU initially did vegetation maintenance on a pole-to-pole basis, Britton said.
"So if you had pole A and pole B and the vegetation covered 50% of that distance between those two poles or it covered 100% we were paying the same amount," Britton said.
With the new technology, NBU can switch to a per hour basis for that costing model, and ultimately switch to a per-foot basis to cost it out per foot.
"So when they fly those lines with the drone, we'll have the mapping and the imagery that goes along with that and we can say, 'Okay from pole A to pole B, there are 75 feet worth of vegetation, so give us a cost estimate for that 75 feet only and not the entire distance from pole to pole,'" Britton said. "So there's the potential for a lot of costs savings with this program."
In a return-of-investment study and cost analysis study NBU did on a drone program, the difference in cost was stark.
"If we have a pole and we do an electrical pole inspection — to send two guys and a bucket truck out on site to take a look at that pole, and inspect the transformers and the lines, that'll cost us $146.25," Britton said. "If we do it with a drone, it costs us $1.86."
Over the course of the entire system, it would cost NBU $4.1 million to inspect the lines manually. 
"To do it with a drone, it costs us $137,000 so the cost savings is dramatic," Britton said. "All the money we're going to invest in this program, we will accrue in savings. … We'll have our return on investment, and the program should pay for itself in several weeks."
NBU is going to be able to inspect its entire system with the drones every year as well, Britton said. 
"We can see every inch of every line that we have," she said. "We don't have the manpower to inspect it like that now."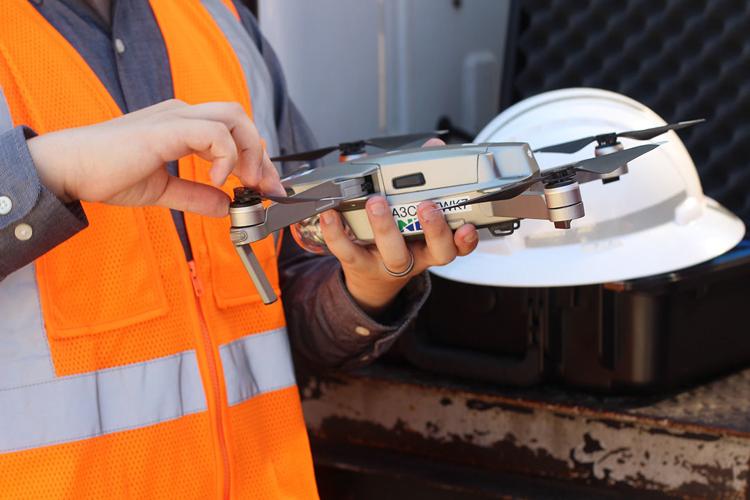 Phasing and leasing
The NBU Drone Program has a methodical launch plan, said NBU's CEO Ian Taylor. 
The phased implementation of the program will make sure pilots have mastered the current drone tasks and allow NBU to work out any issues before moving on to other uses for drones as well, Britton explained.
"We master our use cases and we master our technology … we make sure we can use those technologies to the best of our ability with the use cases we have before we add additional sensors on," Britton said.
NBU is still using a training drone at the moment, Britton said. The official drone, which NBU is negotiating a leasing contract over, will have both a camera and a thermal sensor. 
"We worked with our electric operations folks and that was one of the things they wanted to see," Britton said. "So if we have a transformer that's running hot, you can see it on the thermal imagery and we can get to that before it blows. So we can have some preventative maintenance along with that."
This will help NBU save money in the long run by allowing them to hopefully catch and prevent any costly problems before they occur. 
"The estimates for these cost estimates don't include the cost of outage avoidance, so they're very conservative," Britton said.
NBU will be leasing the official drone, which has several advantages, Britton said.
"We're moderating our cost over the years, so we have a predictable cost. We don't get tied into technology," Britton said. "If we purchase one outright, we get stale in our technology as technology increases, and we don't get stuck with equipment that doesn't operate optimally."
With a lease company NBU will also have agreement in that if New Braunfels has a flood event, and NBU needs additional drones, the lease company can provide those, Britton said.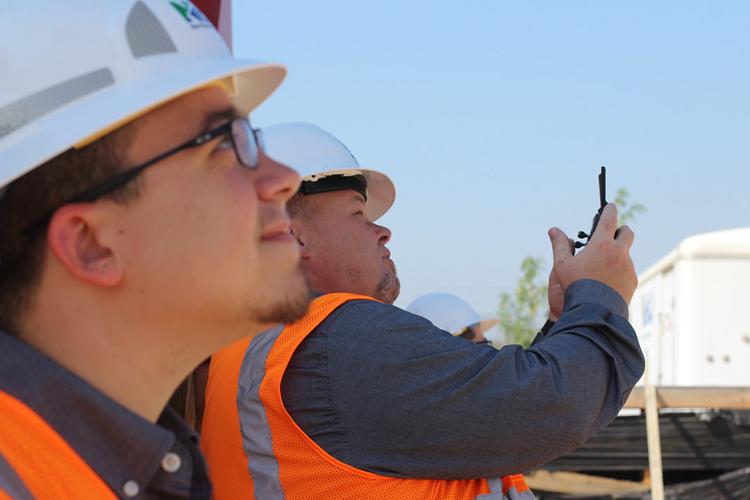 Training and flying
NBU has four full time pilots who have been significantly trained, Britton said.
"Each of NBU's drone pilots are Federal Aviation Administration certified, and have received extensive training," Taylor said.
The two primary pilots received about four months of in-class and hands-on training, before also training with other local utility companies using drones. 
"The official drone will be three times larger than the practice drone," said Mike Wiley, one of NBU's drone pilots. "It's probably 2.5 feet by 2.5 feet in diameter, so it's large."
The NBU drones are clearly marked, making them easily identifiable, Taylor said. 
"We want to ensure that customer privacy is respected; therefore, our pilots will only fly the drones on right of ways and easements that are available to NBU," Taylor said.
The drone, an Aeryon SkyRanger, costs more than $48,000 according to Aeryon's website. It can fly for up to 50 minutes and has incredible control and camera capabilities.
"Everything I've seen from the drone we're going to be receiving, the capabilities are amazing, you can stay way far out and take shots and then zoom on it, you can get great photos," Wiley said. 
This will allow the pilots to fly the drones less invasively, said Kristopher Marrou, another one of NBU's primary pilots.
"(It's to the point) where we don't even have to fly over (other's) property to see (lines) with the camera," Marrou said.
To fly the drones, two pilots are required, Wiley explained. It's an FAA requirement. 
"So if Mike is flying the drone, this will give him the view of the camera, so he'll be seeing as if he's flying inside of it," Marrou said. "And then if I was his visual observer, my role would be watching the drone and then kind of looking in the surrounding area."
Customer privacy is of the upmost importance, Wiley said.
"We want people to know what we're doing, we want them to know what imagery we're using, what sensors we're using and why," Britton said. "This is not an effort to be Big Brother, this is an effort to save everyone money and use technology to be proactive and provide better service."
Customers will be able to submit public information requests if they want to see any photos from the drones, Britton said.
"We can also have 100% data retention," Britton said.