New Braunfels police on Thursday posted a video of the suspect in the act of committing last weekend's vandalism at the main public library.
David Ferguson, city and New Braunfels Police Department communications coordinator, said the suspect is shown throwing rocks that shattered glass the front doors at the library, located at 700 E. Common Street, between 9:30 p.m. Friday, June 5 and 7:50 a.m. Saturday, June 6.
NBPD's weekend public information indicated officers arrived shortly after 8 a.m. They initially assessed damage to the doors at about $600. Ferguson said the building was unoccupied at the time, there were no injuries, and that police continue to investigate the incident.
Ferguson said the city would need to special order replacement glass for the doors, which could take one to two weeks. The library, which closed to foot traffic during COVID-19 from March 16 to June 1, was closed on Saturday, Sunday and Monday and reopened Tuesday after repairs were made.
"Library staff was sad to have to close so soon after reopening, especially after seeing how happy library patrons have been with the return of library services," Gretchen Pruett, library director, said on Thursday. "We, along with the general public, were outraged that anyone would attack a city resource that is dedicated to being accessible to everyone.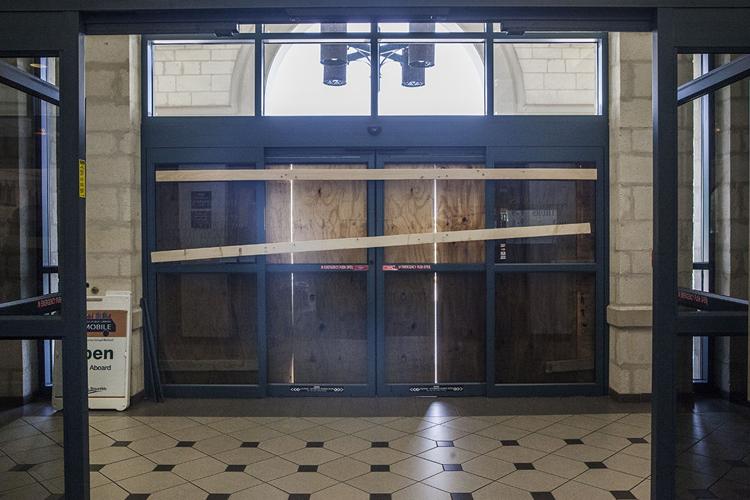 "We want to extend a sincere thank you to our city facilities crew who responded immediately and worked hard to get the library open again so quickly."
Surveillance cameras captured the 36-second video that appeared on NBPD's Facebook page. It showed a white SUV, which police believe is a 2003 to 2008 model Honda Pilot, drive up in front of the library. Exiting from a passenger door was the suspect, which police described as a Hispanic male in his late teens to early 20s with short black hair, a goatee and glasses.
The man could be seen running up the stairs to the doors before throwing what police believe to be rocks from his left hand. He then quickly ran down the stairs, nearly stumbling and falling before making it back into the vehicle, which sped off.
"It's obvious that there was another person driving the vehicle, but our focus right now is on identifying the suspect that actually threw the rocks," Ferguson said Thursday. "Once that person is identified we can turn our attention to the driver."
Those with information are asked to contact New Braunfels police or Comal County Crime Stoppers, which is offering a reward of up to $4,000 for information leading to an arrest and/or grand jury indictment. 
Those wishing to remain anonymous can contact Crime Stoppers at 830-620-8477; or leave tips at 1-800-640-8422, online at comalcrimestoppers.org, or the "P3 Tips" smartphone app available on iOS and Android devices.